Lethis - Daring Discoverers explores alien worlds in May
Unexpected!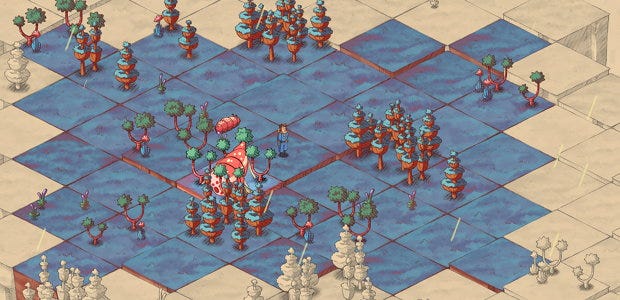 The follow-up to charming and decent-enough city-builder Lethis - Path of Progress is not another build 'em up, but rather an interplanetary exploration game. Triskell Interactive this week announced Lethis - Daring Discoverers [official site], which will blast some odd folks from the steampunk world up to explore strange new worlds, to seek out new life and new civilizations, to boldly go where no gungan has gone before. Have a look at the announcement trailer:
From those brief glimpses, I'm not sure quite where Daring Discoverers falls on the explore 'em up spectrum. More video game-y than 80 Days, less deadly than The Curious Expedition, less action-y than Renowned Explorers? I have no idea, but I do like the idea of making noises and dancing in an attempt to communicate with a giant alien crab.
Here's what developers Triskell say will happen when our explorer blasts off in search of alien artefacts.
"Like a choose-your-adventure story book, you'll have to make many different choices during your adventure. You prefer using brute force? Oh, you may! Yet, you'll be also able to be diplomatic in case of unexpected encounters. Every planet comes with its own flora and fauna and its proper riddles. It's up to you to find a way to retrieve those hidden artifacts!

"On top of that, you may also explore each planet to its fullest, to assemble all information about the planets wildlife and plants in your very own encyclopedia.

"But make sure you save your information in your capsule, otherwise the next explorer will have to start learning everything all over again!"
It does seem less murderous and awful than actual Victorian expeditions.
Lethis - Daring Discoverers is due some time in May.