Let's All Sign Up To EverQuest Next's Landmark Beta
A Landmark announcement.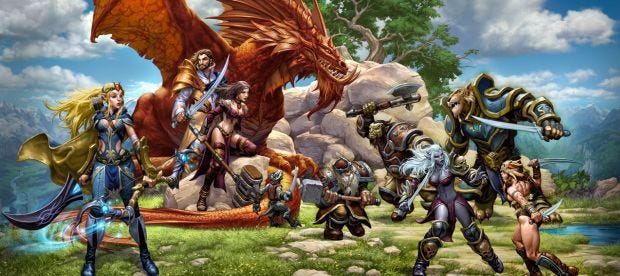 Mighty Questers of Early Access, in search of the door into EverQuest Next Landmark, do not falter. You are nearly there. You've captured the breath of the Dragon of What, held steady as you traversed the lands of Really? EverQuest? If You Say So, and ascended the peak of Is It Out, Yet?. There is one more step on the road, a perilous place known as the Sign Ups Of Beta. There you must complete the final challenge, the Perilous Form Of Smedley: tell it your life story to pass the Gates of Hype and into the Lands Of Hooray! Details are below.

As announced here, the beta sign-ups to Landmark, the free-to-play sandbox part of EverQuest Next, are now live. I'm probably more interested in this than I am the main game, because it'll generate a bajillion player-built worlds to explore. I'm never happier than when I'm romping through worlds built by fans. I flick through Garry's Mod servers like TV channels, and I'm always hunting for interesting Minecraft worlds. In weaker moments, I've even considered rvisiting Second Life.
The only place to sign for the approaching Landmark beta (for everyone in the world) is here. US users that sign up at the previous link will also be signed up for EQN beta when it is available. However, EU Users should this page for the EQN EU beta.
Landmark is being planned for a Winter launch. Is it me, or is it getting chilly?