Life is Strange creators take on a new narrative project
Hella mysterious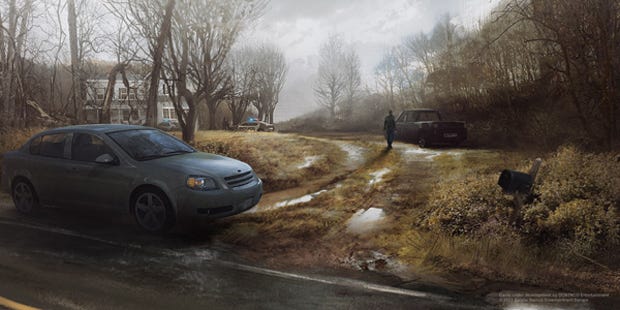 1. There is a mysterious narrative adventure game with investigation elements being teased by Bandai Namco and Life is Strange creators Dontnod!
2. The two bits of artwork I have on the matter make the whole thing look like a rural British murder mystery on ITV even though it's set in the US. "House Exterior" is above and "Town Viewpoint" is after the jump.
3. The announcement reads as though someone has taken out fourteen years-worth of frustrated dreams on a business jargon pinata and then pressed publish.
Here's Bamco's Hervé Hoerdt, VP Marketing & Digital:
"By signing a new partnership with such a talented studio we'll advance the rolling out of our strategic plan to create local content targeted to new market segments, which has already started with the releases of Little Nightmares and Get Even."
There's also:
"Worldwide video game publisher BANDAI NAMCO Entertainment Europe is proud to announce a new partnership agreement with the creators of the acclaimed Life Is Strange™ game, DONTNOD Entertainment. This partnership will allow for the creation of a new IP based on a brand new narrative adventure experience."
Using more human language and fewer ™s Katharine Byrne over on MCV explains that the new project has been in production since 2016 and is set in a fictional US city. Details of how it might play are scant because key details are being kept back until 2018 (I'm wondering is that's so as not to derail marketing of Dontnod's Vampyr game which launches in November 2017 - different publisher but I'd have thought Dontnod would want the marketing for that to have as little disruption as possible and there may also be agreements in place with the publishers, Focus Home, to ensure that). But Byrne does quote Bamco as confirming there's "a fair dose of investigation".
The most interesting part of that article for me was the final segment:
"Obviously, with a studio like Dontnod, you can expect triple-A quality; you can expect a very emotional experience, and this is what we were looking for, like with some kind of investigation and going deep into the psychology of the characters, and giving emotion to the player. This is what we're aiming for with this partnership."
Unpicking what Hoerdt says in that quote I mentioned further up the page, Bamco want to make sure they're investing in new ideas and not just returning to the well of existing franchises, hence these partnerships with the Little Nightmares folk, the release of Get Even and now this new Dontnod effort.
Dontnod are currently also working on Vampyr - the vampire-themed RPG which I mentioned above and which has repeatedly not piqued my interest - and a follow up to Life Is Strange (as distinct from the prequel Life Is Strange: Before The Storm). MCV note that the new thingummy is the domain of a separate team of devs, though. Separate to Life is Strange 2, at least!
If you're super interested in businessy things, MCV also has a bit about how the location being Non Specific, USA is useful from a market/audience point of view. They add that they have a full interview with Hoerdt coming to the site, although it was supposed to land yesterday (Thursday) and I can't find hide nor hair of it online yet.