Liftoff Brings Drone Racing To Early Access
Take me up up and away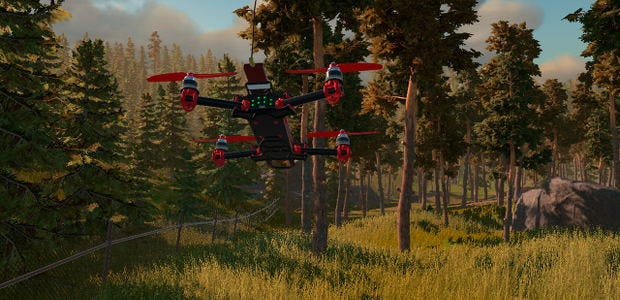 Have you heard of first-person view drone racing? I hadn't until very recently and it changed my opinion of drones. Not that I saw them as a bad thing previously per se, I just didn't really care if online retailers got their requests for no fly zone permits in order to expediate delivery times granted or not; nor was I overly phased when once-famous singers injured themselves while pissing about with them. Quadcopter racing, on the other hand, is really cool and is an experience Liftoff [official site] hopes to translate into a video game. It's just landed on Steam Early Access.
Here's a short of the digital drones in action:
"Liftoff is to be a gateway to the quadcopter racing scene," says Liftoff's blurb, "a platform both for pilots with real-life experience and for gamers who are still unfamiliar with the new sport. Veterans can explore new environments or race one another, while newcomers can hone their flying skills before taking to the field."
Developers LuGus Studios have already started tinkering with Liftoff's features following player feedback. Down the line, they hope to add VR support - which a game like this is crying out for - as well as editing tools letting players customise their crafts and create their own tracks. Having spent about 15 minutes messing about in the skies myself, I couldn't help but be reminded of early Wipeout games - solely down to the fact that Liftoff feels like unadulterated fun. While there are technical options to entertain, if you simply feel like taking a drone for a spin you can. Granted, there's not a massive amount to do at this stage, but there's scope here for Liftoff to develop into a great game.
Liftoff is out now on on Steam Early Access for £14.99. LuGus hope to properly launch it in early 2016.