Like A Rolling Stone: InFlux Rolling Out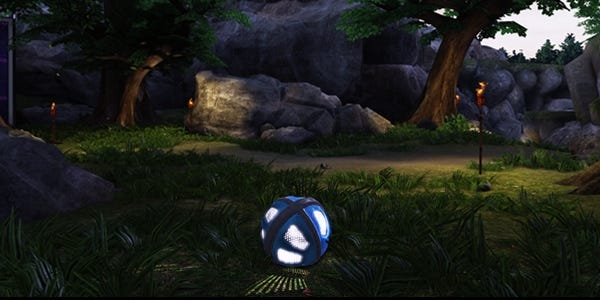 Lovely roll-em-upper InFlux is ready to roll out, and you can help put it on Steam too. It must be lovely to be a ball. Imagine just rolling around in a paddling pool, for example. Or rolling down a grassy hill. Or bouncing gently down some steps. And in InFlux, you can do all of those things whilst solving physicsy puzzles! Just look at this trailer! Like a new Portal without the sarcastic narrator and well, less of the holes. Actually I don't know why I brought Portal up. Perhaps I brought it up because it looks good. HERE IS THE TRAILER.
You are a mysterious metal sphere which falls from the sky, traversing an apparently deserted island dotted with cubic structures of glass and steel. Each glasshouse is a puzzle to be solved.
Impromptu Games promise us that we can meet "a majestic and enigmatic humpback whale" on our travels through mind-bending cubic puzzle structures and super-relaxing natural-looking environments. What a sweet deal! A humpback whale? I have always wanted to roll on a humpback whale.
It all has a lovely soundtrack by a man called Jonathan Yandel.
This is how Impromptu Games roll. No DRM on it, and you can put as many videos on Youtube of you rolling about like a Katamari nightmare as you please. You can Greenlight it here, and buy it from GoG.com.