Logitech's brilliant low profile MX Keys keyboard is 33% off at Amazon UK
£80 is a good price for a full-size UK board of this quality.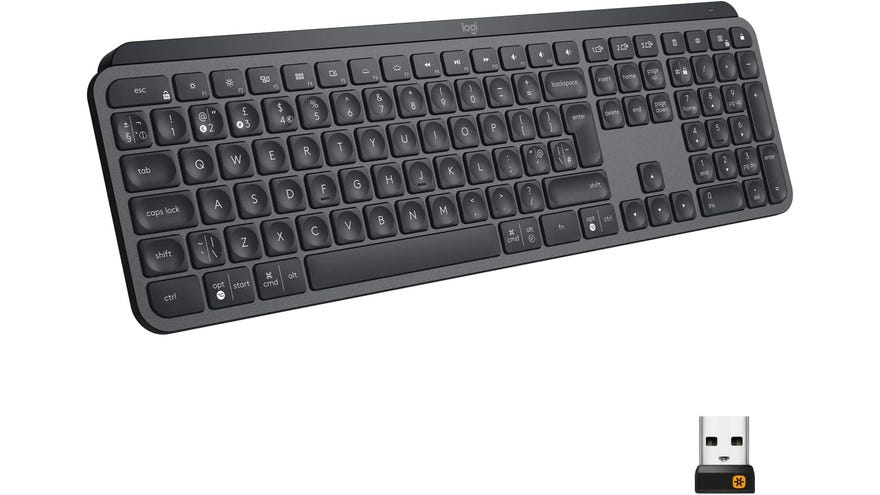 I'm a sucker for mechanical keyboards, but I don't discriminate against high-end membrane or scissor switch boards either. One of the best non-mechs I've tried over the last few years has been the Logitech MX Keys, which is available in a compact MX Keys Mini model or as the full-size MX Keys. Today, the full-size UK model is discounted on Amazon UK, where it's down from £120 to £80 - a nice 33% or 40 quid off.
The MX Keys reminds me a little of Apple's Magic Keyboard, thanks to its low profile nature, compact design and surfeit of function keys along the top and upper right corner of the keyboard. It's a great choice for anyone that loves the feeling of typing on a great laptop keyboard, as you get that same snappy response from the short throw switches.
There are some lovely details here too, like the circular indents in each key - these look cool and also help guide your fingers into the centre of the key, preventing typos. The backlighting is also smarter than usual, lighting up when your fingers approach and adjusting its lighting level automatically to match the ambient light in the room. Battery life is ten days with the backlighting on, or up to five months with the backlighting off - not bad.
The keyboard also supports both low latency 2.4GHz wireless (via an included USB dongle) and Bluetooth, making it compatible with a wide range of devices and operating systems. You can even connect to multiple devices simultaneously (up to three), then switch between them with a tap of a button. If you have a Logitech Flow compatible mouse, such as one of their recent MX series, you can even copy-and-paste text between computers when using Logitech's software. (I am duty-bound to also mention that free alternatives also exist that are device agnostic, such as Barrier and Mouse Without Borders.)
All things considered, the MX Keys is a super strong offering for the money, and at a 33% discount it becomes even better.