Lone Survivor's Jasper Byrne Teases Next Project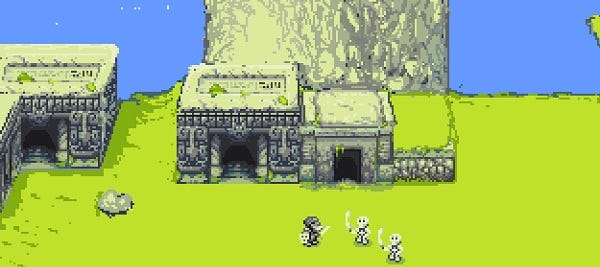 Emotional indie horror adventure Lone Survivor is one of the incredibly dark highlights of a very well lit year. There are plenty of games made by a single person but it's still a wonder to play something in which the entire design, from music to narrative, feel like they're so much a product of an individual's skills and personality. I've been eager to see what Jasper Byrne will do next and, not that I am spying on him or anything, I know he's quite partial to the punishing realms of Dark Souls. Today, he shares some artwork and ideas for a new project, including early prototypes, and he acknowledges the influence of From's RPG. "...it may be Zelda x Demon's Souls", says he. I say, "yes please". Take a look.
Along with Zelda and Dark Souls, I'm feeling a Sword and Sorcery EP vibe. Fantasy setting, fantastic electronic music, that's what I'm thinking. I'm also thinking that this is a very cool image.