Look! We're Even More Shiny! New Logo And Everything!
Spit And Polish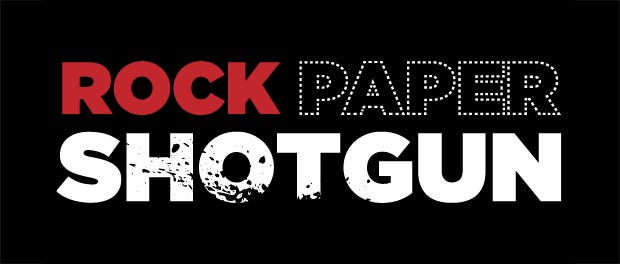 A new logo - gosh! What a day for the internet. And a new font, too! But don't be scared, it's just earth-shattering change that undermines your very reliance on the familiar.
At RPS we're always fiddling behind the scenes. Fnarr! Rather than relaunching the site every couple of years, our updating process is always happening, the heroic Jonathan Sutcliffe and team at Positive Internet constantly tweaking, fixing and improving, the site gradually evolving. We prefer this to surprising you (and us) with sudden change. Today's update is perhaps a bit more noticeable than others, and we hope you agree it makes the site easier to read. And prettier! Look at that lovely new logo. (If you're not seeing it, hit Ctrl-F5.)
RPS is a bit different to most sites, as you've likely noticed. That goes all the way down, with our design a cheerfully bodged together collection of Wordpress and hacks, plugins that instantly overwhelm our caching, and weird numbers that we can't stop from appearing. We're more frightened of it than in control of it, but hopefully you'll have appreciated our attempts to tame its more unwieldy aspects over the years. It's certainly come a long way from the hilarious mess Jim, John, Alec and Kieron tried to put together themselves in 2007. Without being owned by a megacorp, just keeping the site online for the millions of people who read it has been one of the biggest challenges of the last eight years - making it unhideous is frankly a miracle.
With our eighth birthday next week, a little visual overhaul seems like a good plan, along with a bunch of behind-the-curtain tweaks that you'll hopefully not notice. And we've other plans for the very near future to make the site even more presentable. We will continue to do our very best to ensure that adverts do not get in the way of the words, and rather enormously hope you'll respond to our efforts by not ad-blocking us. (It's hard to appreciate how much harm it does to sites you enjoy reading, but sadly it really does harm us very much.) And hopefully, in our own breezily bumbling fashion, we'll make RPS even more pleasurable for your tired, tired eyes.
Other than that, RPS continues to be the bestest PC gaming site there is. Our crew just now is remarkable, with Alice's incredible work on news, Pip's tireless roving reportage, Adam's extraordinary grip on reviews, and Graham's mighty ruling over it all from his giant hulking mecha-suit. Alec and John are alright too, probably.
If you like what one, some or all of those folk (and our many wonderful freelance contributors) do so much that you'd like to help cover the site's costs, please take a look at the RPS Supporter Scheme. You get bonus features and a few game-related gifts for signing up, too.
In any case: thank you! Thank you for being part of our madcap journey through the world of PC gaming. And blimey, look at that lovely new logo.