Lord Of The Rings Online Goes Free-To-Play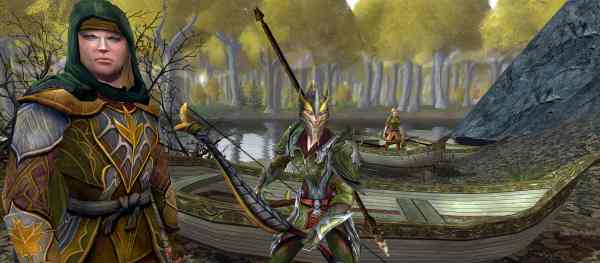 Gosh. No room for a rubbish gag in the headline. This must be what being Jim feels like. Anyway - Turbine's actually-really-rather-good MMO is going free-to-play from fall this year. The game's funding seems to be via micropayments via the Store (From the expansion packs and premium content to stuff like character customisation, character slots and utility items like potions) or become a VIP (Which gives access to all premium content and other bonuses). Worth noting it says that what you spend in the game shop can be earned in-game as well as bought. First impression? Really worth watching and possibly game-changing. Lord of the Rings Online is a genuinely strong MMO. Immediately, other free-to-play games start having a higher standard to live up to... and ones which demand a subscription start looking somewhat expensive. You can sign up for its Beta which launches on June 16th and the full-press release below...
WARNER BROS. INTERACTIVE ENTERTAINMENT ANNOUNCES THE LORD OF THE RINGS ONLINE™

TO ADOPT GLOBAL FREE-TO-PLAY MODEL

Turbine's Award-winning Online Game Will Be Free-to-Play Worldwide This Fall

BURBANK, CA – June 3, 2010 – Warner Bros. Interactive Entertainment announced today that Turbine, Inc. will unveil a major update this fall, making The Lord of the Rings Online™ (LOTRO) free-to-play for everyone. Extending its award-winning story, LOTRO delivers the ultimate adventure featuring a massive world with state-of-the-art graphics and gameplay, and a rich set of features that until now could only be found in premium subscription-based online games.

Launching this fall across North America and Europe, with Codemasters operating the game free-to-play in Europe, LOTRO will introduce Turbine's innovative new pricing model that allows players to download the game and play for free, purchase expansions, quest packs, items, and account services a la carte from the new LOTRO Store, or join the VIP program to get unlimited access to all of the game's content for one low price. Players interested in getting a sneak peek of the new LOTRO can sign up for a chance to participate in the Beta program which begins June 16, 2010 at http://www.lotro.com.

"Warner Bros. Interactive Entertainment is bringing quality games based on The Lord of the Rings to multiple platforms, and the franchise's expansive adventure story lends itself perfectly for LOTRO free-to-play, giving a wide range of players the opportunity to experience the game," said Jeff Junge, Senior Vice President Online Games and Digital Games Platforms, Warner Bros. Digital Distribution and Warner Bros. Interactive Entertainment. "We are focused on expanding our game franchises onto new digital platforms to maximize quality experiences for gamers worldwide and LOTRO's new model is a great leading example of this."

"Turbine's Dungeons and Dragons Online®: Eberron Unlimited™ was the world's first truly premium free-to-play online game that ushered in a new era of choice for online gamers seeking quality entertainment," said Jim Crowley, President and CEO of Turbine. "The popularity of DDO validated the extraordinary demand by gamers for quality entertainment they can experience at their own pace and within their budget. Extending free-to-play to LOTRO will offer another premium game to a broad spectrum of fans."

"Having successfully taken two titles free-to-play in the past we are very pleased to be doing the same with The Lord of the Rings Online in Europe," said David Solari, Vice President and General Manager of Codemasters Online. "It's a fantastic, award-winning game with a wonderfully realized world and this step will only broaden its appeal and increase its player base."

LOTRO will offer players unlimited choice!

Ø Free means Free! – Players will download LOTRO by visiting www.lotro.com and join with millions of other adventurers as they explore the most complete and authentic recreation of Middle-earth ever created and participate in LOTRO's award-winning epic story up to level 50 for free.

Ø Visit the new LOTRO Store! -- The LOTRO Store is loaded with thousands of convenience items as well as expansion packs, premium content, additional character slots, potions, character customization and more! The LOTRO Store is seamlessly integrated into the game and lets the player identify new and exciting ways to enhance and customize their experience using points which can be purchased in the store or earned through gameplay.

Ø Be a LOTRO VIP! – Players who elect to become a LOTRO VIP will have unlimited access to all premium content, receive priority server access, 5 character slots, a shared bank slot, and a monthly allotment of points to spend in the new LOTRO Store.

The Lord of the Rings Online is the ultimate adventure. This award-winning massively multiplayer online role-playing game delivers an interactive experience brimming with life and filled with the familiar people, places and monsters from the most famous fantasy of all time. From the picturesque surroundings of the Shire to Moria, the most fearsome underground realm ever imagined, players will soon experience the world of Middle-earth for free! For more information, visit www.lotro.com.