LOTRO walks to Mordor this month in sixth expansion
Mounting Doom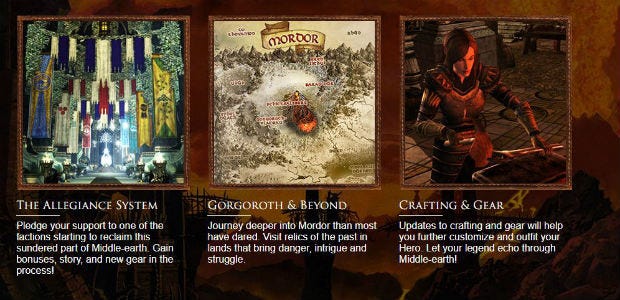 It takes a long time to travel to Mordor. 10 years, apparently, because a decade after MMO The Lord of the Rings Online [official site] released it's getting its sixth expansion, transporting players into the shadow of Mount Doom.
It's a big one, too, adding more than 300 new quests and a new allegiance system through which you can align yourself with one of the factions trying to get a grip on Mordor. It's out 31st July.
It will cost you £29.99/35,99€/$39.99 to tack it onto the free-to-play main game. Which is quite a lot of money for an expansion, if you ask me – although it's the same price as the last expansion, Helm's Deep, which came out in 2013.
There are two more expensive versions that will net you a new High Elf race, extra character slots and exclusive cosmetics – have a gander at them here.
You'll be able to buy the expansion from the in-game store, but only after an update due this winter. That'll cost you 2495 LP, and 1000 LP for the High Elf race.
It's always been a game I've been curious about but never played. It's got very positive reviews and a massive, massive world map, but the prospect of starting something that big from scratch terrifies me. This is probably more one for those who already have the game, and just want more of it.
I can't offer you a trailer, but I can offer you an hour of gameplay from Mordor, posted on the game's official YouTube channel late last month:
Fans of the game, will you be walking to Mordor?