Horror game Lost In Vivo undergoes a midnight metamorphosis
I heard you liked horror games so I-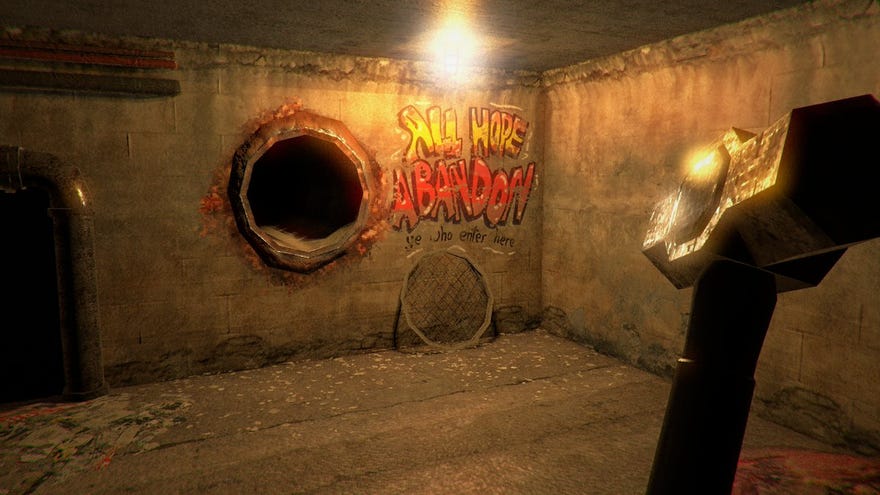 All screenshots courtesy of Dillon Rogers.
Lost In Vivo is a first-person horror game launched last month by Akuma Kira and clearly influenced by Silent Hill. You explore dark tunnels, solve puzzles, fight strange creatures and search for your missing dog. That's spooky enough by itself, but last night Gloomwood developer Dillon Rogers and Dusk developer David Szymanski got more than they bargained for - quite literally - while playing through the game. They tried playing it after midnight, and it transformed into something else entirely. Below, a trailer and a peek at the strangeness that was uncovered in the night.
Rogers was sharing his thoughts on Lost In Vivo as he played through it, collating them in this Twitter thread here. While not too enthralled by its combat, he praised the game for its excellent sound design, and slow evolution from what seems to be a walking sim into a Silent Hill-esque action horror game. The aesthetic of the game seems interesting too - unfiltered but specular-mapped textures, looking simultaneously rough yet sharp. It feels more detailed than PSX graphics, but more angular than PlayStation 2 - an odd beast. But even that style changes at midnight.
As Rogers returned to the game after entering the witching hour, he was greeted by an entirely new and noticeably glitchier title screen.
The game had turned into some kind of roguelike-inspired horror game with a dark, mystical spin instead of modern urban decay. Magic swords, dark dungeons, oddly twisted tunnels and gazing faces. Just imagine being the person to stumble upon this - apparently there's no mention of this strange alternate game on the Steam forum for Lost In Vivo, either.
Totally normal.
Haunted? Nah.
An hour later, Rogers quits the game and returns, only to find it all back to normal, as if nothing strange had ever happened. This isn't the first time a game has done strange, spooky or silly things at the stroke of midnight (Dungeon Keeper reminded you that curses were half price during witching hour, for instance), but it's probably among the most ambitious. A whole second game hidden away in there, available for only one hour every night? That's the kind of dark secret that makes my heart beat faster. Who knows what else could be lurking out there.
Lost In Vivo is out now on Steam, Itch and Game Jolt for £9.29/€9.99/$11.99.