Lost Sphear out now from I Am Setsuna studio
Get roleplayed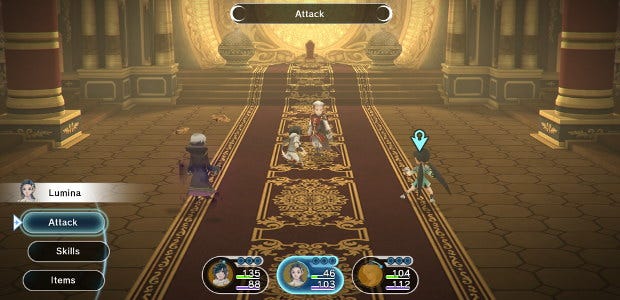 If you fancy JRPG action in a retro way, here's Lost Sphear out today. It's the second RPG from Square Enix's Tokyo RPG Factory, the studio behind I Am Setsuna, and it too riffs on ye olde JRPGs. I won't pretend to be well-acquainted with the genre but: yes, JRPG stuff. We do have a review coming from someone who actually knows a gad dang but we only just got our hands on Lost Sphear so, for now, here's word that the game is out. It does have a demo so you can try a bit yourself.
The story certainly sounds like an RPG to me:
"A young man, who suffered a phenomenon that he had never seen, faces an ominous power that threatens the fabric of reality. Awaken the power of Memory to restore what was lost! Muster different Memory and craft the world around you in a journey to save the world."
Though Squeenix do say its turn-based combat does have "a slight twist" on the classic format, "you're able to move your characters around in between executing their moves! If you're able to predict what the enemies will try next then you'll be able to prepare for it well in advance by tactically shuffling your characters around." When they say shuffling, I hope they really mean shuffling. Doddering. Pottering. Forgetting where they left their cup of tea. Being distracted by a headline in the paper. Stopping to water the plants.
Lost Sphear is out now for £35/€50/$50 on Steam. The free demo is that-a-way too. As I said, we do have a review coming; I am told that will happen.