Sandbox Sataning: Lucius 2 Announced
Less prescriptive, more murdersome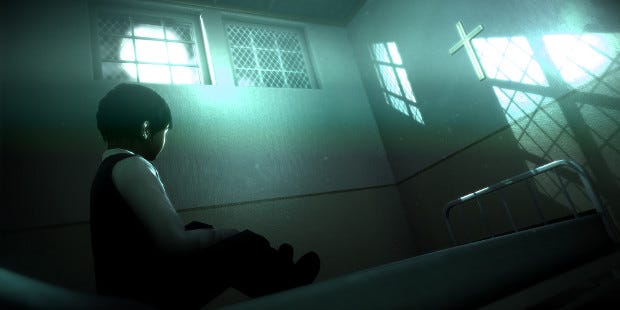 The idea of Lucius sounded jolly good fun, an Omen 'em up about the son of the Satan offing his family and servants. But as our Jim noted in his review, in reality it was more an adventure game where the puzzles to solve happened to be people to murder. You might, for example, break a lawnmower so you can mind-control the gardener into jamming his head into its spinning blades.
Lucius II, announced today, seems far more keen on Satantic murder. Developers Shiver Games describe it as a "3D splatter adventure sandbox" about terrorising a hospital and a small town. The trailer sure has a lot of splatter, with heads popping off and fires fires fires.
Escaping from the mental ward where he was put after murdering his family and razing their home, Lucius this time will be a lot more casual about murdering. The announcement boasts of "over 100 potential victims" and creating traps "using a complex combination system and various tools." My favourite from the trailer is firing a gas cannister to pop a head off like a cork. Or casually strolling spreading fire with a jug of chemicals. Perhaps clonking a chap with a crane. It's all quite silly.
A press release quote from Shiver's Johannes Aikio:
"The main goal has been to add more freedom and to deliver a sandbox-type setting for the murderous kid – Be ready to use your creativity for inflicting pain and suffering, because this time the restrictions are gone and the sins have multiplied!"
Shiver plan to release Lucius II in "early 2015" on Steam.