Magical FPS Immortals Of Aveum debuts extremely short clips of an epic battle on a steampunk mech
"Sigil up!"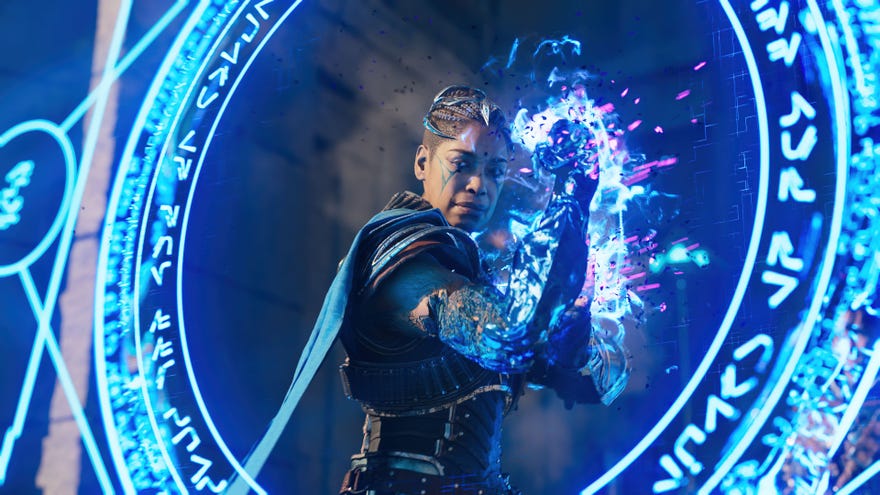 Some time back I made fun of the preview for Immortals Of Aveum because a) it was quite a silly hands-off preview and b) Immortals Of Aveum is very clearly a game that needs to be played to properly get to grips with it. It's out on July 20th, so not too far away. Have I played it yet? No! Of course not! But we're getting closer to a hands on, and after a six-minute video of the magic FPS in action last month, tonight's Summer Game Fest threw us a big, bombastic boss fight on top of a steampunk Jaeger, or something. I dunno, it was hard to tell over the light show. Those sure are a lot of magical fireworks going off. I like it. Jangle some more keys in front of me, games man.
The video itself is, uh, well, it's not long, and it's quite choppy. While I enjoy a good setpiece, my concerns remain the same as before, i.e. the magic shooting, despite the different flavours of magic broadly corresponding to a different kind of gun, looks pretty weightless, and the enemies look bullet spongey. I do like the colours and the traversal, though.
As you might have guessed from the name alone, this game has a bunch of lore. You're part of an elite team of battle mages, and you play a super special boy named Jak, who can control three different types of magic. According to Jak's actor Darren Barnet, who was on stage with the Keigh tonight, "he's brash, he's funny, but he gets the job done", and is a "streetrat", who discovers his ability to control magic during a time of intense trauma.
Jak and his pals the Immortals (hey, that's in the name of the game!) are in a war to control magic with a Suaron-esque bad wizard, and the war has been going on for long enough that it's called the everwar. If I recall correctly from my preview there's also a big hole in the world. Just a big ol' pit. Lore!
I continue to be optimistic about Immortals Of Aveum, because it has a stellar cast and it just has a fun silly vibe, possibly enhanced by the fact it clearly wants me to take it seriously. My evidence for this is that the trailer from tonight has a clip of Jak saying "Sigil up!" in the tone of voice that a SWAT commander would say "Load up!". Come on. Caaamaaaaaaaaaan. Anyway, I'll be back to talk to you about this on July 20th (or before, if they never read anything I write about it and let me touch it in previews again).
---
NotE3 and Summer Game Fest 2023 is over for another year. You can find out all the latest news by visiting our E3 2023 hub, or you can catch up with our round-up posts of everything that was announced at Summer Game Fest, the Xbox Games Showcase, the PC Gaming Show, Day Of The Devs, and our top highlights from the Wholesome Direct.