Maia Update Improves Performance, Adds Nanoprinters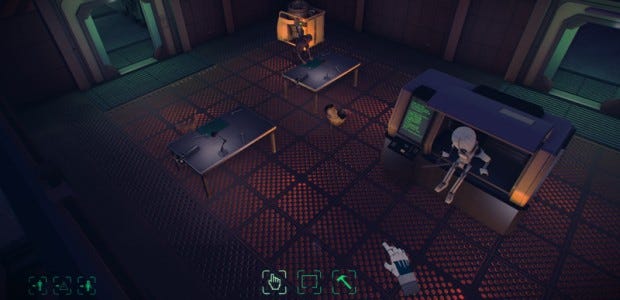 Simon Roth is taken by a fey mood!
Simon Roth screams "I must have Kickstarter funds!"
Thankfully the fortress contains more than the funds required, saving Simon Roth from a slow descent towards insanity.
Simon Roth works furiously!
But what is he building in there, locked away inside his room? Something terrible, forged in bone?
Simon Roth, Programmer has created Maia, an in-development, Dungeon Keeper-like space colony management game available in Early Access. Update 0.46 is out and there's a video and details below.
This is described as Maia's biggest update yet, owing in part to the focus on improving performance and squashing bugs. Roth now reckons that anyone running an equivalent i5 processor should be getting in the region of 60 frames per second, which doesn't sound too impressive given Maia's limited, isometric view, but becomes more so when you begin to understand exactly to what extent its world, physics and people are being simulated. This is Dungeon Keeper by way of Dwarf Fortress.
Which makes sense of the seemingly pernickety new features, which include the ability to research Botany and investigate flora, and to "3D print" robots to expand the workforce in your spacebase. There's a full list of changes through on the game's Steam Early Access news feed. If you were saddened by the quick end for Spacebase DF-9 - or felt its simulatory chops were never substantial enough - then it's worth a look at this and previous updates.
Simon Roth is quite pleased with making an artifact.