March Of The Tiny Men: Conquest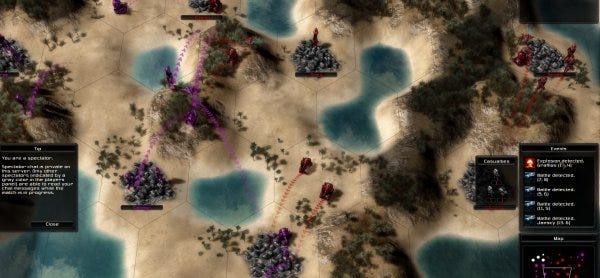 UPDATE: Proxy send of some multiplayer competitions - with prizes! - they are running for this. Check here and here for details.
Hey, you there! Yes, you. You look like you might enjoy a moderately challenging simultaneous turn-based strategy. If that's true then you might get along with Conquest, which is such a game. It has hexes. And it has a demo. It's fast and somewhat furious - the games can be over in just a few minutes and are extremely simple in terms of unity types and so forth - but it's rather elegant, and all about balancing the speed with which you deploy forces against keeping your opponents from using the fog of war against you. Try it out! The multiplayer scene seems dead, but there's offline AI fun times to be had, plus the tiny men make awesome battles-speak noises when you command them to do stuff.
Related, can anyone think of anything else that plays like this? It seems like a bit of an outlier to me. Video below!