Mars Retracts: Original Doom 3 On Sale Again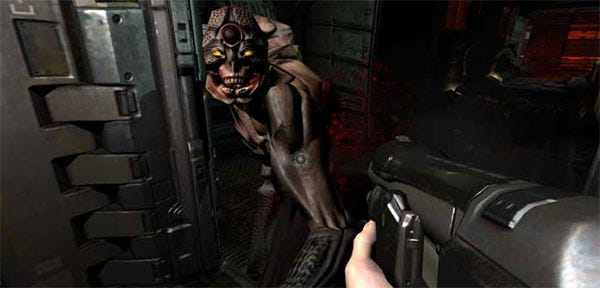 OH GOD IT'S MONDAY KILL ME
In happier news, Bethesda's vexing, mod-screwing decision to remove the original Doom 3 and its expansion from Steam following the release of the confusingly pointless BFG Edition has been reversed. So, you can now lay hands on id's divisive (putting it mildly) 2004 shooter once again, which must be great news for projects such as Thief recreation The Dark Mod.

Assorted flavours of Doom 3 are currently discounted too - it's only £6 for the original base game, or £8 for the complete pack.
Good on Bethesda for doing the right thing here. While I appreciate that they want to make money from id, especially after Rage didn't set the world alight, it seems hard to find a reason why the original Doom 3 being on sale as well as BFG would have harmed them. Now, we are free to choose which version of an over-long, often boring shooter we buy. Hooray!