Zok! Thwap! Marvel Ultimate Alliance Returns Revamped
Sequel's coming too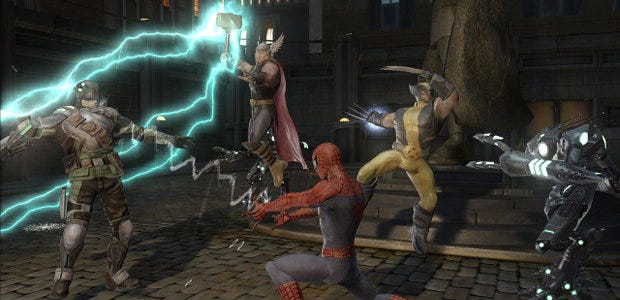 Bam! Bif! Pow! Pants-over-trousers action-RPG Marvel Ultimate Alliance is returning to PC. Kazonk! The save the world 'em up first came to PC in 2006 but this rerelease will be fancied up a bit. Yowch! It's coming to Steam on Tuesday. Bap! What's more, Marvel are also releasing its sequel, Ultimate Alliance 2, on PC for the very first time. Bim!
Marvel announced the new PC versions over the weekend at San Diego Comic-Con. What's new? Executive producer Mike Jones explained:
"We wanted these re-releases to be as faithful to the original Ultimate Alliance games as possible—the definitive versions. However, the team did work really hard on improving performance, some UI and graphic enhancements as well as making the games compatible with modern platform features on PS4, Xbox One, and PC. They play really smooth."
The Ultimate Alliance games follow in the same vein as X-Men Legends, and Legends developer Raven Software made the first Ultimate Alliance too. They're big mega-crossover event-style stories cramming in all sorts of heroes and villains, and you get to fight through them with your chosen squad of four heroes. The lineup includes a loads of X-Men, Avengers, Defenders, Fantastic Four folk, and so on. You control one hero at a time but can switch between others as you please, and certain heroes give boosts to others or - in MUA2 - can combine their powers for fancy moves.
I remember the first game being... okay? Good enough? A pretty fun romp with a lot of superheroes doing superthings? It's been a while, though - MUA was in 2006 and MUA2 2009.
These new releases will cost $39.99 each or $59.99 for the pair. Here's an old trailer for the original release of MUA2: