Mass Effect 3 Ending Hinted At By Mass Effect 1 After All?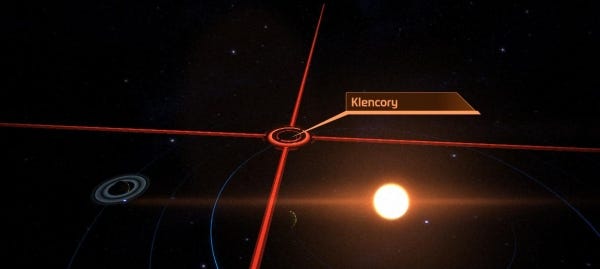 Here's a thing that looked fake but isn't. The notorious Mass Effect 3 ending - could it have really been hinted at in Mass Effect 1? A post on Reddit showed a planet description that seemed to describe, well, that's a spoiler I'll put below. But apart from the picture that had been rather hastily added, that planet is really there. I've flown there myself. Take a look below.
SPOILERS from now on.
So, fly to the Kepler Verge, then the Newton System, and there you'll find a planet called Klencory. Orbit it, and it'll give you a description (click to make it readable):
The text says,
"Klencory is a rock and ice planet with an atmosphere composed of chlorine and argon. The frozen surface is mainly composed of potassium with deposits of iron.

Klencory is famously claimed by the eccentric volus billionare Kumum Shol. He claims that a vision of a higher being told him to seek on Klencory the "lost crypts of beings of light". These entities were supposedly created at the dawn of time to protect organic life from synthetic "machine devils".

Shol has been excavating on Klencory's toxic surface for two decades, at great expense. No government has valued the world enough to evict his small army of mercenaries."
Beings of light, around since the beginning of time, sworn to protect organic life from synthetics, eh?
And they say the ending of Mass Effect 3 wasn't properly pre-empted. (And kudos to this guy for calling it.)