Mass Effect: Andromeda system requirements confirmed
Chek yr spex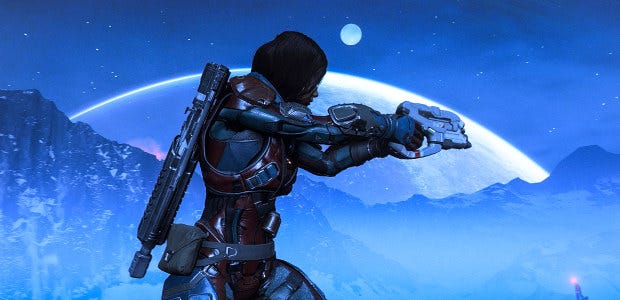 Now that Mass Effect: Andromeda [official site] has gone gold [for the benefit of younger readers: 'gone gold' is a reference to how developers would celebrate finishing a game by dancing around to Spandau Ballet's Gold -ed.], BioWare have confirmed its final system requirements. If Holly's recent preview has you interested in the new space adventure, hey, read on to discover how much power you'll need in your datadeck. Your rig. Your GamePig. Your gameslammer. Your roxxor boxxor. Your beast. Your neon demon. Your make-the-pictures-go machine. Your computer, yeah? Is it fast enough?
The specs are listed on Origin:
MINIMUM SYSTEM REQUIREMENTS

OS: 64-bit Windows 7, Windows 8.1 and Windows 10
PROCESSOR: Intel Core i5 3570 or AMD FX-6350
MEMORY: 8 GB RAM
VIDEO CARD: NVIDIA GTX 660 2GB, AMD Radeon 7850 2GB
HARD DRIVE: At least 55 GB of free space
DIRECTX: DirectX 11

RECOMMENDED SYSTEM REQUIREMENTS

PROCESSOR: Intel Core i7-4790 or AMD FX-8350
MEMORY: 16 GB RAM
VIDEO CARD: NVIDIA GTX 1060 3GB, AMD RX 480 4GB
Of course, exactly how playable a game is on the minimum spec is always a bit of a grey area, but those are your numbers. My laptop wee laptop should still run that so I'm content.
March 21st is the big day.