Mass Effect Andromeda Says Bye To Milky Way In Teaser
Andromeda? I barely know her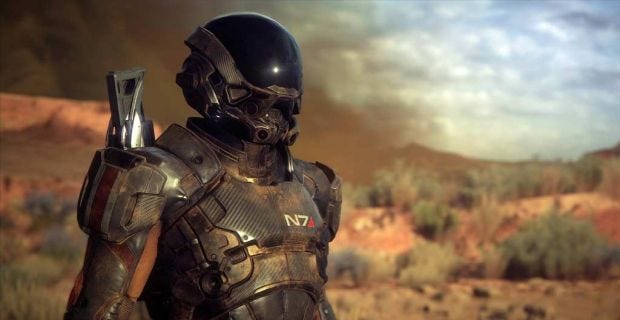 Space: one of the frontiers. These are the trailers of the videogame Mass Effect Andromeda [official site]. It's mission: to explore strange new worlds, discover new lifeforms, and then have sex with them. As November 7 comes closer, a day which Bioware has stolen for itself during which they will likely reveal something important about the upcoming guns 'n' conversation game, the developers have decided to tease some plot in a brief moon-based video. Not much plot, but a little.

Bye, earth! So far, we know only a little of the story behind this spin-off. We know that the two playable main characters, male Ryder and female Ryder, are brother and sister, and that both will co-exist in some manner during the game. This may simply mean you pick who you want to play as in the beginning, then hear about what your less-impressive brother is up to throughout the tale. Or it could mean something more interesting and switchy. We don't know.
What is clearer now is the timing of the spin-off. The voiceman of the trailer talks of "a future that begins 600 years from where we stand", which hints that the journey to Andromeda has been a bit of a mish. The non-banjaxed earth shown here also suggests that the crew and settlers of the Andromeda mission set off before the events of the first trilogy came to a conclusion, as our pally-wals at Eurogamer point out. This would explain why Mass Effect Andromeda isn't bound by the end of Mass Effect 3, as we learned earlier.
"We want this to be a new story," Bioware's Aaryn Flynn told Eurogamer previously, "and it would be very hard to say it's a new story but also that you need to understand how [the past trilogy] ended."
Mass Effect Andromeda is scheduled for release in early 2017. We'll know a lot more next week, with any luck.