Spin The Wheel With MechaniClock
Punctual puzzling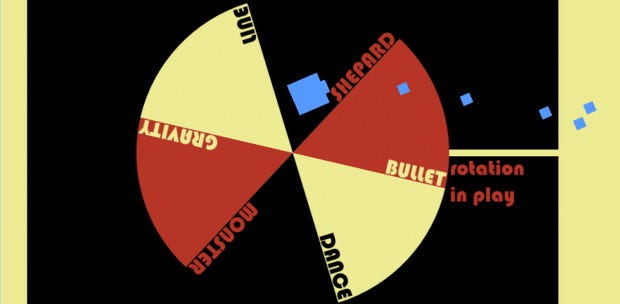 MechaniClock [official site] is a neat, score-accumulating game where the rules change in real-time. It's a self-labeled "game of shifting ideas" with six different game modes in a Wheel of Fortune-type setup forcing you to think on your feet.
Originally made for this year's Global Game Jam way back in January, MechaniClock only came to my attention recently after it popped up on Itch. I'm glad it did. Working within the bounds of a square playing area, you take control of a blue block surrounded by dozens of smaller pink ones. A large wheel slowly rotates in the centre of the field which dictates which 'mode' is current, wherein you must rack up as many points as possible.
In 'Bullet', the rules are simple: shoot to kill and avoid all and any incoming fodder. In 'Line', you must force as many pink shapes to collide with a track laid by hitting the space bar. 'Shepard' sees you herding the pinks in the same direction towards goals dotted across the playing area. 'Gravity' lets you alternate the direction in which the pink squares fall or rise, again towards the goals. 'Monster' makes you feed a huge red shape with the wee helpless pinkies to prevent it from getting you. And dance has you inflicting a blue shield upon your minions within which all must dance inside - the more inside at once, the higher your score. Deep breath... and repeat.
Each round last for about 20 seconds and each playthrough lasts 13 rotations or until you die; the longer you last, the more inevitable the latter becomes.
If you fancy giving MechaniClock a bash yourself - my top score is 9,344 - it can be found on Itch for 25 cents or Game Jolt for free.