Mechin' Magic: Borderlands 2's Fifth Class to be DLC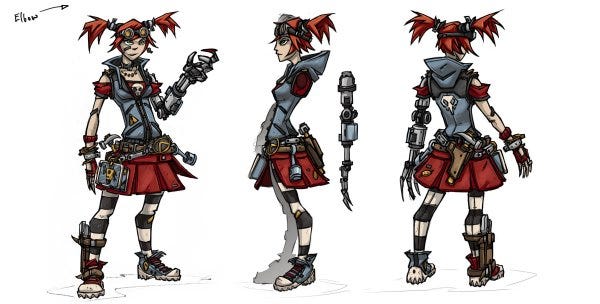 Borderlands 2 is going to have all the guns. Hundreds of thousands of the things. 87 bazillion! Probably. Gearbox's unabashed ode to all things projectile will - as it turns out - also have five character classes to wield them. There is, however, something of a catch: the Mechromancer (which I was crushed to discover in no way involves candle-lit dinners) won't be working its robotic voodoo on day one. Instead, Gearbox CEO Randy Pitchford is estimating the robo-armed girl and her controllable robo-everything-ed sidekick will be finished "60 to 90 days" after launch. On the upside, she'll be yours for free if you pre-order and join the shadowy Premiere Club. Otherwise, though, you'll have to fork over 87 bazillion dollars. Or, you know, a fee "comparable to most DLC."
And, to be clear, this does apply to PC. I sought clarification from the magical game-making crate itself and received the following response: "Steam doesn't tend to take pre-orders until about 2-3 months before launch. Haven't even had a discussion yet with them on if they will be a Premiere Club participant, so I cant give you anything on record in regards to them. Retail PC pre-orders will [give players access to free DLC], though."
Meanwhile, Gearbox also announced earnable character customization pieces during its PAX East presentation (via Game Informer), which will take the form of gear, costumes, and even heads. So simply complete missions and challenges, and you'll have your pick of the cranial litter - thus finally allowing your restless soul to find peace if you are, in fact, a Headless Horseman.
Jim (who is not, to my knowledge, a Headless Horseman) got to play the game recently and came away fairly impressed. He may have even joypuked while finally getting why kids these days love the dubstep. I don't know. He doesn't like to talk about it. Regardless, it's all looking very promising. 87 bazillion promisings, even.