MechWarrior 5: Mercenaries will have four-player co-op and full mod support
Robot Wars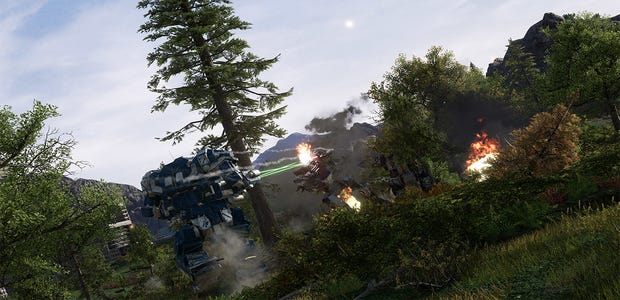 This time last year Piranha Games announced MechWarrior 5: Mercenaries would release in 2018, but we haven't heard much about the game since. Until now. At last weekend's Mech_Con, developer Piranha Games revealed MechWarrior 5 will feature four-player co-op as well as full modding and Steam Workshop support. They also revealed MW5 is due to launch in December 2018. Only a full year to wait!
The newly announced four-player co-op allows players to add up to three friends into their campaign universe, from there you can can embark on missions as a mean-machine unit of savage mercenaries - and probably Dave from accounting.
Pairing co-op with full mod support means you and your merry band of savages can customise your own missions, contracts, planetary systems and biomes, among other things.
Add this to the sneaky peek of new gameplay footage we've already seen, courtesy of Polygon, and MechWarrior 5 is shaping up to be one heck of a boomfest.
MechWarrior 5: Mercenaries will be the first standalone singleplayer MechWarrior game in 15 years and it looks like it was worth the wait, returning to an original action-sim with player choice playing a huge role in the career-centred campaign.
According to Piranha:
"MechWarrior 5: Mercenaries features intense PvE 'Mech combat in an immersive, career-based Mercenary campaign driven by player choice. Featuring an advancing timeline starting in the year 3015, players will adopt the role of a new MechWarrior mercenary thrust into leadership of a mercenary squad as the Third Succession War continues to fracture the Inner Sphere; the vast region of colonised space surrounding Earth. Victory, prestige, and profit will not only require skill on the battlefield, but in the maintenance and enhancement of your BattleMechs."
If 2017 is anything to go by, I'll be looking forward to blowing up some stuff by the end of 2018.