Jumpy! Mega Man Legacy Collection 2 packs MM 7-10
That bouncy blue boy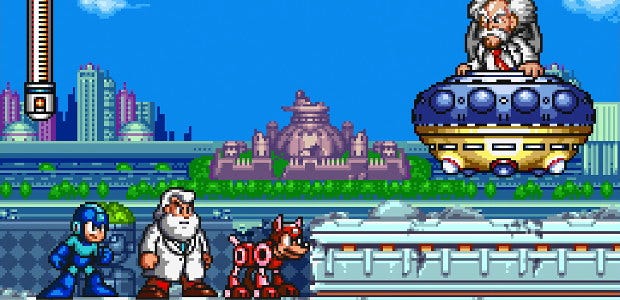 That bouncy boy Mega Man is returning in another collection of his vintage adventures. Following on from 2015's Mega Man Legacy Collection, which contained the first six Mega Men from the NES, Capcom have announced a follow-up leaping from the SNES and onwards with Mega Men 7, 8, 9, and 10. As with the first, Mega Man Legacy Collection 2 [official site] packs the original games together with bonuses like stage remixes, challenges with leaderboards, and a 'museum' with old art and ephemera.
That's Mega Man 7 from the SNES, MM8 from PlayStation and Sega Saturn, then the retro-styled MM9 and 10 from Xbox 360, PlayStation 3, and Wii. On top of those old games come extras. Capcom say:
"If all that wasn't enough, new players can easily get into the game with the "Extra Armor" option that reduces damage taken by half, as well as convenient checkpoint saves to pick up where you left off if your adventure doesn't go quite as planned. For hardcore players or those that like a good challenge, new stage remixes and challenges await in Challenge Mode. Go for gold and compete for top placement on the online leaderboards!

"Finally, a full museum is also included, packed with an archive of production art, sketches, development materials, concepts, and more. There's even a music player to listen to all your favorite tracks from each game."
This second Legacy Collection isn't being handled by the folks behind the first, Digital Eclipse. Capcom don't say who's on it, so probably they're handling it in-house.
The Mega Man Legacy Collection 2 is coming via Steam on August 8th, priced at $19.99.