Mercy Me: It's Splinter Cell: Blacklist Versus Trailer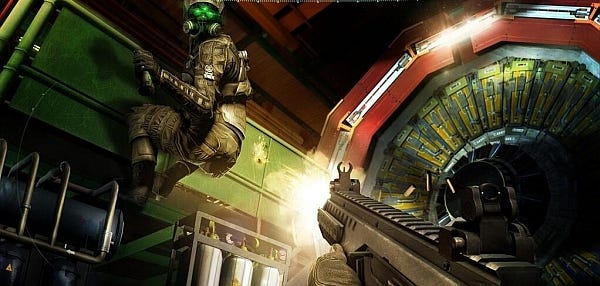 I know it's not cool to be excited about a new Splinter Cell game, but I think I've proven time and time again that being cool isn't the first thing on my mind. So this post is a judgement free zone: feel free to declare yourself a fan of a series that people get rolly-eyed at. Be proud of your allegiances! So I am excited about Splinter Cell: Blacklist, because it looks like Splinter Cell's greatest hits. They've taken all the good bits of Splinter Cell and crammed them together in the Conviction engine. One of those bits is the awesome Spies vs Mercs multiplayer. Want to see it?

So, there are two versions of the Versus multiplayer, and this video shows off the remake of the classic 2 vs 2 mode from Pandora Tomorrow. I remember loving it, despite controls that were set-up to troll you. It's just a brief overview, but it showed off a Merc being tagged with a tazer, which is my preferred tactic. I always go for the most humiliating assault.
I played it briefly at Rezzed, and discovered that there are guard dogs that you can punch and carry around on your shoulders, which almost made up for missing Micheal Ironside's voice. Almost. Honestly, it was just weird playing Sam without his gruff vocals: he is Sam, and I really struggled to identify with the new guy. He wasn't gruff, he wasn't world-weary. He just wasn't Ironside.
I'm seeing it next week, so I will have a proper hands-on before it's released on August 23rd.