Mega Late, Man: Mighty No. 9 Delayed Again
'cos networking!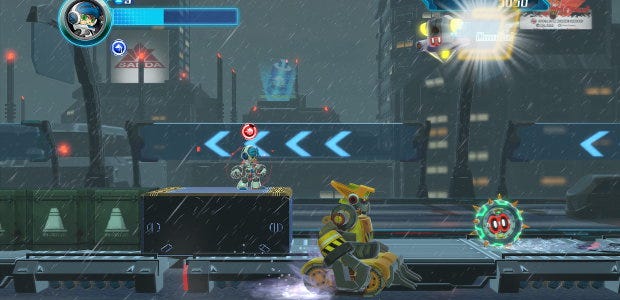 Mega Man 'em up Mighty No. 9 [official site] was due to launch in two weeks, but the Man spiritual successor from creator Keiji Inafune has ended up delayed once again. This time, wonky multiplayer is to blame. It's now expected in spring, which could put it a year behind the April 2015 launch pitched when it was on Kickstarter. Hey, making games is tricky, and not all problems can be solved by exploding robots. Very few can, in my experience. Apparently crying children are not at all cheered by you filling their remote-controlled BB-8 with firecrackers, no matter how colourful the flames are.
The short story is that the online modes aren't up to scratch, and will take longer to fix than they had hoped. For those who want to get technical, Man man Inafune explained:
"The reason for the delay is rooted in bugs inside the network modes, and specifically problems with matchmaking. There are two large reasons for this problem, one of them being the large number of platforms supported (the solution for each platform is slightly different) and the other stems from the fact that the engine we are using is no longer being updated which means adjustments for matchmaking and online code are being made manually (actually reprogramming parts of the engine by the dev team themselves). Unfortunately, this is all a result of miscalculations on the part of us, the development staff."
He added:
"For this 3rd delay of the game, we have no excuses for disappointing our fans and especially our backers once more. We want to take this chance to express our sincerest apologies to everyone who has looked forward to the release."
Aw, you're not going to leave him standing there like that, head turned down, cap in hands, feet shuffling, lip quivering, are you? Go on, hug it you two.