Bees! Bees! Bees! Extra Bees For Minecraft
It sure has a lot of bees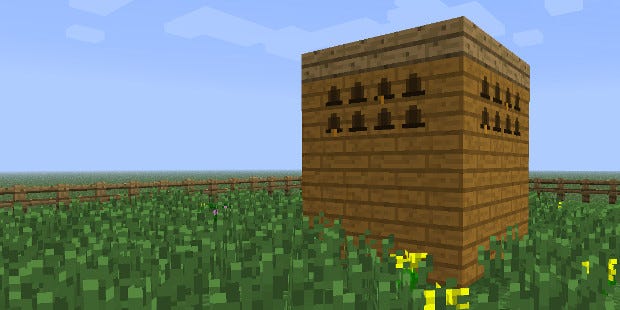 BEES! Noble bees! Sinister bees! Tipsy bees! Boggy bees! Gothic bees! You want bees? How about bovine bees? Minty bees? Creepy bees? Lustrous bees? Modest bees? But wait, there's more: tarry bees! Absolute bees! Stained bees! Over 150 species of bee are just waiting for you to tend, study, and DNA-engineer them in Minecraft once you install the Forestry mod and the aptly-named plugin Extra Bees. What about bauxite bees? Glowering bees? Malicious Bees? Virulent Bees? Frigid bees? Jaded bees? Oh you betcha. And ravenous bees! Pulped bees! Sticky bees! Caustic bees!
Look at this glorious list of bees. I've had it open in a browser tab for several months now, not sure when or why the page got there but hugely enjoying chancing upon it and looking at some bees. Look at all those bees. Keeping these different bees will get you combs dripping with everything from venom and diamonds to snowballs and uranium, naturally. Honey too, I guess.
Extra Bees creator Binnie has also come up with Extra Trees, doing what you'd expect, a Botany mod adding loads of flowers and gardening tools, and, sure, a Genetics mod with machines to sequence the DNA of all these new species and splice them up real good. A whole new world of species to discover, tend to, study, and experiment on is here. A new natural history to uncover.
I'm sure other mods do similar things. I don't care about who was first or who does it best. Right now I'm enjoying looking at a huge list of bizarre bees, delighted that people made all of this.
Not enough bees? Try the Magic Bees plugin too!