Notch On New Minecraft EULA: Not 'Literally Worse Than EA'
The more things change, the more they stay the same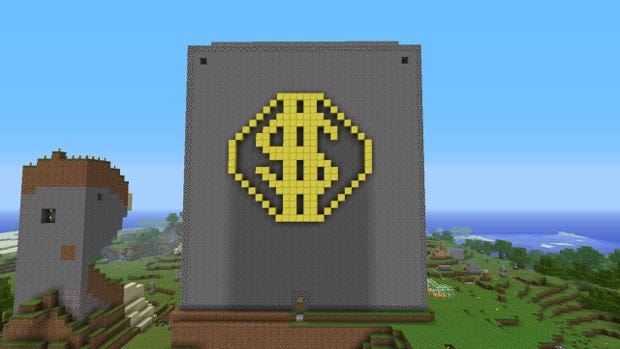 Did you hear the news? You can't sell items that affect gameplay anymore in Minecraft. If your server does that, you have been bad and will probably be shot to death by the police after a high-octane car chase full of cool lighting and witty quips. You are, however, still allowed to accept donations to keep your server up and running, promote advertising/in-game sponsorship, and sell items that don't affect gameplay. Minecraft's new EULA essentially codifies a lot of things that were already happening while preventing pay-to-win. The community's response to the changes? Not good.
Change often causes outrage, and while this is hardly a case of universal anger, the skies have definitely seen their fair share of pointed words flying about. After being accused of being "literally worse than EA," Notch wrote a blog post in response:
"Someone saw that the EULA says you can't charge for these things, and asked one of the people working at Mojang about it. That person said that yes, it is indeed against the rules, and then everything exploded. A lot of people got the impression that we're changing the EULA somehow to only now disallow these things, but they were never allowed. A lot of people voiced their concerns. A few people got nasty. Someone said we're literally worse than EA."

"We had discussions about it internally, and eventually had a big meeting where we said that yes, people running servers are a huge part of what makes Minecraft so special, and that they need to be able to pay for the servers. So we came up with all sorts of ways this could be done without ruining the "you don't pay for gameplay" aspect of Minecraft we all find so important. These rules we're posted in non-legal speak here: mojang.com/2014/06/lets-talk-server-monetisation. There are new rules. These are new exceptions to the EULA. All of these make the rules more liberal than things were before."

"People are still asking me to change back to the old EULA. That makes me sad."
So, in short, Mojang clarified a stance it already held, in effect cracking down on people taking advantage of the fact that the rule wasn't very clearly stated. Now that it is clearly stated, people seem to be under the false impression they've been deprived of some inalienable right. A fun place, this here Internet. I bet it's a big hit at parties.
And so the Minecraft machine trundles on, more or less the same. Anyone think there's anything legitimately worth being upset about here?