Telltale's Minecraft: Story Mode has started season 2
Let's go, young'uns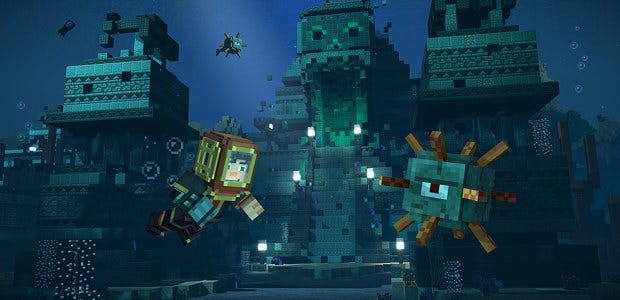 Young people: what are they like? We just don't know. We've all heard the unlikely stories of these 'twenty-somethings' getting jobs, going to university, making friends, acquiring and using yoyos, and even playing video games, but what are the young'uns really into? You can now resume your undercover investigations, as Minecraft: Story Mode - Season 2 [official site] has started. Telltale released the first episode last night, which follows on from the 2015-2016 season with more cubical adventuring in the traditional Telltale way. It's like The Walking Dead but with YouTubers instead of murderers and cannibals, yeah? That's what young people like. Look:
Telltale explain what you're seeing there:
"Now that Jesse and the gang have vanquished the Wither Storm, saved the world, and become totally super famous heroes, life has gotten a bit more...complicated. With more responsibilities and less time for adventure, old friendships have started to fade -- at least until Jesse's hand gets stuck in a creepy gauntlet that belongs to an ancient underwater temple. Together with old pals and new comrades alike, Jesse embarks on a brand new journey filled with tough choices, good times, and at least one temperamental llama."
The game does have an option to import saves -- and their decisions -- from the first game. If you don't have saves or fancy trying something different, it also has a 'Recreate' feature which uses a quiz to generate the same effect.
A pass for the full five-episode season costs £18.99/22,99€/$24.99 on Steam and from Telltale. It is coming to GOG too but doesn't seem to be out there yet. Given that players are reporting show-stopping bugs, maybe Goggers are better off arriving late.