Cats and crafts in gorgeous Mineko's Night Market
Caaaaats!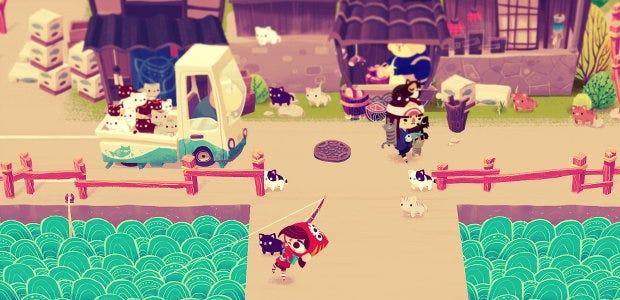 The Japanese island of Tashirojima is known as 'Cat Island' for its huge population of fuzzfriends outnumbering the human population. Even more magical than that is the cat-covered island in Mineko's Night Market [official site], an upcoming explore-o-craft-a-vendor life sim with more cats than you can shake a laser pointer at. Meet cats! Befriend a cat god! Grow cats from plants! Ride cats in races! It's cats all the way down. It also sounds a bit like Stardew Valley and Harvest Moon, with villagers to meet and growing and crafting to do. and a market stall to run.
Sadly we'll need to wait until 2018 to play but here's a pretty trailer for now:
Mineko is a young girl new to the island, see, who runs a stall in the weekly market. That gives a week to gather resources, craft goods to sell, meet people, explore, adventure, complete jobs, go fishing, sing karaoke, and who knows what else? Developers Meowza Games explain:
"After all your hard work during the week collecting resources and crafting odd items of art, trinkets, and toys, sit back and await the townsfolk who are now your prospective customers! When you're done selling your items, use your newfound wealth in the market itself. Different vendors offer chances to play a variety of mini-games, eat strange culinary delights, and buy collectible collectibles. There are 16 uniquely themed markets every year highlighted by a stage event you can participate in every week from taiko drumming and sumo suit wrestling, to Kabuki theatre and karaoke competitions. The better you do at the market, the bigger and better the market will be, and even attract new residents and celebrity guests!

"Of course, you are free to choose how to experience the world. You can strategize the most efficient resource managing/crafting for best market returns, or play casually as you try to make friends with townsfolk, discover the mysteries of the town, or just spend an afternoon meditating in the zen garden."
That sounds great. Looks it too.
If the beautiful art looks familiar, that might be because Brent Kobayashi of Meowza has worked on games including Alphabear, Loot Rascals, and Road Not Taken.
Mineko's Night Market is headed to Windows and Mac in "late 2018".