Mirage: Arcane Warfare pulled from sale due to GDPR
Chivalry is still go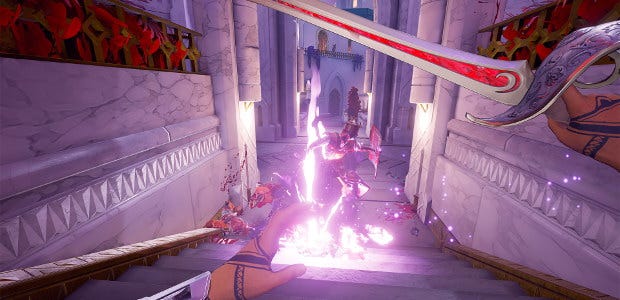 With the European Union's new General Data Protection Regulation (GDPR) coming into effect today, hopefully spelling an end to e-mails from companies begging me to stay subscribed to their newsletters, another game has chosen this moment to throw in the towel. Torn Banner Studios have removed first-person brawler Mirage: Arcane Warfare from sale and will soon shut down their official servers. The magical follow-up to Chivalry: Medieval Warfare will still be playable on player-hosted servers and with its AI botbuds, so people who already own it can play - but new people can't join in.
"We have made this change in part due to the new European Union privacy law, the General Data Protection Regulation (GDPR), that comes into effect May 25, 2018," Torn Banner said in yesterday's announcement. "We unfortunately have run out of options for keeping Mirage alive."
The official servers will be online until May 31st, then it'll be down to player-hosted servers.
Torn Banner don't fully explain the situation, but I'd imagine it's the case that the game was making so little money that the cost of updating to become GDPR-compliant wasn't worth it. The GDPR caused Loadout and Super Monday Night Combat to call it quits for that reason, the final straw for struggling games. I've asked Torn Banner to elaborate on their particular situation, and will let you know what I hear back.
Mirage was struggling. Over the past month, it peaked at having 24 players online at the same time. Torn Banner did briefly bolster playercounts by giving Mirage away for free for one day in September 2017, which saw it briefly surge to an all-time high of 43,000 concurrent players before dramatically falling off. Chivalry's numbers are still about 100 times higher than Mirage's.
Our Matt was a fan of Mirage and had hoped it might one day go free-to-play to lure in loads more players, but so it goes.
This doesn't sound like the end for Torn Banner, mind. Chivalry is still up and sold, and they say "We look forward to seeing you in our future titles" - so they're expecting to make more games.