'Mirror's Edge 2' Is Mirror's Edge Catalyst, Not A Sequel
But what IS it?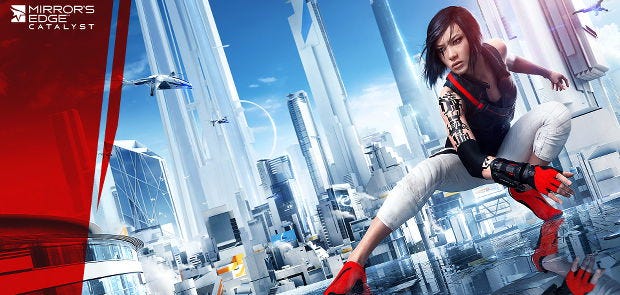 Announcements are usually supposed to clear things up, but the game we've blithely assumed would be called Mirror's Edge 2 is perhaps hazier than before. EA today announced that its actual name is Mirror's Edge Catalyst [official site] and no, it isn't a sequel.
Seems they've done enough work back at the drawing board "re-evaluating every aspect of the game" that it's now "a new experience". We'll find out quite what that means during E3 next week.
Senior producer Sara Jansson explained in a statement on the game's site this afternoon:
"Mirror's Edge has always had a special place in the hearts of all of us at DICE. The first game had a lot of promise. It was unlike anything else in terms of the gameplay and style — it had a unique soul. But as much as we loved that game, we knew it could be more. So that's what we have set out to do as we introduce Mirror's Edge to a new generation.

"The team has spent a lot of time re-evaluating every aspect of the game and making it a new experience. This is not a sequel, this is not Mirror's Edge 2. We have landed on a vision that honors the first game — pushing the boundaries of first person movement and diving deeper into the story behind our heroine Faith — but also brings a lot of great new, interesting gameplay and features to the experience for our players."
That could be awfully exciting depending on which direction it goes in. The prototype footage EA showed at E3 2014 looked like the game was maybe leaning more towards the swift, cool thing I'd imagined it would be, perhaps with more - but less awful - combat. That's a lot to read into a short concept demo though. Maybe I'm just a sucker for slide kicks and nice first-person melee animation. See for yourself: