Run, Faith, Run: Mirror's Edge Catalyst Gameplay Trailer
Ya do run run run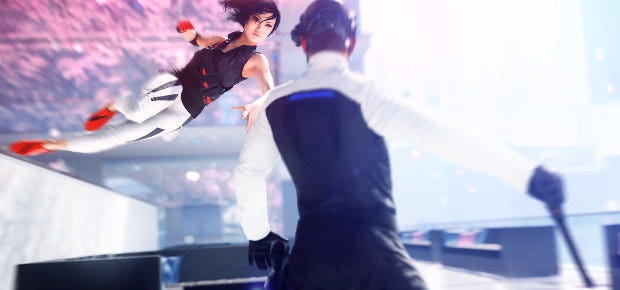 We got a little peek at Mirror's Edge Catalyst [official site] during E3, with snippets of gameplay cut up and smooshed into a trailer form using the talking faces of DICE employees as vidglue. Don't turn people into glue: it's not fair to them, and it's not kind to us.
Anyway, now a new Mirror's Edge Catalyst trailer out of Gamescom shows a few minutes of gameplay with only weirdly clipped snippets of cinematics to interrupt. When they let Faith just run, jump, wall-run, wall-jump, and otherwise 'do her thing', it looks pretty swish:
Electronic Arts note that it's "pre-alpha footage from a cut-down version of a full mission in the game", which is why it has weird jarring transitions. Showing a straight section of the mission rather than trying to squeeze it all in would've been nicer but hey, it's still pretty good.
What were you looking for in Mirror's Edge Catalyst? What did you want changed from Mirror's Edge? Does this look like it moving be going somewhere you fancy? Me, I mostly less finicky movement and no gunplay - and DICE have already said that Faith won't use guns. As for the movement, ah, I'll need to get my hands on it. Shame about the cinematic, non-first-person cutscenes, though.
The game's due to launch on February 23rd, 2016.