Modern Wherefare 3: The Nonboxing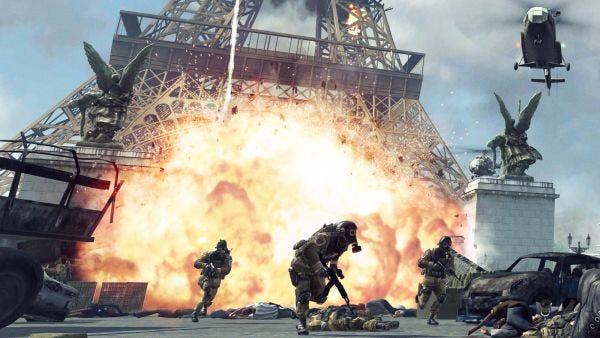 We don't have it, so we can't do an unboxing. We weren't even invited to the launch party, which we instead pretented to attend by huddling around Twitter and watching for tweets from those who were there, then reading them out in mock versions of their voices. But it would be remiss of us to not point out that Modern Warfare 3, which is not even on our Steam press accounts, is now out.

Someone somewhere will get around to reviewing it, as it's only fair to let you know how many explosions per minute there is, but this is one release that RPS will pick up when we have time. And judging from my Steam friends list, it seems a lot of people are thinking the same way. All I can see is someone playing Sonic Generations.
It's also only making a small dent in the overall Steam Stats . If you add the single and multi-player numbers together it would be the current most played game, but the peak numbers are surprisingly low.
Did any of you buy it? Is it any good? What does the box smell like? How many discs did it come on? Was it just one game too far in the series?