Molywho? Borderlands 2's Curious Online Game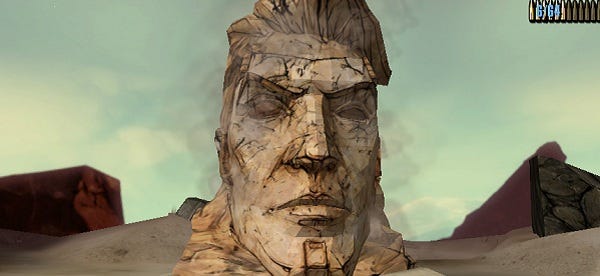 Peter Molyneux is building a cube that contains Powermonger 2*. Tap away to win! In what I assume is an intentional act of satirical imitation, 2K send word of a promotional webgame that bestows Borderlands 2 prizes on players. Instead of a cube, Mount Jackmore has players click on a sculpture of Handsome Jack's head,which is divided into sections, each of which will turn gold after a certain amount of bullets have hit it. The player who fires a shot into a gold part of the head destroys that section and receives a prize. This is a spoof, right? Either way, it's live now and prizes include badges, clothing, figurines and copies of the game. The game lasts four weeks, with the head regenerating every seven days.
*cube may in fact contain a test tube containing pure joy, scraped from the walls of Bullfrog Productions in 1994.