Momodora: Reverie Under The Moonlight Is Out Now
Pretty and punishing platforming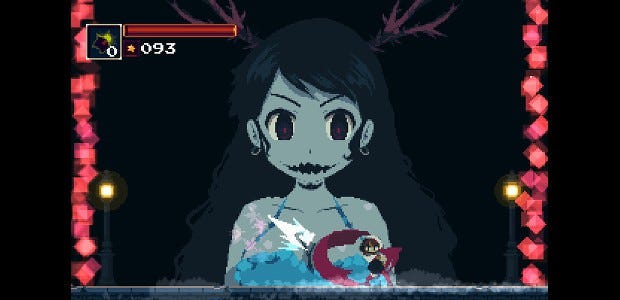 Besides having a wonderful name, Momodora: Reverie Under the Moonlight [official site] is also the fourth entry to the Momodora series. Now, before you jump to conclusions: yes, this is a 2D retro-inspired action platformer with items and spells and big bosses like the ones you've seen elsewhere; but rest assured it's a good one. Here, have a trailer.
In fact, before that, I realise this might be the first you've heard of the Momodora series. Let me first direct you to Itch.io, where you can pick up the first two for free (and the third for cheap, although that's also on Steam for less than three quid) if you like. Reverie Under the Moonlight is a prequel, though, so you won't miss out on anything should you decide to hop on at this point. Anyway, that trailer:
As you'll no doubt have gleaned from that, Reverie Under the Moonlight offers a familiar conceit: an evil curse has swept the land, monsters now rule the world, and even the folk who seem trustworthy can't really be trusted. You take control of a priestess named Kaho from the village of Lun and set out to find her majesty the queen who, by your reckoning, can turn all of this evil on its head.
Whether that turns out to be true remains to be seen, however the option to do so via the game's easy medium or hard difficulty settings means you can either soak up the world and characters around you, or go up against an extremely challenging platformer. If you've got it in you, I'd recommend the latter.
The fourth series entry is by far the prettiest and most polished game of the lot, however the others are definitely worth a punt too. Momodora: Reverie Under the Moonlight is out now on Steam for the discounted price of £6.29.