Monk-y On The Run: L'Abbaye Des Morts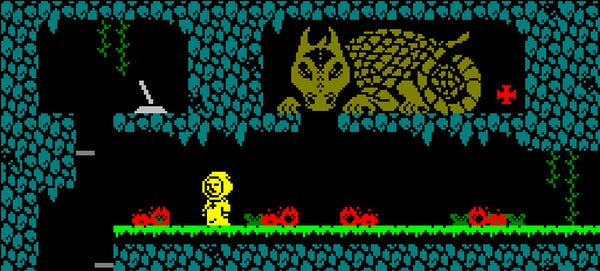 Reader Adam Britton sends word of Spectrum-tacular indie game L'Abbaye des Morts. You want to give this a go, I think. I just lost half an hour to it, and developer Locomalito calls it "AN OBSOLETE VIDEOGAME FOR A DARK PASSAGE OF HISTORY", which is obviously excellent. He actually wrote it on holiday in Southern France, and it's a (loose) interpretation of how a Christian sect known as the Cathars were hunted in the 13th century. Go play! Or just go and marvel at Locomalito's excellent site, which boasts retro boxart for all his games.
A video of L'Abbaye Des Morts came to me for protection, and I've sheltered it beneath the jump.

Caw, this is a nice bit of work. Neat level design, satisfying puzzles, fun soundtrack, cute aesthetics. Tight like a fat man in an airplane toilet.