ReBooty: Monkey Island FPS Revealed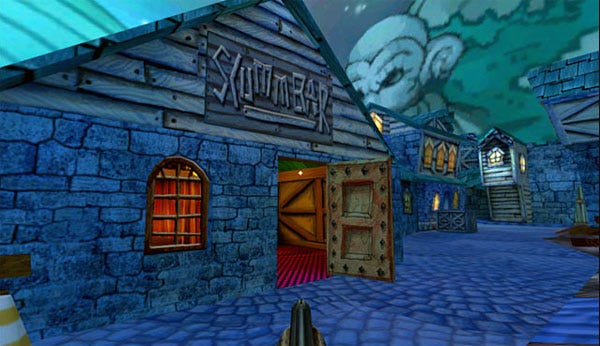 'Tis the season for it, apparently. Next from the roster of beloved PC games from the 90s to get a suitably modern first-person shooter remake is classic point and click adventure The Secret Of Monkey Island - now reimagined as an action title. "Time has moved on," said LucasGames chief modernisation officer Ian Koticiello. "We're big fans of the original Monkey Island(TM), we're definitely paying as much homage to it as we can – bringing across the essence of the world, the core essence of what it is to be an inept wannabe pirate with a glock safe action pistol."
M.O.N.K.E.Y., due in Q3 2012, "takes that viewpoint from the original game and zooms into Jack Threepwood's head." Featuring visceral pirate- and zombie-shooting action, a recharging Grog system and a extensive multiplayer mode which faithfully homages the original game by enabling gamers to take direct control over six beloved Monkey Island(TM) series characters in brutal deathmatch arenas, M.O.N.K.E.Y. brings this dark and gritty saga of high seas combat and undead horror to a whole new audience. You can see the first footage below.

Oh dear, you lot aren't going to be very happy about this, are you? More details here.
(Thanks to Joe Martin for the tip).
Edit: Apparently that's just the console version. The PC version is going to look much better: