Monolithic Monochrome: Betrayer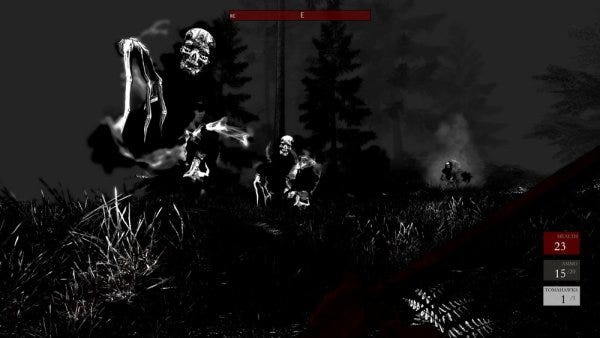 Betrayer, an upcoming FPS from Blackpowder Games, certainly has some visual clout. A monochrome colonial North America with a few dashes of bright red to unsettle proceedings, it delivers quite a look. And it sounds creepy: "The year is 1604. You sailed from England expecting to join a struggling colony on the coast of Virginia. Instead, you find only ghosts and mysteries. What catastrophe blighted the land and drained it of color and life? Where are the settlers and tribes who lived here? And who is the strange, silent woman in red who aids you from afar?" It's based on some of the horrible things that certainly did happen during the colonial era. Ah, the mystery of Roanoke, we know it well.
There's every reason to think it might be rather good, too, as the Blackpowder team is made up of former Monolith types, and veterans of No-one Lives Forever and F.E.A.R. Details below.

Speaking to PC Gamer, Blackpowder's Craig Hubbard explained that the game is quite minimal with its aid to the player and demands that the player figure out what's happening, between the bouts of combat: "It's been so long since someone's done something this austere, that it just seemed like an opportunity. We originally had an objective system that would tell you more of what to do, but we were finding that by doing that, people didn't care about the mystery, it just felt more mechanical. So pulling some of that out, more player investment came out of that."
Betrayer will apparently be available for $15 on Steam Early Access on August 14.