Monster Hunter: World armour builds: how to make the best armour
Fashionable hunting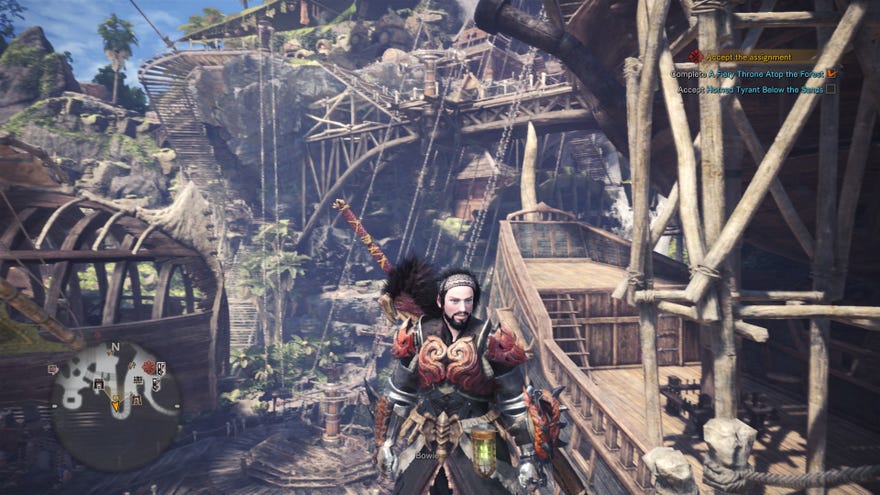 With new materials comes the opportunity to make better stuff, no matter if you're just starting out in Monster Hunter: World or a seasoned veteran. With the sheer amount of equipment on offer, it's somewhat confusing to know just what you need at any given time to make the thing you need. This guide contains tables for how to craft armour and the materials you need for low rank armour, and both sets of high rank armour.
Monster Hunter: World armour build guide
Once you've geared up, there's a little more that you can research before jumping into a hunt. If you're new to the game, you can look at our Monster Hunter World guide to get up to speed on how to prepare for their next hunt, as well as find links to all our other guides.
If you are looking for specifically Monster Hunter World Iceborne guides, then we have created a separate guide hub for just expansion stuff. Head over to our Monster Hunter World Iceborne guide to make your start. Those looking specifically for Iceborne armour should check out the Monster Hunter World Iceborne armor guide for all the armor recipes and the best Monster Hunter World Iceborne builds.
While hunting itself can be a challenge for newer players, crafting new equipment is even more difficult without some kind of aid. That is why below you'll find three searchable tables, one for low rank armour and two for both sets of high rank armour. If you were looking for a general overview of the armour, head on back to our Monster Hunter: World armour guide for more information.
| Armour Type | Material Cost | Defence per part | Skills granted per part | Skills granted for full set worn |
| --- | --- | --- | --- | --- |
| Leather Headgear | Iron Ore x2 | Base: +2 Fire: +2 | Hunger Resistance | None |
| Leather Mail | Iron Ore x1 | Base: +2 Fire: +2 | None | None |
| Leather Gloves | Iron Ore x1 | Base: +2 Fire: +2 | None | None |
| Leather Belt | Iron Ore x1 | Base: +2 Fire: +2 | None | None |
| Leather Trousers | Iron Ore x1 | Base: +2 Fire: +2 | None | None |
| Chainmail Headgear | Iron Ore x2 | Base: +2 Water: +2 | Master Gatherer | None |
| Chainmail Vest | Iron Ore x1 | Base: +2 Water: +2 | None | None |
| Chainmail Gloves | Iron Ore x1 | Base: +2 Water: +2 | None | None |
| Chainmail Belt | Iron Ore x1 | Base: +2 Water: +2 | None | None |
| Chainmail Trousers | Iron Ore x1 | Base: +2 Water: +2 | None | None |
| Hunter's Headgear | Jagras Hide x2 Jagras Scale x2 | Base: +6 Fire: +2 Water: +2 | Scoutfly Range up | None |
| Hunter's Mail | Jagras Hide x2 Monster Bone S x2 | Base: +6 Fire: +2 Water: +2 | Slinger Capacity | None |
| Hunter's Vambraces | Jagras Hide x1 Jagras Scale x1 | Base: +6 Fire: +2 Water: +2 | Stealth | None |
| Hunter's Coil | Jagras Hide x1 Monster Bone S x1 | Base: +6 Fire: +2 Water: +2 | Scenthound | None |
| Hunter's Greaves | Jagras Hide x1 Monster Bone S x1 | Base: +6 Fire: +2 Water: +2 | BBQ Master | None |
| Bone Helm | Monster Bone S x2 Ancient Bone S x2 | Base: +6 Fire: +2 Thunder: +2 Dragon: +2 | Health Boost | None |
| Bone Mail | Monster Bone S x1 Ancient Bone S x1 | Base: +6 Fire: +2 Thunder: +2 Dragon: +2 | Attack Boost | None |
| Bone Vambraces | Monster Bone S x3 Kestodon Shell x2 | Base: +6 Fire: +2 Thunder: +2 Dragon: +2 | Slugger | None |
| Bone Coil | Monster Bone S x1 Kestodon Shell x1 | Base: +6 Fire: +2 Thunder: +2 Dragon: +2 | Horn Maestro | None |
| Bone Greaves | Monster Bone S x1 Ancient Bone S x1 | Base: +6 Fire: +2 Thunder: +2 Dragon: +2 | Entomologist | None |
| Vespoid Helm | Vespoid Shell x2 Iron Ore x2 | Base: +8 Fire: -2 Water: +1 Thunder: +1 Ice: +1 Dragon: +2 | Quick Sheath | None |
| Vespoid Mail | Vespoid Shell x1 Machalite Ore x1 | Base: +8 Fire: -2 Water: +1 Thunder: +1 Ice: +1 Dragon: +2 | Windproof | None |
| Vespoid Vambraces | Vespoid Wing x2 Monster Fluid x1 | Base: +8 Fire: -2 Water: +1 Thunder: +1 Ice: +1 Dragon: +2 | Paralysis Attack | None |
| Vespoid Coil | Vespoid Shell x1 Iron Ore x4 | Base: +8 Fire: -2 Water: +1 Thunder: +1 Ice: +1 Dragon: +2 | Paralysis Resistance | None |
| Vespoid Greaves | Vespoid Wing x2 Monster Fluid x1 | Base: +8 Fire: -2 Water: +1 Thunder: +1 Ice: +1 Dragon: +2 | Honey Hunter | None |
| Kestodon Guards | Kestodon Shell x6 Kestodon Scalp x3 | Base: +12 Fire: +4 | Affinity Sliding | None |
| Gajau Boots | Gajau Skin x4 Gajau Whisker x2 | Base: +12 Fire: +5 | Aquatic Expert | None |
| Jagras Helm | Great Jagras Hide x2 Great Jagras Mane x2 Great Jagras Claw x2 Ancient Bone x1 | Base: +8 Fire: -2 Water: +2 Thunder: -1 Ice: -1 Dragon: +1 | Speed Eating | None |
| Jagras Mail | Great Jagras Hide x2 Great Jagras Claw x1 Great Jagras Scale x2 Monster Bone S x3 | Base: +8 Fire: -2 Water: +2 Thunder: -1 Ice: -1 Dragon: +1 | Intimidator | None |
| Jagras Vambraces | Great Jagras Hide x1 Great Jagras Scale x2 Jagras Hide x3 | Base: +8 Fire: -2 Water: +2 Thunder: -1 Ice: -1 Dragon: +1 | Palico Rally | None |
| Jagras Coil | Great Jagras Hide x1 Great Jagras Mane x1 Great Jagras Scale x2 Sharp Claw x2 | Base: +8 Fire: -2 Water: +2 Thunder: -1 Ice: -1 Dragon: +1 | Fortify | None |
| Jagras Greaves | Great Jagras Scale x1 Great Jagras Hide x1 Great Jagras Mane x1 Jagras Scale x2 | Base: +8 Fire: -2 Water: +2 Thunder: -1 Ice: -1 Dragon: +1 | Speed Crawler | None |
| Kulu Headpiece | Kulu-Ya-Ku Scale x2 Kulu-Ya-Ku Hide x1 Kulu-Ya-Ku Plume x1 | Base: +10 Water: -3 Ice: +1 | Fire Resistance | None |
| Kulu Mail | Kulu-Ya-Ku Hide x2 Kulu-Ya-Ku Plume x2 Kulu-Ya-Ku Beak x1 Machalite Ore x2 | Base: +10 Water: -3 Ice: +1 | Stamina Surge | None |
| Kulu Vambraces | Kulu-Ya-Ku Scale x2 Kulu-Ya-Ku Hide x1 Iron Ore x3 | Base: +10 Water: -3 Ice: +1 | Pro Transporter | None |
| Kulu Coil | Kulu-Ya-Ku Hide x2 Kulu-Ya-Ku Beak x1 Wingdrake Hide x2 | Base: +10 Water: -3 Ice: +1 | Item Prolonger | None |
| Kulu Greaves | Kulu-Ya-Ku Hide x2 Kulu-Ya-Ku Scale x3 Wingdrake Hide x2 | Base: +10 Water: -3 Ice: +1 | Critical Eye | None |
| Alloy Helm | Machalite Ore x4 Iron Ore x4 Earth Crystal x2 | Base: +8 Fire: -2 Water: +1 Thunder: -2 Ice: -2 Dragon: +1 | Windproof | None |
| Alloy Mail | Machalite Ore x3 Iron Ore x6 Earth Crystal x1 | Base: +8 Fire: -2 Water: +1 Thunder: -2 Ice: -2 Dragon: +1 | Water Resistance | None |
| Alloy Vambraces | Machalite Ore x3 Iron Ore x6 Earth Crystal x1 | Base: +8 Fire: -2 Water: +1 Thunder: -2 Ice: -2 Dragon: +1 | Defence Boost | None |
| Alloy Coil | Machalite Ore x4 Iron Ore x4 Earth Crystal x2 | Base: +8 Fire: -2 Water: +1 Thunder: -2 Ice: -2 Dragon: +1 | Poison Resistance | None |
| Alloy Greaves | Machalite Ore x3 Iron Ore x6 Earth Crystal x1 | Base: +8 Fire: -2 Water: +1 Thunder: -2 Ice: -2 Dragon: +1 | Speed Sharpening | None |
| Pukei Hood | Pukei-Pukei Shell x2 Pukei-Pukei Tail x1 Pukei-Pukei Quill x2 Machalite Ore x2 | Base: +12 Water +3 Thunder: -3 Dragon +1 | Sporepuff Expert | None |
| Pukei Mail | Pukei-Pukei Scale x2 Pukei-Pukei Shell x1 Iron Ore x3 | Base: +12 Water +3 Thunder: -3 Dragon +1 | Item Prolonger | None |
| Pukei Vambraces | Pukei-Pukei Scale x2 Pukei-Pukei Shell x1 Poison Sac x1 | Base: +12 Water +3 Thunder: -3 Dragon +1 | Poison Resistance | None |
| Pukei Coil | Pukei-Pukei Shell x2 Pukei-Pukei Tail x1 Pukei-Pukei Quill x2 Machalite Ore x2 | Base: +12 Water +3 Thunder: -3 Dragon +1 | Poison Attack | None |
| Pukei Greaves | Pukei-Pukei Shell x2 Pukei-Pukei Sac x1 Pukei-Pukei Scale x2 Monster Bone M x1 | Base: +12 Water +3 Thunder: -3 Dragon +1 | Botanist | None |
| Barroth Helm | Barroth Ridge x2 Barroth Tail x1 Barroth Claw x2 Kestodon Shell x2 | Base: +14 Fire: -3 Water: -1 Thunder: +3 Ice: -1 | Guard | None |
| Barroth Mail | Barroth Shell x2 Barroth Ridge x1 Barroth Claw x1 Boulder Bone x1 | Base: +14 Fire: -3 Water: -1 Thunder: +3 Ice: -1 | Stamina Thief | None |
| Barroth Vambraces | Barroth Ridge x3 Barroth Tail x1 Barroth Scalp x1 Kestodon Scalp x1 | Base: +14 Fire: -3 Water: -1 Thunder: +3 Ice: -1 | Marathon Runner | None |
| Barroth Coil | Barroth Shell x2 Barroth Ridge x1 Fertile Mud x2 | Base: +14 Fire: -3 Water: -1 Thunder: +3 Ice: -1 | Muck Resistance | None |
| Barroth Greaves | Barroth Ridge x2 Barroth Scalp x1 Barroth Shell x1 Fertile Mud x2 | Base: +14 Fire: -3 Water: -1 Thunder: +3 Ice: -1 | Stun Resistance | None |
| Jyura Helm | Jyuratodus Scale x2 Jyuratodus Shell x1 Jyuratodus Fin x1 Gajau Skin x3 | Base: +14 Fire: -1 Water: +2 Thunder: -3 | Aquatic Expert | None |
| Jyura Mail | Jyuratodus Shell x2 Jyuratodus Fin x1 Jyuratodus Fang x1 Aqua Fang x1 | Base: +14 Fire: -1 Water: +2 Thunder: -3 | Muck Resistance | None |
| Jyura Vambraces | Jyuratodus Shell x2 Jyuratodus Fang x1 Gajau Whisker x2 | Base: +14 Fire: -1 Water: +2 Thunder: -3 | Water Attack | None |
| Jyura Coil | Jyuratodus Scale x2 Jyuratodus Shell x1 Aqua Sac x1 | Base: +14 Fire: -1 Water: +2 Thunder: -3 | Ice Resistance | None |
| Jyura Greaves | Jyuratodus Shell x3 Jyuratodus Fin x2 Earth Crystal x3 | Base: +14 Fire: -1 Water: +2 Thunder: -3 | Focus | None |
| Kadachi Helm | Tobi-Kadachi Pelt x2 Tobi-Kadachi Electrode x2 Tobi-Kadachi Claw x1 Electro Sac x1 | Base: +16 Water -3 Thunder +3 | Constitution | None |
| Kadachi Mail | Tobi-Kadachi Pelt x2 Tobi-Kadachi Electrode x1 Tobi-Kadachi Membrane x2 Wingdrake Hide x2 | Base: +16 Water -3 Thunder +3 | Jump Master | None |
| Kadachi Vambraces | Tobi-Kadachi Pelt x2 Tobi-Kadachi Claw x1 Tobi-Kadachi Scale x2 Monster Bone M x2 | Base: +16 Water -3 Thunder +3 | Evade Extender | None |
| Kadachi Coil | Tobi-Kadachi Scale x2 Tobi-Kadachi Pelt x1 Electro Sac x1 | Base: +16 Water -3 Thunder +3 | Thunder Attack | None |
| Kadachi Greaves | Tobi-Kadachi Scale x2 Tobi-Kadachi Pelt x1 Warm Pelt x1 | Base: +16 Water -3 Thunder +3 | Thunder Resistance | None |
| High Metal Helm | Dragonite Ore x2 Machalite Ore x1 Iron Ore x6 | Base: +18 Water: -1 Thunder: -2 Ice: +3 | Ice Resistance | None |
| High Metal Mail | Dragonite Ore x2 Machalite Ore x2 Earth Crystal x2 Sharp Claw x2 | Base: +18 Water: -1 Thunder: -2 Ice: +3 | Earplugs | None |
| High Metal Braces | Dragonite Ore x2 Machalite Ore x2 Earth Crystal x2 Sharp Claw x2 | Base: +18 Water: -1 Thunder: -2 Ice: +3 | Defense Boost | None |
| High Metal Coil | Dragonite Ore x2 Machalite Ore x1 Iron Ore x6 | Base: +18 Water: -1 Thunder: -2 Ice: +3 | Capacity Boost | None |
| High Metal Greaves | Dragonite Ore x2 Machalite Ore x1 Iron Ore x6 | Base: +18 Water: -1 Thunder: -2 Ice: +3 | Heavy Artillery | None |
| King Beetle/Butterfly Vertex | Great Hornfly x1 Dragonite Ore x2 Coral Crystal x2 Flame Sac x1 | Base: +22 Fire: -1 Water: -1 Thunder: -2 Dragon +2 | Evade Window | None |
| King Beetle/Butterfly Thorax | Great Hornfly x1 Earth Crystal x2 Coral Crystal x2 Poison Sac x1 | Base: +22 Fire: -1 Water: -1 Thunder: -2 Dragon +2 | Quick Sheath | None |
| King Beetle/Butterfly Brachia | Great Hornfly x1 Earth Crystal x2 Coral Crystal x2 Aqua Sac x1 | Base: +22 Fire: -1 Water: -1 Thunder: -2 Dragon +2 | Leap of Faith | None |
| King Beetle/Butterfly Elytra | Great Hornfly x1 Earth Crystal x2 Monster Fluid x1 Electro Sac x1 | Base: +22 Fire: -1 Water: -1 Thunder: -2 Dragon +2 | Honey Hunter | None |
| King Beetle/Butterfly Crura | Great Hornfly x1 Dragonite Ore x2 Monster Fluid x3 Paralysis Sac x1 | Base: +22 Fire: -1 Water: -1 Thunder: -2 Dragon +2 | Forager's Luck | None |
| Shamos Goggles | Shamos Hide x2 Shamos Scale x3 Coral Bone x1 Coral Crystal x1 | Base: +22 Fire: +2 Water: +2 Ice: -3 | Detector | None |
| Hornetaur Helm | Hornetaur Head x1 Hornetaur Shell x1 Machalite Ore x1 Monster Fluid x1 | Base: +18 Fire: -1 Water: -1 Dragon: +2 | Dungmaster | None |
| Hornetaur Mail | Hornetaur Wing x2 Hornetaur Shell x2 Dragonite Ore x2 Machalite Ore x2 | Base: +18 Fire: -1 Water: -1 Dragon: +2 | Effluvial Expert | None |
| Hornetaur Vambraces | Hornetaur Wing x1 Hornetaur Shell x1 Iron Ore x3 Machalite Ore x1 | Base: +18 Fire: -1 Water: -1 Dragon: +2 | Free Meal | None |
| Hornetaur Coil | Hornetaur Wing x1 Hornetaur Shell x1 Iron Ore x3 Machalite Ore x1 | Base: +18 Fire: -1 Water: -1 Dragon: +2 | Carving Pro | None |
| Hornetaur Greaves | Hornetaur Wing x2 Hornetaur Shell x2 Dragonite Ore x2 Monster Fluid x2 | Base: +18 Fire: -1 Water: -1 Dragon: +2 | Handicraft | None |
| Anja Helm | Anjanath Pelt x3 Anjanath Scale x3 Anjanath Tail x1 Flame Sac x1 | Base: +20 Fire: +3 Water: -3 Thunder: -1 Ice: -1 | Fire Attack | Anjanath Power - Adrenaline (Requires 3 pieces worn) |
| Anja Mail | Anjanath Pelt x3 Anjanath Fang x2 Anjanath Nosebone x1 Anjanath Plate x1 | Base: +20 Fire: +3 Water: -3 Thunder: -1 Ice: -1 | Marathon Runner | Anjanath Power - Adrenaline (Requires 3 pieces worn) |
| Anja Vambraces | Anjanath Pelt x2 Anjanath Scale x2 Anjanath Nosebone x1 Monster Bone L x2 | Base: +20 Fire: +3 Water: -3 Thunder: -1 Ice: -1 | Special Ammo Boost | Anjanath Power - Adrenaline (Requires 3 pieces worn) |
| Anja Coil | Anjanath Scale x2 Anjanath Pelt x2 Anjanath Fang x2 Machalite Ore x2 | Base: +20 Fire: +3 Water: -3 Thunder: -1 Ice: -1 | Fire Resistance | Anjanath Power - Adrenaline (Requires 3 pieces worn) |
| Anja Greaves | Anjanath Scale x2 Anjanath Pelt x1 Flame Sac x1 Machalite Ore x2 | Base: +20 Fire: +3 Water: -3 Thunder: -1 Ice: -1 | Artillery | Anjanath Power - Adrenaline (Requires 3 pieces worn) |
| Rathian Helm | Rathian Shell x2 Rathian Scale x3 Rathian Webbing x2 Flame Sac x1 | Base: +22 Fire: +2 Thunder: -2 Dragon: -3 | Health Boost | None |
| Rathian Mail | Rathian Scale x2 Rathian Shell x1 Rathian Webbing x1 Ancient Bone x2 | Base: +22 Fire: +2 Thunder: -2 Dragon: -3 | Botanist | None |
| Rathian Vambraces | Rathian Shell x2 Rathian Scale x2 Rathian Spike x1 Monster Bone L x2 | Base: +22 Fire: +2 Thunder: -2 Dragon: -3 | Poison Attack | None |
| Rathian Coil | Rathian Scale x2 Rathian Shell x1 Rath Wingtalon x2 Boulder Bone x2 | Base: +22 Fire: +2 Thunder: -2 Dragon: -3 | Poison Resistance | None |
| Rathian Greaves | Rathian Shell x3 Rathian Spike x1 Rath Wingtalon x2 Rathian Plate x1 | Base: +22 Fire: +2 Thunder: -2 Dragon: -3 | Recovery Up | None |
| Tzitzi Headgear | Tzitzi-Ya-Ku Scale x2 Tzitzi-Ya-Ku Hide x1 Tzitzi-Ya-Ku Photophore x1 Coral Crystal x1 | Base: +18 Thunder: -3 Ice: -2 | Blindsider | None |
| Tzitzi Mail | Tzitzi-Ya-Ku Hide x3 Tzitzi-Ya-Ku Claw x2 Tzitzi-Ya-Ku Photophore x2 Lightcrystal x1 | Base: +18 Thunder: -3 Ice: -2 | Constitution | None |
| Tzitzi Vambraces | Tzitzi-Ya-Ku Hide x2 Tzitzi-Ya-Ku Photophore x1 Tzitzi-Ya-Ku Scale x3 Coral Crystal x2 | Base: +18 Thunder: -3 Ice: -2 | Stun Resistance | None |
| Tzitzi Coil | Tzitzi-Ya-Ku Hide x2 Tzitzi-Ya-Ku Claw x2 Coral Crystal x2 | Base: +18 Thunder: -3 Ice: -2 | Wide Range | None |
| Tzitzi Greaves | Tzitzi-Ya-Ku Scale x2 Tzitzi-Ya-Ku Hide x1 Tzitzi-Ya-Ku Claw x1 | Base: +18 Thunder: -3 Ice: -2 | Sleep Resistance | None |
| Lumu Hat | Paolumu Scale x2 Paolumu Webbing x2 Paolumu Shell x2 Lightcrystal x1 | Base: +20 Fire: -3 Water: +2 Ice: +1 | Stamina Surge | None |
| Lumu Mail | Paolumu Scale x2 Paolumu Shell x1 Paolumu Pelt x2 Coral Bone x1 | Base: +20 Fire: -3 Water: +2 Ice: +1 | Master Mounter | None |
| Lumu Vambraces | Paolumu Scale x2 Paolumu Shell x1 Paolumu Webbing x1 | Base: +20 Fire: -3 Water: +2 Ice: +1 | Artillery | None |
| Lumu Coil | Paolumu Pelt x2 Paolumu Scale x1 Paolumu Shell x1 | Base: +20 Fire: -3 Water: +2 Ice: +1 | Divine Blessing | None |
| Lumu Greaves | Paolumu Scale x2 Paolumu Pelt x2 Paolumu Webbing x1 Coral Bone x1 | Base: +20 Fire: -3 Water: +2 Ice: +1 | Windproof | None |
| Girros Mask | Great Girros Scale x2 Great Girros Hide x1 Great Girros Hood x1 Girros Scale x3 | Base: +20 Water: -3 Thunder: +2 Dragon +1 | Horn Maestro | None |
| Girros Mail | Great Girros Hide x2 Great Girros Tail x1 Great Girros Fang x2 Paralysis Sac x2 | Base: +20 Water: -3 Thunder: +2 Dragon +1 | Paralysis Resistance | None |
| Girros Vambraces | Great Girros Scale x2 Great Girros Hide x1 Girros Fang x2 | Base: +20 Water: -3 Thunder: +2 Dragon +1 | Palico Rally | None |
| Girros Coil | Great Girros Hide x2 Great Girros Tail x1 Great Girros Hood x1 Girros Hide x3 | Base: +20 Water: -3 Thunder: +2 Dragon +1 | Effluvial Expert | None |
| Girros Greaves | Great Girros Hide x2 Great Girros Fang x2 Great Girros Scale x2 Monster Bone M x4 | Base: +20 Water: -3 Thunder: +2 Dragon +1 | Paralysis Attack | None |
| Baan Helm | Radobaan Shell x3 Radobaan Oilshell x2 Wyvern Bonemass x2 Radobaan Marrow x1 | Base: +24 Water: +2 Ice: -1 Dragon: -2 | Slugger | None |
| Baan Mail | Radobaan Scale x2 Radobaan Shell x1 Radobaan Oilshell x1 Sleep Sac x1 | Base: +24 Water: +2 Ice: -1 Dragon: -2 | Sleep Resistance | None |
| Baan Vambraces | Radobaan Scale x2 Radobaan Shell x1 Radobaan Oilshell x1 Sturdy Bone x3 | Base: +24 Water: +2 Ice: -1 Dragon: -2 | Sleep Attack | None |
| Baan Coil | Radobaan Scale x2 Radobaan Oilshell x1 Sleep Sac x1 Monster Bone L x3 | Base: +24 Water: +2 Ice: -1 Dragon: -2 | Guard | None |
| Baan Greaves | Radobaan Shell x2 Radobaan Scale x2 Wyvern Bonemass x2 Warped Bone x2 | Base: +24 Water: +2 Ice: -1 Dragon: -2 | Bleeding Resistance | None |
| Ingot Helm | Dragonite Ore x2 Monster Bone + x1 Iron Ore x8 Machalite Ore x3 | Base: +28 Fire: -2 Thunder: +3 Ice: -1 Dragon:-2 | Thunder Attack | None |
| Ingot Mail | Dragonite Ore x3 Monster Bone + x1 Coral Crystal x3 Lightcrystal x1 | Base: +28 Fire: -2 Thunder: +3 Ice: -1 Dragon:-2 | Thunder Resistance | None |
| Ingot Vambraces | Dragonite Ore x3 Monster Bone + x1 Coral Crystal x3 Lightcrystal x1 | Base: +28 Fire: -2 Thunder: +3 Ice: -1 Dragon:-2 | Health Boost | None |
| Ingot Coil | Dragonite Ore x3 Monster Bone + x1 Coral Crystal x3 Lightcrystal x1 | Base: +28 Fire: -2 Thunder: +3 Ice: -1 Dragon:-2 | Windproof | None |
| Ingot Greaves | Dragonite Ore x3 Monster Bone + x1 Coral Crystal x3 Lightcrystal x1 | Base: +28 Fire: -2 Thunder: +3 Ice: -1 Dragon:-2 | Defense Boost | None |
| Death Stench Helm | Sinister Cloth x1 Warped Bone x1 Monster Bone + x2 Sharp Claw x3 | Base: +32 Fire: +3 Water: +2 Thunder: -2 Ice: +3 Dragon: -4 | Resuscitate | None |
| Death Stench Mail | Sinister Cloth x1 Coral Bone x2 Sturdy Bone x2 Monster Fluid x2 | Base: +32 Fire: +3 Water: +2 Thunder: -2 Ice: +3 Dragon: -4 | Fortify | None |
| Death Stench Vambraces | Sinister Cloth x1 Warped Bone x3 Sturdy Bone x6 Lightcrystal x1 | Base: +32 Fire: +3 Water: +2 Thunder: -2 Ice: +3 Dragon: -4 | Focus | None |
| Death Stench Coil | Sinister Cloth x1 Warped Bone x1 Sturdy Bone x2 Monster Fluid x2 | Base: +32 Fire: +3 Water: +2 Thunder: -2 Ice: +3 Dragon: -4 | Dragon Attack | None |
| Death Stench Greaves | Sinister Cloth x1 Coral Bone x3 Monster Bone + x4 Lightcrystal x1 | Base: +32 Fire: +3 Water: +2 Thunder: -2 Ice: +3 Dragon: -4 | Handicraft | None |
| Legiana Helm | Legiana Scale x2 Legiana Hide x1 Legiana Claw x1 Shamos Scale x2 | Base: +30 Fire: -1 Water: -2 Thunder: -3 Ice: +3 | Divine Blessing | Legiana Blessing - Good Luck (Requires 3 pieces worn) |
| Legiana Mail | Legiana Hide x3 Legiana Claw x2 Legiana Webbing x2 Legiana Plate x1 | Base: +30 Fire: -1 Water: -2 Thunder: -3 Ice: +3 | Evade Window | Legiana Blessing - Good Luck (Requires 3 pieces worn) |
| Legiana Vambraces | Legiana Hide x2 Legaina Scale x2 Legiana Tail Webbing x1 Frost Sac x1 | Base: +30 Fire: -1 Water: -2 Thunder: -3 Ice: +3 | Airborne | Legiana Blessing - Good Luck (Requires 3 pieces worn) |
| Legiana Coil | Legiana Hide x2 Legaina Scale x2 Frost Sac x1 Shamos Hide x2 | Base: +30 Fire: -1 Water: -2 Thunder: -3 Ice: +3 | Ice Attack | Legiana Blessing - Good Luck (Requires 3 pieces worn) |
| Legiana Greaves | Legiana Scale x2 Legiana Hide x1 Legiana Claw x1 Dragonite Ore x2 | Base: +30 Fire: -1 Water: -2 Thunder: -3 Ice: +3 | Ice Resistance | Legiana Blessing - Good Luck (Requires 3 pieces worn) |
| Odogaron Helm | Odogaron Scale x2 Odogaron Sinew x1 Odogaron Claw x1 Warped Bone x1 | Base: +30 Fire: +2 Water: +2 Thunder: -2 Ice: -3 | Bleeding Resistance | Odogaron Power - Punishing Draw (Requires 3 pieces worn) |
| Odogaron Mail | Odogaron Sinew x2 Odogaron Scale x2 Odogaron Fang x1 Hornetaur Shell x3 | Base: +30 Fire: +2 Water: +2 Thunder: -2 Ice: -3 | Speed Sharpening | Odogaron Power - Punishing Draw (Requires 3 pieces worn) |
| Odogaron Vambraces | Odogaron Sinew x2 Odogaron Scale x2 Odogaron Tail x1 Hornetaur Wing x2 | Base: +30 Fire: +2 Water: +2 Thunder: -2 Ice: -3 | Constitution | Odogaron Power - Punishing Draw (Requires 3 pieces worn) |
| Odogaron Coil | Odogaron Sinew x3 Odogaron Claw x2 Odogaron Fang x2 Odogaron Plate x1 | Base: +30 Fire: +2 Water: +2 Thunder: -2 Ice: -3 | Critical Eye | Odogaron Power - Punishing Draw (Requires 3 pieces worn) |
| Odogaron Greaves | Odogaron Greaves x2 Odogaron Sinew x1 Odogaron Claw x1 Dragonite Ore x2 | Base: +30 Fire: +2 Water: +2 Thunder: -2 Ice: -3 | Quick Sheath | Odogaron Power - Punishing Draw (Requires 3 pieces worn) |
| Rathalos Helm | Rathalos Scale x2 Rathalos Shell x2 Rathalos Wingtalon x2 Rathalos Marrow x1 | Base: +30 Fire: +3 Water: +1 Thunder: -2 Ice: +1 Dragon: -3 | Attack Boost | Rathalos Power - Critical Element (Requires 3 pieces worn) |
| Rathalos Mail | Rathalos Scale x2 Rathalos Shell x4 Rathalos Webbing x2 Rathalos Plate x1 | Base: +30 Fire: +3 Water: +1 Thunder: -2 Ice: +1 Dragon: -3 | Weakness Exploit | Rathalos Power - Critical Element (Requires 3 pieces worn) |
| Rathalos Vambraces | Rathalos Shell x2 Rathalos Webbing x1 Flame Sac x2 Monster Bone + x2 | Base: +30 Fire: +3 Water: +1 Thunder: -2 Ice: +1 Dragon: -3 | Fire Resistance | Rathalos Power - Critical Element (Requires 3 pieces worn) |
| Rathalos Coil | Rathalos Scale x2 Rathalos Shell x2 Rathalos Webbing x1 Monster Bone + x3 | Base: +30 Fire: +3 Water: +1 Thunder: -2 Ice: +1 Dragon: -3 | Fire Attack | Rathalos Power - Critical Element (Requires 3 pieces worn) |
| Rathalos Greaves | Rathalos Shell x2 Rathalos Scale x2 Rathalos Wingtalon x2 Rathalos Tail x1 | Base: +30 Fire: +3 Water: +1 Thunder: -2 Ice: +1 Dragon: -3 | Jump Master | Rathalos Power - Critical Element (Requires 3 pieces worn) |
| Diablos Helm | Diablos Ridge x3 Diablos Fang x2 Twisted Horn x1 Diablos Marrow x1 | Base: +32 Fire: +3 Water: -2 Ice: -3 Dragon: +2 | Critical Draw | Diablos Power - Bludgeoner (Requires 3 pieces worn) |
| Diablos Mail | Diablos Shell x2 Diablos Ridge x1 Twisted Horn x2 Monster Bone + x3 | Base: +32 Fire: +3 Water: -2 Ice: -3 Dragon: +2 | Slugger | Diablos Power - Bludgeoner (Requires 3 pieces worn) |
| Diablos Vambraces | Diablos Ridge x2 Diablos Shell x2 Diablos Tailcase x1 Lightcrystal x1 | Base: +32 Fire: +3 Water: -2 Ice: -3 Dragon: +2 | Heroics | Diablos Power - Bludgeoner (Requires 3 pieces worn) |
| Diablos Coil | Diablos Shell x2 Diablos Ridge x1 Diablos Fang x1 Monster Bone L x2 | Base: +32 Fire: +3 Water: -2 Ice: -3 Dragon: +2 | Marathon Runner | Diablos Power - Bludgeoner (Requires 3 pieces worn) |
| Diablos Greaves | Diablos Ridge x2 Diablos Shell x2 Twisted Horn x1 Monster Bone + x3 | Base: +32 Fire: +3 Water: -2 Ice: -3 Dragon: +2 | Tremor Resistance | Diablos Power - Bludgeoner (Requires 3 pieces worn) |
| Kirin Helm | Kirin Hide x2 Kirin Tail x2 Kirin Thunderhorn x3 Lightcrystal x1 | Base: +34 Fire: -3 Water: -2 Thunder: +4 Ice: -2 Dragon: +2 | Marathon Runner | Kirin Blessing - Capture Master (Requires 4 pieces worn) |
| Kirin Mail | Kirin Hide x2 Kirin Mane x2 Coral Crystal x4 Coral Bone x2 | Base: +34 Fire: -3 Water: -2 Thunder: +4 Ice: -2 Dragon: +2 | Divine Blessing | Kirin Blessing - Capture Master (Requires 4 pieces worn) |
| Kirin Vambraces | Kirin Hide x3 Kirin Mane x2 Paolumu Shell x2 Lightcrystal x1 | Base: +34 Fire: -3 Water: -2 Thunder: +4 Ice: -2 Dragon: +2 | Blight Resistance | Kirin Blessing - Capture Master (Requires 4 pieces worn) |
| Kirin Coil | Kirin Hide x2 Kirin Thunderhorn x1 Kirin Tail x1 Electro Sac x1 | Base: +34 Fire: -3 Water: -2 Thunder: +4 Ice: -2 Dragon: +2 | Thunder Attack | Kirin Blessing - Capture Master (Requires 4 pieces worn) |
| Kirin Greaves | Kirin Hide x2 Kirin Thunderhorn x1 Paolumu Shell x1 | Base: +34 Fire: -3 Water: -2 Thunder: +4 Ice: -2 Dragon: +2 | Thunder Resistance | Kirin Blessing - Capture Master (Requires 4 pieces worn) |
| Armour Type | Material Cost | Defence per part Resistances Jewel Slots | Skills granted per part | Skills granted for full set worn |
| --- | --- | --- | --- | --- |
| Leather Headgear Alpha | Carbalite Ore x3 High Quality Pelt x1 | Base: 32 Fire: +2 | Hunger Resistance Lv2 | None |
| Leather Mail Alpha | Carbalite Ore x2 High Quality Pelt x1 | Base: 32 Fire: +2 | Fire Resistance | None |
| Leather Vambraces Alpha | Carbalite Ore x2 High Quality Pelt x1 | Base: 32 Fire: +2 | Recovery Speed | None |
| Leather Coil Alpha | Carbalite Ore x2 High Quality Pelt x1 | Base: 32 Fire: +2 | Stamina Surge | None |
| Leather Greaves Alpha | Carbalite Ore x2 High Quality Pelt x1 | Base: 32 Fire: +2 | Cliffhanger | None |
| Chainmail Headgear Alpha | Carbalite Ore x3 Dragonite Ore x2 | Base: 32 Water: +2 | Master Gatherer Guard | None |
| Chainmail Armor Alpha | Carbalite Ore x2 Dragonite Ore x2 | Base: 32 Water: +2 | Water Resistance | None |
| Chainmail Vambraces Alpha | Carbalite Ore x2 Dragonite Ore x2 | Base: 32 Water: +2 | Recovery Speed | None |
| Chainmail Coil Alpha | Carbalite Ore x2 Dragonite Ore x2 | Base: 32 Water: +2 | Quick Sheath | None |
| Chainmail Greaves Alpha | Carbalite Ore x2 Dragonite Ore x2 | Base: 32 Water: +2 | Recovery up | None |
| Hunter's Headgear Alpha | Jagras Hide + x3 Jagras Scale + x4 | Base: 36 Fire: +2 Thunder: +2 Dragon: +2 | Scoutfly Range up Scholar | None |
| Hunter's Mail Alpha | Jagras Hide + x3 Quality Bone x4 | Base: 36 Fire: +2 Thunder: +2 Dragon: +2 | Slinger Capacity Lv2 | None |
| Hunter's Vambraces Alpha | Jagras Hide + x3 Jagras Scale + x4 | Base: 36 Fire: +2 Thunder: +2 Dragon: +2 | Stealth Lv2 | None |
| Hunter's Coil Alpha | Jagras Hide + x2 Quality Bone x3 | Base: 36 Fire: +2 Thunder: +2 Dragon: +2 | Master Gatherer Stealth | None |
| Hunter's Greaves Alpha | Jagras Hide + x2 Quality Bone x3 | Base: 36 Fire: +2 Thunder: +2 Dragon: +2 | Scenthound Slinger Capacity | None |
| Bone Helm Alpha | Quality Bone x3 Monster Bone + x2 Warped Bone x2 | Base: 36 Fire: +2 Thunder: +2 Dragon: +2 | Health Boost Entomologist | None |
| Bone Mail Alpha | Quality Bone x2 Monster Bone + x2 Monster Bone L x3 | Base: 6 Fire: +2 Thunder: +2 Dragon: +2 | Attack Boost Lv2 | None |
| Bone Vambraces Alpha | Quality Bone x3 Monster Bone + x2 Coral Bone x2 | Base: 6 Fire: +2 Thunder: +2 Dragon: +2 | Slugger Attack Boost | None |
| Bone Coil Alpha | Quality Bone x2 Monster Bone + x2 Ancient Bone x3 | Base: 6 Fire: +2 Thunder: +2 Dragon: +2 | Horn Maestro Master Fisher | None |
| Bone Greaves Alpha | Quality Bone x2 Monster Bone + x2 Boulder Bone x3 | Base: 6 Fire: +2 Thunder: +2 Dragon: +2 | Entomologist Lv2 | None |
| Alloy Helm Alpha | Carbalite Ore x3 Dragonite Ore x6 Dragonvein Crystal x3 Machalite Ore x5 | Base: +8 Fire: -2 Water: +1 Thunder: -2 Ice: -2 Dragon: +1 | Windproof Defense Boost | None |
| Alloy Mail Alpha | Carbalite Ore x2 Dragonite Ore x4 Coral Crystal x4 Machalite Ore x5 | Base: +8 Fire: -2 Water: +1 Thunder: -2 Ice: -2 Dragon: +1 | Water Resistance Lv2 | None |
| Alloy Vambraces Alpha | Carbalite Ore x2 Dragonite Ore x4 Earth Crystal x4 Machalite Ore x5 | Base: +8 Fire: -2 Water: +1 Thunder: -2 Ice: -2 Dragon: +1 | Defense Boost Speed Sharpening | None |
| Alloy Coil Alpha | Carbalite Ore x3 Dragonite Ore x6 Dragonvein Crystal x3 Machalite Ore x5 | Base: +8 Fire: -2 Water: +1 Thunder: -2 Ice: -2 Dragon: +1 | Poison Resistance Water Resistance | None |
| Alloy Greaves Alpha | Carbalite Ore x2 Dragonite Ore x4 Lightcrystal x1 Machalite Ore x5 | Base: +8 Fire: -2 Water: +1 Thunder: -2 Ice: -2 Dragon: +1 | Speed Sharpening Lv2 | None |
| King Beetle/Butterfly Vertex Alpha | Great Hornfly x1 Carbalite Ore x2 Monster Broth x2 Inferno Sac x1 | Base: +42 Fire: -1 Water: -1 Thunder: -2 Dragon +2 1x Jewel Slot | Evade Window Lv2 Botanist | None |
| King Beetle/Butterfly Thorax Alpha | Great Hornfly x1 Dragonvein Crystal x2 Hornetaur Carapace x3 Toxin Sac x2 | Base: +42 Fire: -1 Water: -1 Thunder: -2 Dragon +2 1x Jewel Slot | Quick Sheath Lv2 Botanist | None |
| King Beetle/Butterfly Brachia Alpha | Great Hornfly x1 Dragonvein Crystal x2 Monster Broth x2 Torrent Sac x2 | Base: +42 Fire: -1 Water: -1 Thunder: -2 Dragon +2 1x Jewel Slot Lv2 1x Jewel Slot | Botanist Lv2 Leap Of Faith | None |
| King Beetle/Butterfly Elytra Alpha | Great Hornfly x1 Dragonvein Crystal x2 Vespoid Carapace x3 Thunder Sac x2 | Base: +42 Fire: -1 Water: -1 Thunder: -2 Dragon +2 1x Jewel Slot Lv2 1x Jewel Slot | Honey Hunter Quick Sheath | None |
| King Beetle/Butterfly Crura Alpha | Great Hornfly x1 Carbalite Ore x2 Monster Broth x2 Omniplegia Sac x2 | Base: +42 Fire: -1 Water: -1 Thunder: -2 Dragon +2 1x Jewel Slot Lv2 1x Jewel Slot | Forager's Luck Evade Window | None |
| Vespoid Helm Alpha | Vespoid Carapce x3 Vespoid Innerwing x2 Monster Keenbone x2 | Base: 38 Fire: -2 Water: +1 Thunder: +1 Ice: +1 Dragon: +2 | Quick Sheath Paralysis Attack | None |
| Vespoid Mail Alpha | Vespoid Carapce x3 Vespoid Innerwing x2 Monster Keenbone x2 | Base: 38 Fire: -2 Water: +1 Thunder: +1 Ice: +1 Dragon: +2 | Windproof Lv2 | None |
| Vespoid Vambraces Alpha | Vespoid Carapce x4 Vespoid Innerwing x2 Monster Broth x3 Omniplegia Sac x2 | Base: 38 Fire: -2 Water: +1 Thunder: +1 Ice: +1 Dragon: +2 | Paralysis Attack Lv2 | None |
| Vespoid Coil Alpha | Vespoid Carapce x3 Vespoid Innerwing x2 Monster Keenbone x2 | Base: 38 Fire: -2 Water: +1 Thunder: +1 Ice: +1 Dragon: +2 | Paralysis Resistance Lv2 | None |
| Vespoid Greaves Alpha | Vespoid Carapce x4 Vespoid Innerwing x2 Monster Broth x3 Omniplegia Sac x2 | Base: 38 Fire: -2 Water: +1 Thunder: +1 Ice: +1 Dragon: +2 | Honey Hunter Paralysis Resistance | None |
| Mosswine Mask Alpha | Mosswine Hide x3 Anjanath Nosebone + x1 Great Girros Hide + x3 Novacrystal x1 | Base: 40 Fire: +2 Water: +2 Thunder: +2 Ice: +2 Dragon: +2 | Mushroomancer | None |
| Kestodon Guards Alpha | Kestodon Carapace x6 Kestodon Scalp x3 Quality Bone x3 | Base: +40 Fire: +4 | Affinity Sliding Focus | None |
| Gajau Boots Alpha | Gajau Scale x4 Grand Gajau Whisker x2 Carbalite Ore x3 | Base: +40 Fire: +5 | Aquatic Expert Lv2 Water Attack | None |
| Shamos Helm Alpha | Shamos Hide + x3 Shamos Scale + x4 Dragonvein Crystal x3 | Base: +40 Fire: +2 Water: +2 Ice: -3 | Detector Geologist | None |
| Jagras Helm Alpha | Great Jagras Hide + x4 Great Jagras Mane x2 Great Jagras Claw + x4 Piercing Claw x2 | Base: +40 Fire: -2 Water: +2 Thunder: -1 Ice: -1 Dragon: +1 | Speed Eating Lv2 | None |
| Jagras Mail Alpha | Great Jagras Hide + x2 Great Jagras Claw + x4 Great Jagras Scale + x4 Jagras Hide + x2 | Base: +40 Fire: -2 Water: +2 Thunder: -1 Ice: -1 Dragon: +1 | Intimidator Lv2 | None |
| Jagras Vambraces Alpha | Great Jagras Scale + x4 Great Jagras Hide + x2 Monster Bone + x3 Jagras Hide + x1 | Base: +40 Fire: -2 Water: +2 Thunder: -1 Ice: -1 Dragon: +1 | Palico Rally Intimidator | None |
| Jagras Coil Alpha | Great Jagras Hide + x3 Great Jagras Mane x3 Great Jagras Scale + x4 Jagras Scale + x3 | Base: +40 Fire: -2 Water: +2 Thunder: -1 Ice: -1 Dragon: +1 | Fortify Speed Eating | None |
| Jagras Greaves Alpha | Great Jagras Scale + x4 Great Jagras Hide + x2 Great Jagras Mane x2 Jagras Scale + x1 | Base: +40 Fire: -2 Water: +2 Thunder: -1 Ice: -1 Dragon: +1 | Speed Crawler Free Meal | None |
| Kulu Headpiece Alpha | Kulu-Ya-Ku Scale + x4 / Kulu-Ya-Ku Hide + x2 / Kulu-Ya-Ku Plume + x2 | Base: +40 Water: -3 Ice: +1 | Fire Resistance Weakness Exploit | None |
| Kulu Mail Alpha | Kulu-Ya-Ku Hide + x4 Kulu-Ya-Ku Plume + x3 Kulu-Ya-Ku Beak + x2 Bird Wyvern Gem x1 | Base: +40 Water: -3 Ice: +1 | Stamina Surge Critical Eye | None |
| Kulu Vambraces Alpha | Kulu-Ya-Ku Scale + x4 Kulu-Ya-Ku Hide + x2 Carbalite Ore x3 | Base: +40 Water: -3 Ice: +1 | Pro Transporter Critical Eye | None |
| Kulu Coil Alpha | Kulu-Ya-Ku Hide + x4 Kulu-Ya-Ku Beak + x2 Wingdrake Hide + x3 Earth Crystal x2 | Base: +40 Water: -3 Ice: +1 | Item Prolonger Lv2 | None |
| Kulu Greaves Alpha | Kulu-Ya-Ku Hide + x4 Kulu-Ya-Ku Scale + x6 Wingdrake Hide + x2 Earth Crystal x2 | Base: +40 Water: -3 Ice: +1 | Critical Eye Item Prolonger | None |
| Girros Mask Alpha | Great Girros Scale + x4 Great Girros Hide + x2 Great Girros Hood + x1 Girros Scale + x1 | Base: +40 Water: -3 Thunder: +2 Dragon +1 | Horn Maestro Paralysis Resistance | None |
| Girros Mail Alpha | Great Girros Hide + x4 Great Girros Fang + x4 Omniplegia Sac x3 Bird Wyvern Gem x1 | Base: +40 Water: -3 Thunder: +2 Dragon +1 | Paralysis Resistance Lv2 | None |
| Girros Vambraces Alpha | Great Girros Scale + x4 Great Girros Hide + x2 Girros Fang x1 Omniplegia Sac x2 | Base: +40 Water: -3 Thunder: +2 Dragon +1 | Palico Rally Lv2 | None |
| Girros Coil Alpha | Great Girros Hide + x4 Great Girros Tail x1 Great Girros Hood + x2 Girros Hide + x4 | Base: +40 Water: -3 Thunder: +2 Dragon +1 | Effluvial Expert Paralysis Attack | None |
| Girros Greaves Alpha | Great Girros Hide + x2 Great Girros Fang + x4 Great Girros Scale + x4 Warped Bone x5 | Base: +40 Water: -3 Thunder: +2 Dragon +1 | Paralysis Attack Lv2 | None |
| Baan Helm Alpha | Radobaan Carapace x6 Radobaan Scale + x4 Radobaan Medulla x1 Wyvern Gem x1 | Base: +46 Water: +2 Ice: -1 Dragon: -2 | Tremor Resistance Lv2 | None |
| Baan Mail Alpha | Radobaan Scale + x4 Radobaan Carapace x3 Coma Sac x2 Quality Bone x6 | Base: +46 Water: +2 Ice: -1 Dragon: -2 | Sleep Attack Bleeding Resistance | None |
| Baan Vambraces Alpha | Radobaan Scale + x4 Radobaan Carapace x3 Radobaan Oilshell x2 Sturdy Bone x8 | Base: +46 Water: +2 Ice: -1 Dragon: -2 | Sleep Attack Lv2 Guard | None |
| Baan Coil Alpha | Radobaan Scale + x4 Radobaan Carapace x3 Coma Sac x3 Wyvern Bonemass x5 | Base: +46 Water: +2 Ice: -1 Dragon: -2 | Guard Lv2 | None |
| Baan Greaves Alpha | Radobaan Carapace x4 Radobaan Scale + x4 Radobaan Oilshell x2 Wyvern Bonemass x5 | Base: +46 Water: +2 Ice: -1 Dragon: -2 | Bleeding Resistance Lv2 | None |
| Pukei Hood Alpha | Pukei-Pukei Carapace x2 Pukei-Pukei Tail x2 Pukei-Pukei Wing x3 Toxin Sac x2 | Base: +42 Water +3 Thunder: -3 Dragon +1 | Sporepuff Expert Lv2 | None |
| Pukei Mail Alpha | Pukei-Pukei Scale + x4 Pukei-Pukei Carapace x3 Carbalite Ore x3 | Base: +42 Water +3 Thunder: -3 Dragon +1 | Item Prolonger Botanist | None |
| Pukei Vambraces Alpha | Pukei-Pukei Scale + x4 Pukei-Pukei Carapace x3 Toxin Sac x1 | Base: +42 Water +3 Thunder: -3 Dragon +1 | Poison Resistance Lv2 Poison Attack | None |
| Pukei Coil Alpha | Pukei-Pukei Carapace x4 Pukei-Pukei Wing x2 Pukei-Pukei Sac + x2 Bird Wyvern Gem x1 | Base: +42 Water +3 Thunder: -3 Dragon +1 | Poison Attack Lv2 | None |
| Pukei Greaves Alpha | Pukei-Pukei Carapace x2 Pukei-Pukei Sac + x2 Pukei-Pukei Scale + x4 Monster Keenbone x2 | Base: +42 Water +3 Thunder: -3 Dragon +1 | Botanist Lv2 Sporepuff Expert | None |
| Barroth Helm Alpha | Barroth Ridge + x3 Barroth Tail x2 Barroth Claw + x3 Kestodon Carapace x4 | Base: +42 Fire: -3 Water: -1 Thunder: +3 Ice: -1 | Guard Lv2 | None |
| Barroth Mail Alpha | Barroth Carapace x4 Barroth Ridge + x2 Barroth Claw + x2 Quality Bone x5 | Base: +42 Fire: -3 Water: -1 Thunder: +3 Ice: -1 | Stamina Thief Lv2 | None |
| Barroth Vambraces Alpha | Barroth Ridge + x4 Barroth Scalp x2 Kestodon Carapace x3 Wyvern Gem x1 | Base: +42 Fire: -3 Water: -1 Thunder: +3 Ice: -1 | Marathon Runner Stamina Thief | None |
| Barroth Coil Alpha | Barroth Carapace x4 Barroth Ridge + x3 Monster Bone + x4 | Base: +42 Fire: -3 Water: -1 Thunder: +3 Ice: -1 | Muck Resistance Guard | None |
| Barroth Greaves Alpha | Barroth Ridge + x2 Barroth Carapace x4 Fertile Mud x4 Monster Keenbone x4 | Base: +42 Fire: -3 Water: -1 Thunder: +3 Ice: -1 | Stun Resistance Lv2 Marathon Runner | None |
| Anja Helm Alpha | Anjanath Pelt + x4 Anjanath Scale + x4 Anjanath Tail x2 Inferno Sac x3 | Base: +44 Fire: +3 Water: -3 Thunder: -1 Ice: -1 | Fire Attack Lv2 Fire Resistance | Anjanath Will Adrenaline (Requires 2 pieces worn) Stamina Cap up (Requires 4 pieces worn) |
| Anja Mail Alpha | Anjanath Pelt + x6 Anjanath Fang + x4 Anjanath Nosebone + x2 Anjanath Gem x1 | Base: +44 Fire: +3 Water: -3 Thunder: -1 Ice: -1 | Marathon Runner Special Ammo Boost | Anjanath Will Adrenaline (Requires 2 pieces worn) Stamina Cap up (Requires 4 pieces worn) |
| Anja Vambraces Alpha | Anjanath Pelt + x4 Anjanath Scale + x4 Anjanath Nosebone + x1 Monster Keenbone x4 | Base: +44 Fire: +3 Water: -3 Thunder: -1 Ice: -1 | Special Ammo Boost Fire Attack | Anjanath Will Adrenaline (Requires 2 pieces worn) Stamina Cap up (Requires 4 pieces worn) |
| Anja Coil Alpha | Anjanath Scale + x4 Anjanath Pelt + x3 Anjanath Fang + x3 Piercing Claw x4 | Base: +44 Fire: +3 Water: -3 Thunder: -1 Ice: -1 | Fire Resistance Lv2 Artillery | Anjanath Will Adrenaline (Requires 2 pieces worn) Stamina Cap up (Requires 4 pieces worn) |
| Anja Greaves Alpha | Anjanath Scale + x4 Anjanath Pelt + x3 Inferno Sac x2 Carbalite Ore x5 | Base: +44 Fire: +3 Water: -3 Thunder: -1 Ice: -1 | Artillery | Anjanath Will Adrenaline (Requires 2 pieces worn) Stamina Cap up (Requires 4 pieces worn) |
| Jyura Helm Alpha | Jyuratodus Scale + x4 Jyuratodus Carapace x2 Jyuratodus Fin + x2 Gajau Scale x6 | Base: +44 Fire: -1 Water: +2 Thunder: -3 | Aquatic Expert Lv2 | None |
| Jyura Mail Alpha | Jyuratodus Scale + x4 Jyuratodus Fin + x3 Jyuratodus Fang + x2 Torrent Sac x2 | Base: +44 Fire: -1 Water: +2 Thunder: -3 | Muck Resistance Water Attack | None |
| Jyura Vambraces Alpha | Jyuratodus Carapace x4 Jyuratodus Fin + x3 Grand Gajau Whisker x2 Monster Keenbone x3 | Base: +44 Fire: -1 Water: +2 Thunder: -3 | Water Attack Lv2 Aquatic Expert | None |
| Jyura Coil Alpha | Jyuratodus Scale + x4 Jyuratodus Carapace x2 Torrent Sac x2 | Base: +44 Fire: -1 Water: +2 Thunder: -3 | Ice Resistance Lv2 | None |
| Jyura Greaves Alpha | Jyuratodus Carapace x4 Jyuratodus Fang + x2 Jyuratodus Fin + x2 Wyvern Gem x1 | Base: +44 Fire: -1 Water: +2 Thunder: -3 | Focus Lv2 | None |
| Kadachi Helm Alpha | Tobi-Kadachi Pelt + x4 Tobi-Kadachi Electrode + x4 Tobi-Kadachi Claw + x4 Wyvern Gem x1 | Base: +44 Water -3 Thunder +3 | Constitution Lv2 | None |
| Kadachi Mail Alpha | Tobi-Kadachi Pelt + x3 Tobi-Kadachi Electrode + x2 Tobi-Kadachi Membrane x4 Thunder Sac x2 | Base: +44 Water -3 Thunder +3 | Jump Master Evade Extender | None |
| Kadachi Vambraces Alpha | Tobi-Kadachi Pelt + x4 Tobi-Kadachi Claw + x4 Tobi-Kadachi Scale + x2 Monster Keenbone x4 | Base: +44 Water -3 Thunder +3 | Evade Extender Lv2 | None |
| Kadachi Coil Alpha | Tobi-Kadachi Scale + x4 Tobi-Kadachi Pelt + x3 Thunder Sac x1 Wingdrake Hide + x3 | Base: +44 Water -3 Thunder +3 | Thunder Attack Lv2 Thunder Resistance | None |
| Kadachi Greaves Alpha | Tobi-Kadachi Scale + x4 Tobi-Kadachi Membrane x2 Thunder Sac x1 High-quality Pelt x3 | Base: +44 Water -3 Thunder +3 | Thunder Resistance Lv2 Constitution | None |
| Rathian Helm Alpha | Rathian Carapace x4 Rathian Scale + x4 Rathian Webbing x2 Inferno Sac x3 | Base: +46 Fire: +2 Thunder: -2 Dragon: -3 | Health Boost Lv2 Poison Attack | None |
| Rathian Mail Alpha | Rathian Scale + x4 Rathian Carapace x2 Rathian Webbing x2 Quality Bone x6 | Base: +46 Fire: +2 Thunder: -2 Dragon: -3 | Botanist Lv2 Recovery Up | None |
| Rathian Vambraces Alpha | Rathian Carapace x4 Rathian Scale + x4 Rathian Spike + x2 Monster Keenbone x4 | Base: +46 Fire: +2 Thunder: -2 Dragon: -3 | Poison Attack Lv2 | None |
| Rathian Coil Alpha | Rathian Scale + x4 Rathian Carapace x2 Inferno Sac x2 Monster Broth x2 | Base: +46 Fire: +2 Thunder: -2 Dragon: -3 | Poison Resistance Lv2 Health Boost | None |
| Rathian Greaves Alpha | Rathian Carapace x6 Rathian Spike + x3 Rath Wingtalon x4 Rathian Ruby x1 | Base: +46 Fire: +2 Thunder: -2 Dragon: -3 | Recovery Up Lv2 | None |
| Barnos Jacket Alpha | Barnos Hide + x4 Barnos Talon x2 Piercing Claw x3 Dragonvein Crystal x3 | Base: +48 Fire: +1 Water: +1 Ice: +1 Dragon: -2 | Heat Guard Iron Skin | None |
| Bazel Helm Alpha | Bazelgeuse Carapace x5 Bazelgeuse Talon x2 Bazelgeuse Wing x2 Bazelgeuse Gem x1 | Base: 58 Fire: +3 Water: +1 Thunder: -4 Ice: -2 Dragon: -2 2x Jewel Slots | Ear Plugs Lv2 Blast Attack | None |
| Bazel Mail Alpha | Bazelgeuse Scale + x4 Bazelgeuse Carapace x4 Bazelgeuse Fuse x1 Uragaan Scute x2 | Base: 58 Fire: +3 Water: +1 Thunder: -4 Ice: -2 Dragon: -2 | Guard x2 Blast Resistance x2 | None |
| Bazel Vambraces Alpha | Bazelgeuse Carapace x4 Bazelgeuse Talon x2 Bazelgeuse Tail x2 Firecell Stone x1 | Base: 58 Fire: +3 Water: +1 Thunder: -4 Ice: -2 Dragon: -2 | Critical Draw Lv2 Ear Plugs | None |
| Bazel Coil Alpha | Bazelgeuse Carapace x4 Bazelgeuse Scale + x4 Bazelgeuse Fuse x2 Uragaan Marrow x1 | Base: 58 Fire: +3 Water: +1 Thunder: -4 Ice: -2 Dragon: -2 1x Jewel Slot | Ear Plugs Lv2 Jump Master | None |
| Bazel Greaves Alpha | Bazelgeuse Scale + x4 Bazelgeuse Carapace x4 Bazelgeuse Talon x2 Dodogama Hide + x4 | Base: 58 Fire: +3 Water: +1 Thunder: -4 Ice: -2 Dragon: -2 1x Jewel Slot | Bombardier Lv2 Ear Plugs | None |
| Damascus Helm Alpha | Elder Dragon Blood x2 Fucium Ore x3 Great Girros Hood + x3 Novacrystal x1 | Base: 60 Fire: +4 Water: -2 1x Jewel Slot | Defense Boost Lv2 Speed Sharpening | None |
| Damascus Mail Alpha | Elder Dragon Blood x2 Fucium Ore x3 Uragaan Scute x3 Firecell Stone x1 | Base: 60 Fire: +4 Water: -2 1x Jewel Slot | Focus Lv2 Defense Boost Lv2 | None |
| Damascus Vambraces Alpha | Elder Dragon Blood x2 Fucium Ore x3 Black Diablos Ridge + x5 Novacrystal x1 | Base: 60 Fire: +4 Water: -2 | Handicraft Speed Sharpening | None |
| Damascus Coil Alpha | Elder Dragon Blood x2 Fucium Ore x3 Dodogama Jaw x3 Firecell Stone x1 | Base: 60 Fire: +4 Water: -2 1x Jewel Slot | Focus Iron Skin Lv2 | None |
| Damascus Greaves Alpha | Elder Dragon Blood x2 Fucium Ore x3 Lavasioth Carapace x5 Novacrystal x1 | Base: 60 Fire: +4 Water: -2 1x Jewel Slot | Defense Boost Lv2 Iron Skin | None |
| Death Stench Brain Alpha | Sinister Cloth x2 Brutal Bone x1 Vaal Hazak Membrane x1 Piercing Claw x3 | Base: +62 Fire: +3 Water: +2 Thunder: -2 Ice: +3 Dragon: -4 1x Jewel Slot Lv2 | Resuscitate Critical Eye | None |
| Death Stench Muscle Alpha | Sinister Cloth x2 Dragonbone Relic x1 Vaal Hazak Membrane x1 Monster Broth x2 | Base: +62 Fire: +3 Water: +2 Thunder: -2 Ice: +3 Dragon: -4 | Fortify Free Elem Ammo Up | None |
| Death Stench Grip Alpha | Sinister Cloth x2 Brutal Bone x2 Vaal Hazak Membrane x2 Novacrystal x1 | Base: +62 Fire: +3 Water: +2 Thunder: -2 Ice: +3 Dragon: -4 1x Jewel Slot | Focus Lv2 Dragon Attack | None |
| Death Stench Bowels Alpha | Sinister Cloth x2 Brutal Bone x1 Vaal Hazak Membrane x1 Monster Broth x2 | Base: +62 Fire: +3 Water: +2 Thunder: -2 Ice: +3 Dragon: -4 | Dragon Attack Lv2 Focus | None |
| Death Stench Heel Alpha | Sinister Cloth x2 Dragonbone Relic x1 Vaal Hazak Membrane x2 Novacrystal x1 | Base: +62 Fire: +3 Water: +2 Thunder: -2 Ice: +3 Dragon: -4 | Handicraft Lv2 Dragon Attack Lv2 | None |
| Diablos Helm Alpha | Diablos Ridge + x4 Diablos Fang x4 Majestic Horn x2 Wyvern Gem x1 | Base: +54 Fire: +3 Water: -2 Ice: -3 Dragon: +2 | Critical Draw Lv2 Heroics | Diablos Mastery Bludgeoning (Requires 2 pieces worn) Non-elemental Boost (Requires 4 pieces worn) |
| Diablos Mail Alpha | Diablos Carapace x4 Diablos Ridge + x3 Majestic Horn x2 Lightcrystal x2 | Base: +54 Fire: +3 Water: -2 Ice: -3 Dragon: +2 | Slugger Lv2 Heroics | Diablos Mastery Bludgeoning (Requires 2 pieces worn) Non-elemental Boost (Requires 4 pieces worn) |
| Diablos Vambraces Alpha | Diablos Ridge + x4 Diablos Carapace x6 Diablos Tailcase x3 Kestodon Carapace x5 | Base: +54 Fire: +3 Water: -2 Ice: -3 Dragon: +2 | Heroics Lv2 Tremor Resistance | Diablos Mastery Bludgeoning (Requires 2 pieces worn) Non-elemental Boost (Requires 4 pieces worn) |
| Diablos Coil Alpha | Diablos Carapace x4 Diablos Ridge + x3 Diablos Fang x2 Kestodon Scalp x3 | Base: +54 Fire: +3 Water: -2 Ice: -3 Dragon: +2 | Marathon Runner Lv2 Critical Draw | Diablos Mastery Bludgeoning (Requires 2 pieces worn) Non-elemental Boost (Requires 4 pieces worn) |
| Diablos Greaves Alpha | Diablos Ridge + x4 Diablos Carapace x4 Majestic Horn x1 Blos Medulla x1 | Base: +54 Fire: +3 Water: -2 Ice: -3 Dragon: +2 | Tremor Resistance Lv2 Slugger | Diablos Mastery Bludgeoning (Requires 2 pieces worn) Non-elemental Boost (Requires 4 pieces worn) |
| Diablos Nero Helm Alpha | Black Diablos Ridge + x4 Black Spiral Horn x1 Majestic Horn x2 Novacrystal x1 | Base: 56 Fire: +2 Water: -3 Ice: -4 Dragon: +2 | Focus Lv2 | Diablos Mastery Bludgeoning (Requires 2 pieces worn) Non-elemental Boost (Requires 4 pieces worn) |
| Diablos Nero Mail Alpha | Black Diablos Carapace x4 Black Diablos Ridge + x3 Black Spiral Horn + x1 Blos Medulla x2 | Base: 56 Fire: +2 Water: -3 Ice: -4 Dragon: +2 1x Jewel Slot | Resentment Lv2 | Diablos Mastery Bludgeoning (Requires 2 pieces worn) Non-elemental Boost (Requires 4 pieces worn) |
| Diablos Nero Vambraces Alpha | Black Diablos Ridge + x4 Black Diablos Carapace x6 Carbalite Ore x5 Gastodon Carapace x5 | Base: 56 Fire: +2 Water: -3 Ice: -4 Dragon: +2 | Focus Marathon Runner | Diablos Mastery Bludgeoning (Requires 2 pieces worn) Non-elemental Boost (Requires 4 pieces worn) |
| Diablos Nero Coil Alpha | Black Diablos Carapace x4 Black Diablos Ridge + x3 Diablos Tailcase x2 Gastodon Horn x3 | Base: 56 Fire: +2 Water: -3 Ice: -4 Dragon: +2 | Resentment Part Breaker | Diablos Mastery Bludgeoning (Requires 2 pieces worn) Non-elemental Boost (Requires 4 pieces worn) |
| Diablos Nero Greaves Alpha | Black Diablos Ridge + x6 Black Diablos Carapace x4 Black Spiral Horn + x1 Wyvern Gem x1 | Base: 56 Fire: +2 Water: -3 Ice: -4 Dragon: +2 1x Jewel Slot | Normal Shots Heroics | Diablos Mastery Bludgeoning (Requires 2 pieces worn) Non-elemental Boost (Requires 4 pieces worn) |
| Dragonkind Eyepatch Alpha | Dragonvein Crystal x2 High Commendation x1 Immortal Dragonscale x6 | Base: +70 1x Jewel Slot | Weakness Exploit Lv2 | None |
| Dodogama Helm Alpha | Dodogama Scale + x4 Dodogama Hide + x2 Dodogama Jaw x1 Gastodon Horn x3 | Base: +48 Fire: +2 Thunder: -3 Dragon: -2 | Blast Resistance Lv2 | None |
| Dodogama Mail Alpha | Dodogama Hide + x4 Dodogama Tail x1 Dodogama Jaw x3 Firecell Stone x1 | Base: +48 Fire: +2 Thunder: -3 Dragon: -2 | Blast Attack Lv2 | None |
| Dodogama Vambraces Alpha | Dodogama Hide + x4 Dodogama Talon x4 Dodogama Scale + x4 Fucium Ore x6 | Base: +48 Fire: +2 Thunder: -3 Dragon: -2 | Bombardier Lv2 | None |
| Dodogama Coil Alpha | Dodogama Scale + x4 Dodogama Hide + x2 Dodogama Jaw x1 Gastodon Carapace x5 | Base: +48 Fire: +2 Thunder: -3 Dragon: -2 | Artillery Lv2 Blast Resistance | None |
| Dodogama Greaves Alpha | Dodogama Hide + x6 Dodogama Tail x2 Dodogama Talon x4 Wyvern Gem x1 | Base: +48 Fire: +2 Thunder: -3 Dragon: -2 | Capacity Boost Blast Attack | None |
| Dober Helm Alpha | Elder Dragon Bone x3 Quality Bone x3 Bazelgeuse Fuse x1 Dragonbone Relic x 1 | Base: +60 Fire: -2 Thunder: -1 Ice: -1 Dragon: +4 | Free Elem Ammo Up Dragon Resistance | None |
| Dober Mail Alpha | Elder Dragon Bone x3 Quality Bone x3 Blos Medulla x1 Dragonbone Relic x1 | Base: +60 Fire: -2 Thunder: -1 Ice: -1 Dragon: +4 1x Jewel Slot | Attack Boost Lv2 Mushroomancer | None |
| Dober Vambraces Alpha | Elder Dragon Bone x3 Quality Bone x3 Uragaan Marrow x1 Brutal Bone x3 | Base: +60 Fire: -2 Thunder: -1 Ice: -1 Dragon: +4 | Stamina Surge Lv2 Mushroomancer | None |
| Dober Coil Alpha | Elder Dragon Bone x3 Quality Bone x3 Rathalos Medulla x1 Brutal Bone x3 | Base: +60 Fire: -2 Thunder: -1 Ice: -1 Dragon: +4 1x Jewel Slot Lv2 | Dragon Resistance Lv2 Attack Boost | None |
| Dober Greaves Alpha | Elder Dragon Bone x3 Quality Bone x3 Radobaan Medulla x1 Dragonbone Relic x1 | Base: +60 Fire: -2 Thunder: -1 Ice: -1 Dragon: +4 | Attack Boost Lv2 Stamina Surge | None |
| Faux Felyne Alpha | Tailraider Voucher x3 Paolumu Pelt + x3 High-quality Pelt x3 Firecell Stone x1 | Base: +56 Fire: +2 Water: +2 Thunder: +2 Ice: +2 Dragon: +2 | Palico Rally Lv3 | None |
| Gastodon Horn Alpha | Gastodon Horn x3 Gastodon Carapace x4 Kestodon Carapace x3 Dragonite Ore x5 | Base: +48 Fire: +3 | Flinch Free Blast Resistance | None |
| High Metal Helm Alpha | Fucium Ore x3 Carbalite Ore x4 Dragonvein Crystal x2 Barnos Hide + x3 | Base: +50 Water: -1 Thunder: -2 Ice: +3 | Ice Resistance Lv2 Earplugs | None |
| High Metal Mail Alpha | Fucium Ore x4 Carbalite Ore x3 Dragonvein Crystal x4 Barnos Talon x3 | Base: +50 Water: -1 Thunder: -2 Ice: +3 | Earplugs Lv2 Ice Attack | None |
| High Metal Braces Alpha | Fucium Ore x4 Carbalite Ore x3 Dragonvein Crystal x4 Barnos Hide + x4 | Base: +50 Water: -1 Thunder: -2 Ice: +3 | Defense Boost Lv2 Ice Attack | None |
| High Metal Coil Alpha | Fucium Ore x3 Carbalite Ore x4 Dragonvein Crystal x2 Barnos Talon x2 | Base: +50 Water: -1 Thunder: -2 Ice: +3 | Capacity Boost Defense Boost | None |
| High Metal Greaves Alpha | Fucium Ore x3 Carbalite Ore x4 Dragonvein Crystal x2 Barnos Hide + x3 | Base: +50 Water: -1 Thunder: -2 Ice: +3 | Heavy Artillery Ice Resistance | None |
| Hornetaur Helm Alpha | Hornetaur Carapace x3 Hornetaur Innerwing x2 Monster Broth x2 | Base: +38 Fire: -1 Water: -1 Dragon: +2 | Dungmaster Dragon Attack | None |
| Hornetaur Mail Alpha | Hornetaur Carapace x4 Hornetaur Innerwing x2 Hornetaur Head x1 Lightcrystal x1 | Base: +38 Fire: -1 Water: -1 Dragon: +2 | Effluvial Expert Hunger Resistance | None |
| Hornetaur Vambraces Alpha | Hornetaur Carapace x3 Hornetaur Innerwing x2 Monster Broth x2 | Base: +38 Fire: -1 Water: -1 Dragon: +2 | Free Meal Hunger Resistance | None |
| Hornetaur Coil Alpha | Hornetaur Carapace x3 Hornetaur Innerwing x2 Monster Broth x2 | Base: +38 Fire: -1 Water: -1 Dragon: +2 | Carving Pro Hunger Resistance | None |
| Hornetaur Greaves Alpha | Hornetaur Carapace x4 Hornetaur Innerwing x2 Hornetaur Head x1 Novacrystal x1 | Base: +38 Fire: -1 Water: -1 Dragon: +2 | Handicraft Dragon Attack | None |
| Ingot Helm Alpha | Fucium Ore x1 Monster Hardbone x2 Dragonite Ore x4 Gastodon Horn x2 | Base: +50 Fire: -2 Thunder: +3 Ice: -1 Dragon:-2 | Thunder Attack Lv2 | None |
| Ingot Mail Alpha | Fucium Ore x1 Monster Hardbone x2 Dragonite Ore x4 Gastodon Carapace x2 | Base: +50 Fire: -2 Thunder: +3 Ice: -1 Dragon:-2 | Thunder Resistance Lv2 | None |
| Ingot Vambraces Alpha | Fucium Ore x1 Monster Hardbone x3 Dragonite Ore x4 Gastodon Horn x2 | Base: +50 Fire: -2 Thunder: +3 Ice: -1 Dragon:-2 | Health Boost Lv2 Thunder Attack | None |
| Ingot Coil Alpha | Fucium Ore x1 Monster Hardbone x3 Dragonite Ore x4 Gastodon Carapace x3 | Base: +50 Fire: -2 Thunder: +3 Ice: -1 Dragon:-2 | Windproof Lv2 | None |
| Ingot Greaves Alpha | Fucium Ore x1 Monster Hardbone x2 Dragonite Ore x4 Gastodon Carapace x2 | Base: +50 Fire: -2 Thunder: +3 Ice: -1 Dragon:-2 | Defense Boost Lv2 Windproof | None |
| Kirin Horn Alpha | Kirin Hide + x3 Kirin Azure Horn x1 Shamos Scale + x2 Thunder Sac x4 | Base: +64 Fire: -3 Water: -2 Thunder: +4 Ice: -2 Dragon: +2 | Marathon Runner Lv2 Divine Blessing | Kirin Favor - Capture Master (Requires 3 pieces worn) |
| Kirin Jacket Alpha | Kirin Hide + x3 Kirin Azure Horn x1 Kirin Thundertail x1 Fucium Ore x4 | Base: +64 Fire: -3 Water: -2 Thunder: +4 Ice: -2 Dragon: +2 | Divine Blessing Lv2 Thunder Attack | Kirin Favor - Capture Master (Requires 3 pieces worn) |
| Kirin Longarms Alpha | Kirin Hide + x3 Kirin Mane x4 Paolumu Carapace + x3 Dragonvein Crystal x6 | Base: +64 Fire: -3 Water: -2 Thunder: +4 Ice: -2 Dragon: +2 | Thunder Attack Lv2 Marathon Runner | Kirin Favor - Capture Master (Requires 3 pieces worn) |
| Kirin Hoop Alpha | Kirin Hide + x4 Kirin Mane x4 Kirin Azure Horn x3 Novacrystal x1 | Base: +64 Fire: -3 Water: -2 Thunder: +4 Ice: -2 Dragon: +2 | Blight Resistance Free Elem Ammo Up | Kirin Favor - Capture Master (Requires 3 pieces worn) |
| Kirin Leg Guards Alpha | Kirin Hide + x3 Kirin Thundertail x3 Paolumu Carapace + x3 Dragonbone Relic x1 | Base: +64 Fire: -3 Water: -2 Thunder: +4 Ice: -2 Dragon: +2 | Free Elem Ammo Up Lv2 Thunder Resistance Lv2 | Kirin Favor - Capture Master (Requires 3 pieces worn) |
| Tzitzi Headgear Alpha | Tzitzi-Ya-Ku Scale + x4 Tzitzi-Ya-Ku Hide + x2 Tzitzi-Ya-Ku Photophore + x2 Coral Crystal x5 | Base: +40 Thunder: -3 Ice: -2 | Blindsider Stun Resistance | None |
| Tzitzi Mail Alpha | Tzitzi-Ya-Ku Hide + x4 Tzitzi-Ya-Ku Claw + x4 Tzitzi-Ya-Ku Photophore + x3 Bird Wyvern Gem x1 | Base: +40 Thunder: -3 Ice: -2 | Constitution Water Attack Lv2 | None |
| Tzitzi Vambraces Alpha | Tzitzi-Ya-Ku Hide + x4 Tzitzi-Ya-Ku Photophore + x2 Tzitzi-Ya-Ku Scale + x4 Dragonvein Crystal x2 | Base: +40 Thunder: -3 Ice: -2 | Stun Resistance Lv2 Wide-Range | None |
| Tzitzi Coil Alpha | Tzitzi-Ya-Ku Hide + x2 Tzitzi-Ya-Ku Claw + x4 Dragonvein Crystal x3 Lightcrystal x2 | Base: +40 Thunder: -3 Ice: -2 | Wide Range Lv2 Water Attack | None |
| Tzitzi Greaves Alpha | Tzitzi-Ya-Ku Scale + x 4 Tzitzi-Ya-Ku Hide + x2 Tzitzi-Ya-Ku Claw + x2 Carbalite Ore x6 | Base: +40 Thunder: -3 Ice: -2 | Sleep Resistance Lv2 | None |
| Lumu Hat Alpha | Paolumu Scale + x4 Paolumu Wing x2 Paolumu Pelt + x2 Lightcrystal x2 | Base: +44 Fire: -3 Water: +2 Ice: +1 | Stamina Surge Lv2 | None |
| Lumu Mail Alpha | Paolumu Scale + x2 Paolumu Carapace + x3 Paolumu Pelt + x2 Monster Keenbone x4 | Base: +44 Fire: -3 Water: +2 Ice: +1 | Master Mounter Artillery | None |
| Lumu Vambraces Alpha | Paolumu Pelt + x4 Paolumu Scale + x2 Paolumu Wing x2 Quality Bone x5 | Base: +44 Fire: -3 Water: +2 Ice: +1 | Artillery Lv2 | None |
| Lumu Coil Alpha | Paolumu Pelt + x4 Paolumu Scale + x2 Paolumu Carapace + x3 Coral Bone x5 | Base: +44 Fire: -3 Water: +2 Ice: +1 | Divine Blessing Lv2 | None |
| Lumu Greaves Alpha | Paolumu Scale + x4 Paolumu Pelt + x2 Paolumu Wing x4 Wyvern Gem x1 | Base: +44 Fire: -3 Water: +2 Ice: +1 | Windproof Stamina Surge | None |
| Legiana Helm Alpha | Legiana Scale + x4 Legiana Hide + x2 Freezer Sac x2 Tzitzi-Ya-Ku Scale + x2 | Base: +54 Fire: -1 Water: -2 Thunder: -3 Ice: +3 | Divine Blessing Lv2 Ice Attack | Legiana Favor Good Luck (Requires 2 pieces worn) Bow Charge Plus (Requires 4 pieces worn) |
| Legiana Mail Alpha | Legiana Hide + x6 Legiana Claw + x3 Legiana Wing x3 Legiana Gem x1 | Base: +54 Fire: -1 Water: -2 Thunder: -3 Ice: +3 | Evade Window Lv2 Divine Blessing | Legiana Favor Good Luck (Requires 2 pieces worn) Bow Charge Plus (Requires 4 pieces worn) |
| Legiana Vambraces Alpha | Legiana Hide + x4 Legiana Scale + x4 Legiana Tail Webbing x3 Novacrystal x1 | Base: +54 Fire: -1 Water: -2 Thunder: -3 Ice: +3 | Airborne Evade Window | Legiana Favor Good Luck (Requires 2 pieces worn) Bow Charge Plus (Requires 4 pieces worn) |
| Legiana Coil Alpha | Legiana Hide + x4 Legiana Scale + x4 Freezer Sac x2 Legiana Plate x1 | Base: +54 Fire: -1 Water: -2 Thunder: -3 Ice: +3 | Ice Attack Lv2 Windproof | Legiana Favor Good Luck (Requires 2 pieces worn) Bow Charge Plus (Requires 4 pieces worn) |
| Legiana Greaves Alpha | Legiana Scale + x4 Legiana Hide + x2 Legiana Wing x2 Tzitzi-Ya-Ku Hide + x2 | Base: +54 Fire: -1 Water: -2 Thunder: -3 Ice: +3 | Ice Resistance Lv2 Critical Draw | Legiana Favor Good Luck (Requires 2 pieces worn) Bow Charge Plus (Requires 4 pieces worn) |
| Odogaron Helm Alpha | Odogaron Scale + x4 Odogaron Sinew + x2 Odogaron Claw + x2 Warped Bone x3 | Base: +54 Fire: +2 Water: +2 Thunder: -2 Ice: -3 | Bleeding Resistance Lv2 Critical Eye | Odogaron Mastery Punishing Draw (Requires 2 pieces worn) Protective Polish (Requires 4 pieces worn) |
| Odogaron Mail Alpha | Odogaron Sinew + x4 Odogaron Scale + x4 Odogaron Plate x1 Hornetaur Carapace x5 | Base: +54 Fire: +2 Water: +2 Thunder: -2 Ice: -3 | Speed Sharpening Lv2 Bleeding Resistance | Odogaron Mastery Punishing Draw (Requires 2 pieces worn) Protective Polish (Requires 4 pieces worn) |
| Odogaron Vambraces Alpha | Odogaron Sinew + x4 Odogaron Scale + x4 Odogaron Tail x2 Hornetaur Innerwing x4 | Base: +54 Fire: +2 Water: +2 Thunder: -2 Ice: -3 | Constitution Critical Eye | Odogaron Mastery Punishing Draw (Requires 2 pieces worn) Protective Polish (Requires 4 pieces worn) |
| Odogaron Coil Alpha | Odogaron Sinew + x6 Odogaron Claw + x4 Odogaron Fang + x2 Odogaron Gem x1 | Base: +54 Fire: +2 Water: +2 Thunder: -2 Ice: -3 | Critical Eye Lv2 Speed Sharpening | Odogaron Mastery Punishing Draw (Requires 2 pieces worn) Protective Polish (Requires 4 pieces worn) |
| Odogaron Greaves Alpha | Odogaron Scale + x4 Odogaron Sinew + x2 Odogaron Fang + x2 Monster Hardbone x6 | Base: +54 Fire: +2 Water: +2 Thunder: -2 Ice: -3 | Quick Sheath Critical Eye | Odogaron Mastery Punishing Draw (Requires 2 pieces worn) Protective Polish (Requires 4 pieces worn) |
| Rathalos Helm Alpha | Rathalos Scale + x4 Rathalos Carapace x4 Inferno Sac x2 Rathalos Medulla x1 | Base: +54 Fire: +3 Water: +1 Thunder: -2 Ice: +1 Dragon: -3 | Attack Boost Lv2 Fire Attack | Rathalos Mastery Critical Element (Requires 2 pieces worn) Mind's Eye/Ballistics (Requires 4 pieces worn) |
| Rathalos Mail Alpha | Rathalos Scale + x4 Rathalos Carapace x6 Rathalos Wing x3 Rathalos Ruby x1 | Base: +54 Fire: +3 Water: +1 Thunder: -2 Ice: +1 Dragon: -3 | Weakness Exploit Lv2 Fire Attack | Rathalos Mastery Critical Element (Requires 2 pieces worn) Mind's Eye/Ballistics (Requires 4 pieces worn) |
| Rathalos Vambraces Alpha | Rathalos Carapace x 6 Rathalos Wing x2 Inferno Sac x2 Rath Wingtalon x6 | Base: +54 Fire: +3 Water: +1 Thunder: -2 Ice: +1 Dragon: -3 | Fire Resistance Lv2 Attack Boost | Rathalos Mastery Critical Element (Requires 2 pieces worn) Mind's Eye/Ballistics (Requires 4 pieces worn) |
| Rathalos Coil Alpha | Rathalos Scale + x4 Rathalos Carapace x4 Rathalos Wing x2 Rathalos Tail x2 | Base: +54 Fire: +3 Water: +1 Thunder: -2 Ice: +1 Dragon: -3 | Fire Attack Lv2 Focus Lv2 | Rathalos Mastery Critical Element (Requires 2 pieces worn) Mind's Eye/Ballistics (Requires 4 pieces worn) |
| Rathalos Greaves Alpha | Rathalos Carapace x6 Rathalos Scale + x4 Inferno Sac x2 Rathalos Plate x1 | Base: +54 Fire: +3 Water: +1 Thunder: -2 Ice: +1 Dragon: -3 | Jump Master Weakness Exploit | Rathalos Mastery Critical Element (Requires 2 pieces worn) Mind's Eye/Ballistics (Requires 4 pieces worn) |
| Brigade Lobos Alpha | Hunter King Coin x 2 Tzitzi Coin x4 Gama Coin Monster Hardbone x2 | Base: +52 Fire: +1 Thunder +2 Dragon +2 | Recovery Speed Lv2 Horn Maestro | None |
| Brigade Suit Alpha | Pinnacle Coin x 3 Pukei Coin x 2 Rathian Coin x 4 Lightcrystal x 1 | Base: +52 Fire: +1 Thunder +2 Dragon +2 1x Jewel Slot Lv2 | Divine Blessing Lv2 | None |
| Brigade Vambraces Alpha | Hunter King Coin x2 Barroth Coin x4 Rathalos Coin x3 Monster Hardbone x2 | Base: +52 Fire: +1 Thunder +2 Dragon +2 | Heavy Artillery Lv2 Divine Blessing | None |
| Brigade Coil Alpha | Hunter King Coin x2 Barroth Coin x4 Rathalos Coin x3 Monster Hardbone x2 | Base: +52 Fire: +1 Thunder +2 Dragon +2 | Geologist Lv2 Recovery Speed | None |
| Brigade Boots Alpha | Hunter King Coin x2 Gama Coin x4 Rathalos Coin x3 Monster Hardbone x2 | Base: +52 Fire: +1 Thunder +2 Dragon +2 1x Jewel Slot | Scholar Geologist | None |
| Guild Cross Circlet Alpha | Ace Hunter Coin x3 Flying Coin x2 Hunter King Coin x2 High Commendation x1 | Base: +68 1x Jewel Slot | Divine Blessing Lv2 Thunder Resistance Lv2 | Guild Guidance Great Luck (Requires 4 pieces worn) |
| Guild Cross Suit Alpha | Ace Hunter Coin x3 Brute Coin x2 Hunter King Coin x2 High Commendation x1 | Base: +68 1x Jewel Slot | Resuscitate Ice Resistance | Guild Guidance Great Luck (Requires 4 pieces worn) |
| Guild Cross Vambraces Alpha | Ace Hunter Coin x3 Brute Coin x3 Hunter King Coin x2 High Commendation x1 | Base: +68 1x Jewel Slot | Tool Specialist Water Resistance Lv2 | Guild Guidance Great Luck (Requires 4 pieces worn) |
| Guild Cross Coil Alpha | Ace Hunter Coin x2 Flying Coin x2 Pinnacle Coin x3 High Commendation x1 | Base: +68 1x Jewel Slot | Fortify Dragon Resistance Lv2 | Guild Guidance Great Luck (Requires 4 pieces worn) |
| Guild Cross Boots Alpha | Ace Hunter Coin x 2 Flying Coin x 2 Pinnacle Coin x3 High Commendation x1 | Base: +68 1x Jewel Slot | Airborne Fire Resistance Lv2 | Guild Guidance Great Luck (Requires 4 pieces worn) |
| Kushala Glare Alpha | Daora Dragon Scale + x4 Daora Carapace x4 Daora Webbing x2 Elder Dragon Bone x4 | Base: +64 Water: +2 Thunder: -3 Ice: +4 Dragon: -2 | Ice Attack Lv2 Handicraft | Kushala Daora Flight Nullify Wing Pressure (Requires 3 pieces worn) |
| Kushala Cista Alpha | Daora Carapace x5 Daora Horn + x3 Daora Claw + x2 Daora Gem x1 | Base: +64 Water: +2 Thunder: -3 Ice: +4 Dragon: -2 | Handicraft Lv2 Focus | Kushala Daora Flight Nullify Wing Pressure (Requires 3 pieces worn) |
| Kushala Grip Alpha | Daora Carapace x5 Daora Horn + x2 Daora Tail x2 Legiana Plate x1 | Base: +64 Water: +2 Thunder: -3 Ice: +4 Dragon: -2 | Evade Window Lv2 Handicraft | Kushala Daora Flight Nullify Wing Pressure (Requires 3 pieces worn) |
| Kushala Cocoon Alpha | Daora Dragon Scale + x4 Daora Carapace x4 Daora Horn + x2 Carbalite Ore x5 | Base: +64 Water: +2 Thunder: -3 Ice: +4 Dragon: -2 | Ice Attack Lv2 Evade Extender | Kushala Daora Flight Nullify Wing Pressure (Requires 3 pieces worn) |
| Kushala Crus Alpha | Daora Carapace x5 Daora Dragon Scale + x4 Daora Webbing x3 Elder Dragon Blood x3 | Base: +64 Water: +2 Thunder: -3 Ice: +4 Dragon: -2 | Evade Extender Lv2 Handicraft | Kushala Daora Flight Nullify Wing Pressure (Requires 3 pieces worn) |
| Lavasioth Helm Alpha | Lavasioth Scale + x4 Lavasioth Carapace x2 Lavasioth Fin + x2 Monster Hardbone x6 | Base: +54 Fire: +3 Water: -3 Thunder: +1 Ice: -2 Dragon: +2 | Fire Attack Lv2 Quick Sheath | None |
| Lavasioth Mail Alpha | Lavasioth Carapace x4 Lavasioth Fin + x2 Lavasioth Scale + x6 Fucium Ore x5 | Base: +54 Fire: +3 Water: -3 Thunder: +1 Ice: -2 Dragon: +2 | Fire Attack Lv2 Heat Guard | None |
| Lavasioth Vambraces Alpha | Lavasioth Carapace x4 Lavasioth Fang + x4 Lavasioth Scale + x6 Gajau Scale x6 | Base: +54 Fire: +3 Water: -3 Thunder: +1 Ice: -2 Dragon: +2 1x Jewel Slot Lv2 | Affinity Sliding Wide Range | None |
| Lavasioth Coil Alpha | Lavasioth Scale + x4 Lavasioth Carapace x2 Lavasioth Fang + x2 Grand Gajau Whisker x4 | Base: +54 Fire: +3 Water: -3 Thunder: +1 Ice: -2 Dragon: +2 | Quick Sheath Lv2 Recovery up | None |
| Lavasioth Greaves Alpha | Lavasioth Carapace x6 Lavasioth Fang + x2 Lavasioth Fin + x4 Firecell Stone x1 | Base: +54 Fire: +3 Water: -3 Thunder: +1 Ice: -2 Dragon: +2 1x Jewel Slot | Spread Power Shots Fire Attacks | None |
| Nergigante Helm Alpha | Nergigante Horn + x 2 Immortal Dragonscale x 6 Nergigante Carapace x4 Nergigante Gem x1 | Base: +64 Fire: +1 Water: +1 Thunder -3 Ice: +1 Dragon: -3 1x Jewel Slot | Maximum Might Lv2 Attack Boost | Nergigante Hunger Hasten Recovery (Requires 3 pieces worn) |
| Nergigante Mail Alpha | Nergigante Carapace x 4 Immortal Dragonscale x 4 Nergigante Talon x2 Elder Dragon Bone x3 | Base: +64 Fire: +1 Water: +1 Thunder -3 Ice: +1 Dragon: -3 | Stamina Surge Lv2 Agitator | Nergigante Hunger Hasten Recovery (Requires 3 pieces worn) |
| Nergigante Vambraces Alpha | Nergigante Carapace x 4 Nergigante Horn + x 1 Nergigante Tail x 2 Firecell Stone x 1 | Base: +64 Fire: +1 Water: +1 Thunder -3 Ice: +1 Dragon: -3 | Agitator Lv2 Attack Boost | Nergigante Hunger Hasten Recovery (Requires 3 pieces worn) |
| Nergigante Coil Alpha | Nergigante Carapace x 4 Immortal Dragonscale x 4 Nergigante Regrowth Plate x4 Novacrystal x1 | Base: +64 Fire: +1 Water: +1 Thunder -3 Ice: +1 Dragon: -3 | Attack Boost Lv2 Stamina Surge | Nergigante Hunger Hasten Recovery (Requires 3 pieces worn) |
| Nergigante Greaves Alpha | Nergigante Carapace x 4 Immortal Dragonscale x 4 Nergigante Regrowth Plate x2 Elder Dragon Blood x2 | Base: +64 Fire: +1 Water: +1 Thunder -3 Ice: +1 Dragon: -3 1x Jewel Slot | Maximum Might Agitator | Nergigante Hunger Hasten Recovery (Requires 3 pieces worn) |
| Rath Heart Helm Alpha | Pink Rathian Scale + x4 Pink Rathian Carapace x2 Monster Hardbone x3 Shamos Scale + x4 | Base: +52 Fire: +3 Thunder: -3 Dragon: -4 | Evade Extender Poison Attack | Pink Rathian Mastery Poison Duration up (Requires 3 pieces worn) |
| Rath Heart Mail Alpha | Pink Rathian Carapace x4 Pink Rathian Scale + x3 Rathian Spike + x2 Novacrystal x1 | Base: +52 Fire: +3 Thunder: -3 Dragon: -4 | Tool Specialist Lv2 | Pink Rathian Mastery Poison Duration up (Requires 3 pieces worn) |
| Rath Heart Vambraces Alpha | Pink Rathian Carapace x 6 Pink Rathian Scale + x2 Rathian Spike + x3 Rathian Ruby x1 | Base: +52 Fire: +3 Thunder: -3 Dragon: -4 | Windproof Lv2 | Pink Rathian Mastery Poison Duration up (Requires 3 pieces worn) |
| Rath Heart Coil Alpha | Pink Rathian Carapace x4 Pink Rathian Scale + x3 Monster Hardbone x4 Rathian Plate x1 | Base: +52 Fire: +3 Thunder: -3 Dragon: -4 | Handicraft Poison Resistance | Pink Rathian Mastery Poison Duration up (Requires 3 pieces worn) |
| Rath Heart Greaves Alpha | Pink Rathian Scale + x4 Pink Rathian Carapace x2 Monster Hardbone x3 Shamos Hide + x3 | Base: +52 Fire: +3 Thunder: -3 Dragon: -4 | Tool Specialist Windproof | Pink Rathian Mastery Poison Duration up (Requires 3 pieces worn) |
| Rath Soul Helm Alpha | Azure Rathalos Scale + x4 Azure Rathalos Carapace x4 Azure Rathalos Wing x3 Rathalos Ruby x1 | Base: +56 Fire: +3 Water: +2 Thunder: +2 Ice: -3 Dragon: -4 | Critical Boost Intimidator Lv2 | Rathalos Mastery Critical Element (Requires 2 pieces worn) Mind's Eye/Ballistics (Requires 4 pieces worn) |
| Rath Soul Mail Alpha | Azure Rathalos Scale + x4 Azure Rathalos Carapace x6 Azure Rathalos Wing x2 Barnos Hide + x6 | Base: +56 Fire: +3 Water: +2 Thunder: +2 Ice: -3 Dragon: -4 | Free Elem Ammo up Intimidator | Rathalos Mastery Critical Element (Requires 2 pieces worn) Mind's Eye/Ballistics (Requires 4 pieces worn) |
| Rath Soul Braces Alpha | Azure Rathalos Carapace x6 Azure Rathalos Wing x2 Azure Rathalos Tail x1 Barnos Talon x4 | Base: +56 Fire: +3 Water: +2 Thunder: +2 Ice: -3 Dragon: -4 | Focus Windproof | Rathalos Mastery Critical Element (Requires 2 pieces worn) Mind's Eye/Ballistics (Requires 4 pieces worn) |
| Rath Soul Coil Alpha | Azure Rathalos Scale + x4 Azure Rathalos Carapace x4 Rathalos Medulla x1 Monster Hardbone x6 | Base: +56 Fire: +3 Water: +2 Thunder: +2 Ice: -3 Dragon: -4 | Windproof Lv2 Piercing Shots | Rathalos Mastery Critical Element (Requires 2 pieces worn) Mind's Eye/Ballistics (Requires 4 pieces worn) |
| Rath Soul Greaves Alpha | Azure Rathalos Carapace x6 Azure Rathalos Scale + x4 Azure Rathalos Tail x2 Rathalos Plate x1 | Base: +56 Fire: +3 Water: +2 Thunder: +2 Ice: -3 Dragon: -4 | Focus Cliffhanger | Rathalos Mastery Critical Element (Requires 2 pieces worn) Mind's Eye/Ballistics (Requires 4 pieces worn) |
| Sealed Eyepatch Alpha | Black Bandage x2 Shamos Scale + x7 Shamos Hide + x5 Piercing Claw x4 | Base: +46 Fire: +3 Water: +2 Ice: +2 | Fire Resistance | None |
| Skull Mask Alpha | Unknown Skull x1 Brutal Bone x2 Warped Bone x3 Dragonbone Relic x1 | Base: +64 Fire: -3 Water: -1 Thunder: -1 Ice: -1 Dragon: +2 | Handicraft | None |
| Strategist Spectacles Alpha | Firecell Ore x2 Novacrystal x2 Fucium Stone x6 | Base: +46 Fire: +2 Water: +2 Thunder: +2 Ice: +2 Dragon: +2 | Critical Eye | None |
| Kaiser Crown Alpha | Teostra Carapace x 5 Teostra Horn + x2 Teostra Tail x2 Firecell Stone x1 | Base: +64 Fire: +3 Water: -3 Thunder: +1 Ice: -3 Dragon: +1 | Latent Power Lv2 | Teostra Technique Master's Touch (Requires 3 pieces worn) |
| Kaiser Mail Alpha | Teostra Carapace x5 Teostra Webbing x4 Teostra Powder x4 Rathalos Plate x1 | Base: +64 Fire: +3 Water: -3 Thunder: +1 Ice: -3 Dragon: +1 | Special Ammo Boost Lv2 Latent Power | Teostra Technique Master's Touch (Requires 3 pieces worn) |
| Kaiser Vambraces Alpha | Fire Dragon Scale + x4 Teostra Carapace x4 Teostra Claw + x4 Elder Dragon Bone x4 | Base: +64 Fire: +3 Water: -3 Thunder: +1 Ice: -3 Dragon: +1 1x Jewel Slot | Weakness Exploit Lv2 | Teostra Technique Master's Touch (Requires 3 pieces worn) |
| Kaiser Coil Alpha | Fire Dragon Scale + x4 Teostra Carapace x4 Teostra Mane x1 Elder Dragon Bone x3 | Base: +64 Fire: +3 Water: -3 Thunder: +1 Ice: -3 Dragon: +1 | Blast Attack Lv2 Weakness Exploit | Teostra Technique Master's Touch (Requires 3 pieces worn) |
| Kaiser Greaves Alpha | Teostra Horn + x 3 Fire Dragon Scale + x 6 Teostra Mane x 2 Teostra Gem x 1 | Base: +64 Fire: +3 Water: -3 Thunder: +1 Ice: -3 Dragon: +1 | Latent Power Lv2 Blast Attack | Teostra Technique Master's Touch (Requires 3 pieces worn) |
| Uragaan Helm Alpha | Uragaan Scale + x 4 Uragaan Carapace x2 Lava Nugget x4 Firecell Stone x1 | Base: +60 Fire: +4 Water: -3 Thunder: +1 Ice: -2 Dragon: -2 1x Jewel Slot Lv3 | Thunder Resistance Lv2 | Uragaan Protection Guard up (Requires 3 pieces worn) |
| Uragaan Mail Alpha | Uragaan Carapace x 6 Uragaan Scute x3 Uragaan Jaw x2 Uragaan Ruby x1 | Base: +60 Fire: +4 Water: -3 Thunder: +1 Ice: -2 Dragon: -2 1x Jewel Slot | Partbreaker Lv2 | Uragaan Protection Guard up (Requires 3 pieces worn) |
| Uragaan Vambraces Alpha | Uragaan Carapace x4 Uragaan Scale + x4 Uragaan Marrow x1 Lava Nugget x4 | Base: +60 Fire: +4 Water: -3 Thunder: +1 Ice: -2 Dragon: -2 1x Jewel Slot | Guard Defence Boost | Uragaan Protection Guard up (Requires 3 pieces worn) |
| Uragaan Coil Alpha | Uragaan Scale + x4 Uragaan Carapace x2 Fucium Ore x5 Monster Hardbone x5 | Base: +60 Fire: +4 Water: -3 Thunder: +1 Ice: -2 Dragon: -2 2x Jewel Slot | Partbreaker Thunder Resistance | Uragaan Protection Guard up (Requires 3 pieces worn) |
| Uragaan Greaves Alpha | Uragaan Carapace x 4 Uragaan Scale + x4 Uragaan Scute x2 Gastodon Carapace x5 | Base: +60 Fire: +4 Water: -3 Thunder: +1 Ice: -2 Dragon: -2 1x Jewel Slot | Guard Lv2 | Uragaan Protection Guard up (Requires 3 pieces worn) |
| Vaal Hazak Helm Alpha | Deceased Scale x5 Vaal Hazak Carapace x4 Vaal Hazak Talon x4 Elder Dragon Bone x4 | Base: +64 Fire: -4 Water: +4 Thunder: +1 Ice: -1 Dragon: -3 | Peak Performance Dragon Attack Lv2 | Vaal Hazak Vitality Super Recovery (Requires 3 pieces worn) |
| Vaal Hazak Mail Alpha | Vaal Hazak Carapace x5 Vaal Hazak Fang + x3 Vaal Hazak Tail x2 Odogaron Plate x1 | Base: +64 Fire: -4 Water: +4 Thunder: +1 Ice: -1 Dragon: -3 1x Jewel Slot | Recovery Speed Lv2 Dragon Attack | Vaal Hazak Vitality Super Recovery (Requires 3 pieces worn) |
| Vaal Hazak Braces Alpha | Vaal Hazak Fang + x3 Deceased Scale x6 Vaal Hazak Membrane x2 Vaal Hazak Gem x1 | Base: +64 Fire: -4 Water: +4 Thunder: +1 Ice: -1 Dragon: -3 1x Jewel Slot | Peak Performance Recovery Speed | Vaal Hazak Vitality Super Recovery (Requires 3 pieces worn) |
| Vaal Hazak Coil Alpha | Vaal Hazak Carapace x5 Vaal Hazak Wing x4 Vaal Hazak Membrane x2 Elder Dragon Blood x3 | Base: +64 Fire: -4 Water: +4 Thunder: +1 Ice: -1 Dragon: -3 1x Jewel Slot | Peak Performance Effluvia Resistance | Vaal Hazak Vitality Super Recovery (Requires 3 pieces worn) |
| Vaal Hazak Greaves Alpha | Deceased Scale x5 Vaal Hazak Carapace x4 Vaal Hazak Membrane x2 Dragonvein Crystal x6 | Base: +64 Fire: -4 Water: +4 Thunder: +1 Ice: -1 Dragon: -3 1x Jewel Slot | Effluvia Resistance Lv2 Dragon Attack | Vaal Hazak Vitality Super Recovery (Requires 3 pieces worn) |
| Drachen Armet Alpha (Not yet available in PC version) | Behemoth Mane x 2 Behemoth Bone x 3 Behemoth Great Horn x 1 Aetheryte Shard x 3 | Base: +72 Fire: -2 Water: -2 Thunder: +3 Ice: -2 Dragon: +4 1x Jewel Slot Lv3 1x Jewel Slot | Critical Boost Airborne | Soul of the Dragoon Elemental Airborne (Requires 2 pieces worn) Master's Touch (Requires 4 pieces worn) |
| Xeno'jiiva Headgear Alpha | Xeno'jiiva Soulscale x5 Xeno'jiiva Shell x4 Xeno'jiiva Horn x2 Rathalos Plate x1 | Base: +72 Fire: -3 Water: +2 Thunder: +2 Ice: +2 Dragon: -4 1x Jewel Slot | Flinch Free Special Ammo Boost | Xeno'jiiva Divinity Effect Razor Sharp/Spare Shot (requires 3 pieces worn) |
| Xeno'jiiva Hide Alpha | Xeno'jiiva Horn x3 Xeno'jiiva Soulscale x6 Xeno'jiiva Wing x3 Xeno'jiiva Gem x1 | Base: +72 Fire: -3 Water: +2 Thunder: +2 Ice: +2 Dragon: -4 1x Jewel Slot | Power Prolonger Lv2 Blight Resistance | Xeno'jiiva Divinity Effect Razor Sharp/Spare Shot (requires 3 pieces worn) |
| Xeno'jiiva Claws Alpha | Xeno'jiiva Shell x4 Xeno'jiiva Claw x3 Xeno'jiiva Veil x2 Wyvern Gem x1 | Base: +72 Fire: -3 Water: +2 Thunder: +2 Ice: +2 Dragon: -4 1x Jewel Slot | Flinch Free Critical Boost | Xeno'jiiva Divinity Effect Razor Sharp/Spare Shot (requires 3 pieces worn) |
| Xeno'jiiva Spine Alpha | Xeno'jiiva Shell x4 Xeno'jiiva Wing x2 Xeno'jiiva Tail x2 Odogaron Plate x1 | Base: +72 Fire: -3 Water: +2 Thunder: +2 Ice: +2 Dragon: -4 1x Jewel Slot | Blight Resistance Lv2 Special Ammo Boost | Xeno'jiiva Divinity Effect Razor Sharp/Spare Shot (requires 3 pieces worn) |
| Xeno'jiiva Spurs Alpha | Xeno'jiiva Soulscale x4 Xeno'jiiva Shell x4 Xeno'jiiva Veil x2 Legiana Plate x1 | Base: +72 Fire: -3 Water: +2 Thunder: +2 Ice: +2 Dragon: -4 1x Jewel Slot | Flinch Free Power Prolonger | Xeno'jiiva Divinity Effect Razor Sharp/Spare Shot (requires 3 pieces worn) |
| Drachen Mail Alpha (Not yet available in PC version) | Behemoth Mane x 2 Behemoth Bone x 3 Behemoth Shearclaw x 2 Dragonbone Relic x 2 | Base: +72 Fire: -2 Water: -2 Thunder: +3 Ice: -2 Dragon: +4 1x Jewel Slot Lv3 | Critical Eye Lv2 Critical Boost | Soul of the Dragoon Elemental Airborne (Requires 2 pieces worn) Master's Touch (Requires 4 pieces worn) |
| Drachen Vambraces Alpha (Not yet available in PC version) | Behemoth Mane x 3 Behemoth Bone x 3 Behemoth Great Horn x 1 Behemoth Tail x 1 | Base: +72 Fire: -2 Water: -2 Thunder: +3 Ice: -2 Dragon: +4 2x Jewel Slot Lv2 | Critical Eye Lv2 Attack Boost | Soul of the Dragoon Elemental Airborne (Requires 2 pieces worn) Master's Touch (Requires 4 pieces worn) |
| Drachen Coil Alpha (Not yet available in PC version) | Behemoth Mane x 1 Behemoth Bone x 2 Behemoth Tail x 1 Novacrystal x 2 | Base: +72 Fire: -2 Water: -2 Thunder: +3 Ice: -2 Dragon: +4 1x Jewel Slot Lv3 | Critical Eye Lv2 Power Prolonger | Soul of the Dragoon Elemental Airborne (Requires 2 pieces worn) Master's Touch (Requires 4 pieces worn) |
| Drachen Greaves Alpha (Not yet available in PC version) | Behemoth Mane x 1 Behemoth Bone x 2 Behemoth Shearclaw x 1 Firecell Stone x 2 | Base: +72 Fire: -2 Water: -2 Thunder: +3 Ice: -2 Dragon: +4 1x Jewel Slot Lv2 | Attack Boost Lv2 Critical Boost | Soul of the Dragoon Elemental Airborne (Requires 2 pieces worn) Master's Touch (Requires 4 pieces worn) |
| Zorah Headgear Alpha | Zorah Magdaros Heat Scale x3 Zorah Magdaros Ridge x2 Zorah Magdaros Carapace x6 Dragonite Ore x8 | Base: +44 Fire: +4 Water: -3 Thunder: -1 Ice: -2 Dragon: -3 | Handicraft Blast Attack | Zorah Magdaros Mastery Critical Status (requires 3 pieces worn) |
| Zorah Hide Alpha | Zorah Magdaros Carapace x6 Zorah Magdaros Heat Scale x1 Zorah Magdaros Heat Scale x1 Zorah Magdaros Ridge x2 Zorah Magdaros Pleura x1 | Base: +44 Fire: +4 Water: -3 Thunder: -1 Ice: -2 Dragon: -3 | Blast Attack Lv2 Windproof | Zorah Magdaros Mastery Critical Status (requires 3 pieces worn) |
| Zorah Claws Alpha | Zorah Magdaros Heat Scale x3 Zorah Magdaros Pleura x3 Zorah Magdaros Magma x2 Dragonite Ore x8 | Base: +44 Fire: +4 Water: -3 Thunder: -1 Ice: -2 Dragon: -3 | Free Elem Ammo up Bombardier | Zorah Magdaros Mastery Critical Status (requires 3 pieces worn) |
| Zorah Spine Alpha | Zorah Magdaros Carapace x8 Zorah Magdaros Heat Scale x1 Zorah Magdaros Ridge x3 Zorah Magdaros Magma x2 | Base: +44 Fire: +4 Water: -3 Thunder: -1 Ice: -2 Dragon: -3 | Fortify Tremor Resistance | Zorah Magdaros Mastery Critical Status (requires 3 pieces worn) |
| Zorah Spurs Alpha | Zorah Magdaros Ridge x3 Zorah Magdaros Carapace x3 Zorah Magdaros Magma x3 Zorah Magdaros Gem x1 | Base: +44 Fire: +4 Water: -3 Thunder: -1 Ice: -2 Dragon: -3 | Bombardier Lv2 Earplugs | Zorah Magdaros Mastery Critical Status (requires 3 pieces worn) |
| Vangis Helm Alpha | Deviljho Hide x5 Deviljho Scalp x2 Deviljho Talon x2 Deviljho Gem x1 | Base: +58 Fire: +1 Water: +1 Thunder: -3 Ice: +2 Dragon -3 1x Jewel Slot | Partbreaker Handicraft | None |
| Vangis Mail Alpha | Deviljho Scale x3 Deviljho Hide x4 Deviljho Saliva x2 Monster Hardbone x4 | Base: +58 Fire: +1 Water: +1 Thunder: -3 Ice: +2 Dragon -3 1x Jewel Slot Lv2 | Speed Eating Handicraft | None |
| Vangis Vambraces Alpha | Deviljho Hide x4 Deviljho Tallfang x2 Deviljho Tail x2 Dragonbone Relic x1 | Base: +58 Fire: +1 Water: +1 Thunder: -3 Ice: +2 Dragon -3 | Latent Power Lv2 Partbreaker | None |
| Vangis Coil Alpha | Deviljho Hide x4 Deviljho Scale x9 Deviljho Saliva x4 Girros Scale + x1 | Base: +58 Fire: +1 Water: +1 Thunder: -3 Ice: +2 Dragon -3 1x Jewel Slot | Latent Power Handicraft | None |
| Vangis Greaves Alpha | Deviljho Scale x3 Deviljho Hide x4 Deviljho Talon x2 Girros Hide + x4 | Base: +58 Fire: +1 Water: +1 Thunder: -3 Ice: +2 Dragon -3 | Speed Eating Lv2 Partbreaker | None |
| Kulve Taroth's Fury Alpha | Kulve Taroth Golden Scale x12 Kulve Taroth Golden Shell x7 Kulve Taroth Golden Spiralhorn x6 Nergigante Gem x1 | Base: +72 Fire: +4 Water: -2 Thunder: +3 Ice: -4 Dragon: -2 1x Jewel Slot | Free Elem/Ammo Up Agitator Lv2 | None |
| Kulve Taroth's Ire Alpha | Kulve Taroth Golden Scale x12 Kulve Taroth Golden Nugget x18 Kulve Taroth Golden Tailshell x6 Xeno'jiiva Gem x1 | Base: +72 Fire: +4 Water: -2 Thunder: +3 Ice: -4 Dragon: -2 1x Jewel Slot | Stun Resistance Lv2 Critical Boost Lv2 | None |
| Kulve Taroth's Rage Alpha | Kulve Taroth Golden Scale x12 Kulve Taroth Golden Nugget x18 Kulve Taroth Golden Spiralhorn x6 Kulve Taroth Golden Glimstone x1 | Base: +72 Fire: +4 Water: -2 Thunder: +3 Ice: -4 Dragon: -2 1x Jewel Slot | Free Elem/Ammo Up Power Prolonger Lv2 | None |
| Kulve Taroth's Malice Alpha | Kulve Taroth Golden Scale x12 Kulve Taroth Golden Shell x7 Kulve Taroth Golden Tailshell x4 Kulve Taroth Golden Glimstone x1 | Base: +72 Fire: +4 Water: -2 Thunder: +3 Ice: -4 Dragon: -2 1x Jewel Slot | Free Elem/Ammo Up Handicraft Lv2 | None |
| Kulve Taroth's Wrath Alpha | Kulve Taroth Golden Scale x12 Kulve Taroth Golden Shell x7 Kulve Taroth Golden Tailshell x4 Vaal Hazak Gem x1 | Base: +72 Fire: +4 Water: -2 Thunder: +3 Ice: -4 Dragon: -2 1x Jewel Slot | Wide-Range Lv2 Peak Performance Lv2 | None |
| Empress Crown Alpha | Lunastra Scale+ x4 Lunastra Carapace x4 Lunastra Wing x2 Elder Dragon Bone x4 | Base: +70 Fire: +3 Water: +1 Thunder: +1 Ice: -3 Dragon: -2 1x Jewel Slot Lv3 1x Jewel Slot | Evade Extender Lv2 Tool Specialist | Lunastra's Favour Effect Stamina Cap up (requires 2 pieces worn) Adds Mind's Eye/Ballistics (requires 4 pieces worn) |
| Empress Mail Alpha | Lunastra Horn x2 Lunastra Scale+ x4 Lunastra Mane x2 Lunastra Gem x1 | Base: +70 Fire: +3 Water: +1 Thunder: +1 Ice: -3 Dragon: -2 2x Jewel Slots | Peak Performance Lv2 Health Boost | Lunastra's Favour Effect Stamina Cap up (requires 2 pieces worn) Adds Mind's Eye/Ballistics (requires 4 pieces worn) |
| Empress Vambraces Alpha | Lunastra Carapace x4 Lunastra Horn x1 Lunastra Tail x2 Firecell Stone x1 | Base: +70 Fire: +3 Water: +1 Thunder: +1 Ice: -3 Dragon: -2 1x Jewel Slot Lv3 | Wide-Range Lv2 Blast Attack Lv2 | Lunastra's Favour Effect Stamina Cap up (requires 2 pieces worn) Adds Mind's Eye/Ballistics (requires 4 pieces worn) |
| Empress Coil Alpha | Lunastra Scale+ x4 Lunastra Carapace x4 Lunastra Mane x2 Novacrystal x1 | Base: +70 Fire: +3 Water: +1 Thunder: +1 Ice: -3 Dragon: -2 1x Jewel Slot Lv2 1x Jewel Slot | Tool Specialist Lv2 Blast Attack | Lunastra's Favour Effect Stamina Cap up (requires 2 pieces worn) Adds Mind's Eye/Ballistics (requires 4 pieces worn) |
| Empress Greaves Alpha | Teostra Carapace x4 Lunastra Wing x3 Lunastra Tail x1 Elder Dragon Blood x3 | Base: +70 Fire: +3 Water: +1 Thunder: +1 Ice: -3 Dragon: -2 1x Jewel Slot Lv2 1x Jewel Slot | Health Boost Lv2 Wide-Range Lv2 | Lunastra's Favour Effect Stamina Cap up (requires 2 pieces worn) Adds Mind's Eye/Ballistics (requires 4 pieces worn) |
| Armour Type | Material Cost | Defence per part Resistances Jewel Slots | Skills granted per part | Skills granted for full set worn |
| --- | --- | --- | --- | --- |
| Leather Headgear Beta | Carbalite Ore x3 High Quality Pelt x1 | Base: 32 Fire: +2 1x Jewel Slot | Hunger Resistance | None |
| Leather Mail Beta | Carbalite Ore x2 High Quality Pelt x1 | Base: 32 Fire: +2 1x Jewel Slot | None | None |
| Leather Vambraces Beta | Carbalite Ore x2 High Quality Pelt x1 | Base: 32 Fire: +2 1x Jewel Slot | None | None |
| Leather Coil Beta | Carbalite Ore x2 High Quality Pelt x1 | Base: 32 Fire: +2 1x Jewel Slot | None | None |
| Leather Greaves Beta | Carbalite Ore x2 High Quality Pelt x1 | Base: 32 Fire: +2 1x Jewel Slot | None | None |
| Chainmail Headgear Beta | Carbalite Ore x3 Dragonite Ore x2 | Base: 32 Water: +2 1x Jewel Slot | Master Gatherer | None |
| Chainmail Armor Beta | Carbalite Ore x2 Dragonite Ore x2 | Base: 32 Water: +2 1x Jewel Slot | None | None |
| Chainmail Vambraces Beta | Carbalite Ore x2 Dragonite Ore x2 | Base: 32 Water: +2 1x Jewel Slot | None | None |
| Chainmail Coil Beta | Carbalite Ore x2 Dragonite Ore x2 | Base: 32 Water: +2 1x Jewel Slot | None | None |
| Chainmail Greaves Beta | Carbalite Ore x2 Dragonite Ore x2 | Base: 32 Water: +2 1x Jewel Slot | None | None |
| Hunter's Headgear Beta | Jagras Hide + x3 Jagras Scale + x4 | Base: 36 Fire: +2 Thunder: +2 Dragon: +2 1x Jewel Slot | Scoutfly Range up | None |
| Hunter's Mail Beta | Jagras Hide + x3 Quality Bone x4 | Base: 36 Fire: +2 Thunder: +2 Dragon: +2 1x Jewel Slot | Slinger Capacity | None |
| Hunter's Vambraces Beta | Jagras Hide + x3 Jagras Scale + x4 | Base: 36 Fire: +2 Thunder: +2 Dragon: +2 1x Jewel Slot | Stealth | None |
| Hunter's Coil Beta | Jagras Hide + x2 Quality Bone x3 | Base: 36 Fire: +2 Thunder: +2 Dragon: +2 1x Jewel Slot | Master Gatherer | None |
| Hunter's Greaves Beta | Jagras Hide + x2 Quality Bone x3 | Base: 36 Fire: +2 Thunder: +2 Dragon: +2 1x Jewel Slot | Scenthound | None |
| Bone Helm Beta | Quality Bone x3 Monster Bone + x2 Warped Bone x2 | Base: 36 Fire: +2 Thunder: +2 Dragon: +2 1x Jewel Slot | Health Boost | None |
| Bone Mail Beta | Quality Bone x2 Monster Bone + x2 Monster Bone L x3 | Base: 36 Fire: +2 Thunder: +2 Dragon: +2 1x Jewel Slot | Attack Boost | None |
| Bone Vambraces Beta | Quality Bone x3 Monster Bone + x2 Coral Bone x2 | Base: 36 Fire: +2 Thunder: +2 Dragon: +2 1x Jewel Slot | Slugger | None |
| Bone Coil Beta | Quality Bone x2 Monster Bone + x2 Ancient Bone x3 | Base: 36 Fire: +2 Thunder: +2 Dragon: +2 1x Jewel Slot | Horn Maestro | None |
| Bone Greaves Beta | Quality Bone x2 Monster Bone + x2 Boulder Bone x3 | Base: 36 Fire: +2 Thunder: +2 Dragon: +2 1x Jewel Slot | Entomologist | None |
| Alloy Helm Beta | Carbalite Ore x3 Dragonite Ore x6 Dragonvein Crystal x3 Machalite Ore x5 | Base: +8 Fire: -2 Water: +1 Thunder: -2 Ice: -2 Dragon: +1 1x Jewel Slot | Windproof | None |
| Alloy Mail Beta | Carbalite Ore x2 Dragonite Ore x4 Coral Crystal x4 Machalite Ore x5 | Base: +8 Fire: -2 Water: +1 Thunder: -2 Ice: -2 Dragon: +1 1x Jewel Slot | Water Resistance | None |
| Alloy Vambraces Beta | Carbalite Ore x2 Dragonite Ore x4 Earth Crystal x4 Machalite Ore x5 | Base: +8 Fire: -2 Water: +1 Thunder: -2 Ice: -2 Dragon: +1 1x Jewel Slot | Defense Boost | None |
| Alloy Coil Beta | Carbalite Ore x3 Dragonite Ore x6 Dragonvein Crystal x3 Machalite Ore x5 | Base: +8 Fire: -2 Water: +1 Thunder: -2 Ice: -2 Dragon: +1 1x Jewel Slot | Poison Resistance | None |
| Alloy Greaves Beta | Carbalite Ore x2 Dragonite Ore x4 Lightcrystal x1 Machalite Ore x5 | Base: +8 Fire: -2 Water: +1 Thunder: -2 Ice: -2 Dragon: +1 1x Jewel Slot | Speed Sharpening | None |
| Vespoid Helm Beta | Vespoid Carapce x3 Vespoid Innerwing x2 Monster Keenbone x2 | Base: 38 Fire: -2 Water: +1 Thunder: +1 Ice: +1 Dragon: +2 1x Jewel Slot | Quick Sheath | None |
| Vespoid Mail Beta | Vespoid Carapce x3 Vespoid Innerwing x2 Monster Keenbone x2 | Base: 38 Fire: -2 Water: +1 Thunder: +1 Ice: +1 Dragon: +2 1x Jewel Slot | Windproof | None |
| Vespoid Vambraces Beta | Vespoid Carapce x4 Vespoid Innerwing x2 Monster Broth x3 Omniplegia Sac x2 | Base: 38 Fire: -2 Water: +1 Thunder: +1 Ice: +1 Dragon: +2 1x Jewel Slot | Paralysis Attack | None |
| Vespoid Coil Beta | Vespoid Carapce x3 Vespoid Innerwing x2 Monster Keenbone x2 | Base: 38 Fire: -2 Water: +1 Thunder: +1 Ice: +1 Dragon: +2 1x Jewel Slot | Paralysis Resistance | None |
| Vespoid Greaves Beta | Vespoid Carapce x4 Vespoid Innerwing x2 Monster Broth x3 Omniplegia Sac x2 | Base: 38 Fire: -2 Water: +1 Thunder: +1 Ice: +1 Dragon: +2 1x Jewel Slot | Honey Hunter | None |
| Kestodon Guards Beta | Kestodon Carapace x6 Kestodon Scalp x3 Quality Bone x3 | Base: +40 Fire: +4 1x Jewel Slot | Affinity Sliding | None |
| Gajau Boots Beta | Gajau Scale x4 Grand Gajau Whisker x2 Carbalite Ore x3 | Base: +40 Fire: +5 1x Jewel Slot | Aquatic Expert | None |
| Shamos Helm Beta | Shamos Hide + x3 Shamos Scale + x4 Dragonvein Crystal x3 | Base: +40 Fire: +2 Water: +2 Ice: -3 1x Jewel Slot | Detector | None |
| Jagras Helm Beta | Great Jagras Hide + x4 Great Jagras Mane x2 Great Jagras Claw + x4 Piercing Claw x2 | Base: +40 Fire: -2 Water: +2 Thunder: -1 Ice: -1 Dragon: +1 1x Jewel Slot | Speed Eating | None |
| Jagras Mail Beta | Great Jagras Hide + x2 Great Jagras Claw + x4 Great Jagras Scale + x4 Jagras Hide + x2 | Base: +40 Fire: -2 Water: +2 Thunder: -1 Ice: -1 Dragon: +1 1x Jewel Slot | Intimidator | None |
| Jagras Vambraces Beta | Great Jagras Scale + x4 Great Jagras Hide + x2 Monster Bone + x3 Jagras Hide + x1 | Base: +40 Fire: -2 Water: +2 Thunder: -1 Ice: -1 Dragon: +1 1x Jewel Slot | Palico Rally | None |
| Jagras Coil Beta | Great Jagras Hide + x3 Great Jagras Mane x3 Great Jagras Scale + x4 Jagras Scale + x3 | Base: +40 Fire: -2 Water: +2 Thunder: -1 Ice: -1 Dragon: +1 1x Jewel Slot | Fortify | None |
| Jagras Greaves Beta | Great Jagras Scale + x4 Great Jagras Hide + x2 Great Jagras Mane x2 Jagras Scale + x1 | Base: +40 Fire: -2 Water: +2 Thunder: -1 Ice: -1 Dragon: +1 1x Jewel Slot | Speed Crawler | None |
| Kulu Headpiece Beta | Kulu-Ya-Ku Scale + x4 / Kulu-Ya-Ku Hide + x2 / Kulu-Ya-Ku Plume + x2 | Base: +40 Water: -3 Ice: +1 2x Jewel Slot | Fire Resistance | None |
| Kulu Mail Beta | Kulu-Ya-Ku Hide + x4 Kulu-Ya-Ku Plume + x3 Kulu-Ya-Ku Beak + x2 Bird Wyvern Gem x1 | Base: +40 Water: -3 Ice: +1 1x Jewel Slot | Stamina Surge | None |
| Kulu Vambraces Beta | Kulu-Ya-Ku Scale + x4 Kulu-Ya-Ku Hide + x2 Carbalite Ore x3 | Base: +40 Water: -3 Ice: +1 1x Jewel Slot Lv2 | Pro Transporter | None |
| Kulu Coil Beta | Kulu-Ya-Ku Hide + x4 Kulu-Ya-Ku Beak + x2 Wingdrake Hide + x3 Earth Crystal x2 | Base: +40 Water: -3 Ice: +1 1x Jewel Slot Lv2 | Item Prolonger | None |
| Kulu Greaves Beta | Kulu-Ya-Ku Hide + x4 Kulu-Ya-Ku Scale + x6 Wingdrake Hide + x2 Earth Crystal x2 | Base: +40 Water: -3 Ice: +1 1x Jewel Slot | Critical Eye | None |
| Girros Mask Beta | Great Girros Scale + x4 Great Girros Hide + x2 Great Girros Hood + x1 Girros Scale + x1 | Base: +40 Water: -3 Thunder: +2 Dragon +1 1x Jewel Slot | Horn Maestro | None |
| Girros Mail Beta | Great Girros Hide + x4 Great Girros Fang + x4 Omniplegia Sac x3 Bird Wyvern Gem x1 | Base: +40 Water: -3 Thunder: +2 Dragon +1 1x Jewel Slot | Paralysis Resistance | None |
| Girros Vambraces Beta | Great Girros Scale + x4 Great Girros Hide + x2 Girros Fang x1 Omniplegia Sac x2 | Base: +40 Water: -3 Thunder: +2 Dragon +1 1x Jewel Slot | Palico Rally | None |
| Girros Coil Beta | Great Girros Hide + x4 Great Girros Tail x1 Great Girros Hood + x2 Girros Hide + x4 | Base: +40 Water: -3 Thunder: +2 Dragon +1 1x Jewel Slot | Effluvial Expert | None |
| Girros Greaves Beta | Great Girros Hide + x2 Great Girros Fang + x4 Great Girros Scale + x4 Warped Bone x5 | Base: +40 Water: -3 Thunder: +2 Dragon +1 1x Jewel Slot | Paralysis Attack | None |
| Baan Helm Beta | Radobaan Carapace x6 Radobaan Scale + x4 Radobaan Medulla x1 Wyvern Gem x1 | Base: +46 Water: +2 Ice: -1 Dragon: -2 1x Jewel Slot Lv2 | Tremor Resistance | None |
| Baan Mail Beta | Radobaan Scale + x4 Radobaan Carapace x3 Coma Sac x2 Quality Bone x6 | Base: +46 Water: +2 Ice: -1 Dragon: -2 1x Jewel Slot | Sleep Attack | None |
| Baan Vambraces Beta | Radobaan Scale + x4 Radobaan Carapace x3 Radobaan Oilshell x2 Sturdy Bone x8 | Base: +46 Water: +2 Ice: -1 Dragon: -2 1x Jewel Slot | Sleep Attack | None |
| Baan Coil Beta | Radobaan Scale + x4 Radobaan Carapace x3 Coma Sac x3 Wyvern Bonemass x5 | Base: +46 Water: +2 Ice: -1 Dragon: -2 1x Jewel Slot Lv2 | Guard | None |
| Baan Greaves Beta | Radobaan Carapace x4 Radobaan Scale + x4 Radobaan Oilshell x2 Wyvern Bonemass x5 | Base: +46 Water: +2 Ice: -1 Dragon: -2 1x Jewel Slot | Bleeding Resistance | None |
| Pukei Hood Beta | Pukei-Pukei Carapace x2 Pukei-Pukei Tail x2 Pukei-Pukei Wing x3 Toxin Sac x2 | Base: +42 Water +3 Thunder: -3 Dragon +1 2x Jewel Slot | Sporepuff Expert | None |
| Pukei Mail Beta | Pukei-Pukei Scale + x4 Pukei-Pukei Carapace x3 Carbalite Ore x3 | Base: +42 Water +3 Thunder: -3 Dragon +1 1x Jewel Slot | Item Prolonger | None |
| Pukei Vambraces Beta | Pukei-Pukei Scale + x4 Pukei-Pukei Carapace x3 Toxin Sac x1 | Base: +42 Water +3 Thunder: -3 Dragon +1 2x Jewel Slot | Poison Resistance | None |
| Pukei Coil Beta | Pukei-Pukei Carapace x4 Pukei-Pukei Wing x2 Pukei-Pukei Sac + x2 Bird Wyvern Gem x1 | Base: +42 Water +3 Thunder: -3 Dragon +1 1x Jewel Slot | Poison Attack | None |
| Pukei Greaves Beta | Pukei-Pukei Carapace x2 Pukei-Pukei Sac + x2 Pukei-Pukei Scale + x4 Monster Keenbone x2 | Base: +42 Water +3 Thunder: -3 Dragon +1 1x Jewel Slot Lv2 | Botanist | None |
| Barroth Helm Beta | Barroth Ridge + x3 Barroth Tail x2 Barroth Claw + x3 Kestodon Carapace x4 | Base: +42 Fire: -3 Water: -1 Thunder: +3 Ice: -1 1x Jewel Slot | Guard | None |
| Barroth Mail Beta | Barroth Carapace x4 Barroth Ridge + x2 Barroth Claw + x2 Quality Bone x5 | Base: +42 Fire: -3 Water: -1 Thunder: +3 Ice: -1 1x Jewel Slot | StaminaThief | None |
| Barroth Vambraces Beta | Barroth Ridge + x4 Barroth Scalp x2 Kestodon Carapace x3 Wyvern Gem x1 | Base: +42 Fire: -3 Water: -1 Thunder: +3 Ice: -1 1x Jewel Slot | Marathon Runner | None |
| Barroth Coil Beta | Barroth Carapace x4 Barroth Ridge + x3 Monster Bone + x4 | Base: +42 Fire: -3 Water: -1 Thunder: +3 Ice: -1 1x Jewel Slot Lv2 | Muck Resistance | None |
| Barroth Greaves Beta | Barroth Ridge + x2 Barroth Carapace x4 Fertile Mud x4 Monster Keenbone x4 | Base: +42 Fire: -3 Water: -1 Thunder: +3 Ice: -1 2x Jewel Slot | Stun Resistance | None |
| Anja Helm Beta | Anjanath Pelt + x4 Anjanath Scale + x4 Anjanath Tail x2 Inferno Sac x3 | Base: +44 Fire: +3 Water: -3 Thunder: -1 Ice: -1 1x Jewel Slot Lv2 | Fire Attack Lv2 | Anjanath Will Adrenaline (Requires 2 pieces worn) Stamina Cap up (Requires 4 pieces worn) |
| Anja Mail Beta | Anjanath Pelt + x6 Anjanath Fang + x4 Anjanath Nosebone + x2 Anjanath Gem x1 | Base: +44 Fire: +3 Water: -3 Thunder: -1 Ice: -1 2x Jewel Slot | Marathon Runner | Anjanath Will Adrenaline (Requires 2 pieces worn) Stamina Cap up (Requires 4 pieces worn) |
| Anja Vambraces Beta | Anjanath Pelt + x4 Anjanath Scale + x4 Anjanath Nosebone + x1 Monster Keenbone x4 | Base: +44 Fire: +3 Water: -3 Thunder: -1 Ice: -1 1x Jewel Slot | Special Ammo Boost | Anjanath Will Adrenaline (Requires 2 pieces worn) Stamina Cap up (Requires 4 pieces worn) |
| Anja Coil Beta | Anjanath Scale + x4 Anjanath Pelt + x3 Anjanath Fang + x3 Piercing Claw x4 | Base: +44 Fire: +3 Water: -3 Thunder: -1 Ice: -1 1x Jewel Slot Lv2 | Fire Resistance Lv2 | Anjanath Will Adrenaline (Requires 2 pieces worn) Stamina Cap up (Requires 4 pieces worn) |
| Anja Greaves Beta | Anjanath Scale + x4 Anjanath Pelt + x3 Inferno Sac x2 Carbalite Ore x5 | Base: +44 Fire: +3 Water: -3 Thunder: -1 Ice: -1 1x Jewel Slot | Artillery | Anjanath Will Adrenaline (Requires 2 pieces worn) Stamina Cap up (Requires 4 pieces worn) |
| Jyura Helm Beta | Jyuratodus Scale + x4 Jyuratodus Carapace x2 Jyuratodus Fin + x2 Gajau Scale x6 | Base: +44 Fire: -1 Water: +2 Thunder: -3 1x Jewel Slot | Aquatic Expert | None |
| Jyura Mail Beta | Jyuratodus Scale + x4 Jyuratodus Fin + x3 Jyuratodus Fang + x2 Torrent Sac x2 | Base: +44 Fire: -1 Water: +2 Thunder: -3 1x Jewel Slot | Muck Resistance | None |
| Jyura Vambraces Beta | Jyuratodus Carapace x4 Jyuratodus Fin + x3 Grand Gajau Whisker x2 Monster Keenbone x3 | Base: +44 Fire: -1 Water: +2 Thunder: -3 1x Jewel Slot | Water Attack Lv2 | None |
| Jyura Coil Beta | Jyuratodus Scale + x4 Jyuratodus Carapace x2 Torrent Sac x2 | Base: +44 Fire: -1 Water: +2 Thunder: -3 1x Jewel Slot | Ice Resistance | None |
| Jyura Greaves Beta | Jyuratodus Carapace x4 Jyuratodus Fang + x2 Jyuratodus Fin + x2 Wyvern Gem x1 | Base: +44 Fire: -1 Water: +2 Thunder: -3 1x Jewel Slot Lv2 | Focus | None |
| Kadachi Helm Beta | Tobi-Kadachi Pelt + x4 Tobi-Kadachi Electrode + x4 Tobi-Kadachi Claw + x4 Wyvern Gem x1 | Base: +44 Water -3 Thunder +3 1x Jewel Slot Lv2 | Constitution | None |
| Kadachi Mail Beta | Tobi-Kadachi Pelt + x3 Tobi-Kadachi Electrode + x2 Tobi-Kadachi Membrane x4 Thunder Sac x2 | Base: +44 Water -3 Thunder +3 1x Jewel Slot Lv2 | Jump Master | None |
| Kadachi Vambraces Beta | Tobi-Kadachi Pelt + x4 Tobi-Kadachi Claw + x4 Tobi-Kadachi Scale + x2 Monster Keenbone x4 | Base: +44 Water -3 Thunder +3 1x Jewel Slot Lv2 | Evade Extender | None |
| Kadachi Coil Beta | Tobi-Kadachi Scale + x4 Tobi-Kadachi Pelt + x3 Thunder Sac x1 Wingdrake Hide + x3 | Base: +44 Water -3 Thunder +3 2x Jewel Slot | Thunder Attack | None |
| Kadachi Greaves Beta | Tobi-Kadachi Scale + x4 Tobi-Kadachi Membrane x2 Thunder Sac x1 High-quality Pelt x3 | Base: +44 Water -3 Thunder +3 2x Jewel Slot | Thunder Resistance | None |
| Rathian Helm Beta | Rathian Carapace x4 Rathian Scale + x4 Rathian Webbing x2 Inferno Sac x3 | Base: +46 Fire: +2 Thunder: -2 Dragon: -3 1x Jewel Slot | Health Boost Poison Attack | None |
| Rathian Mail Beta | Rathian Scale + x4 Rathian Carapace x2 Rathian Webbing x2 Quality Bone x6 | Base: +46 Fire: +2 Thunder: -2 Dragon: -3 1x Jewel Slot | Botanist Recovery Up | None |
| Rathian Vambraces Beta | Rathian Carapace x4 Rathian Scale + x4 Rathian Spike + x2 Monster Keenbone x4 | Base: +46 Fire: +2 Thunder: -2 Dragon: -3 1x Jewel Slot | Poison Attack | None |
| Rathian Coil Beta | Rathian Scale + x4 Rathian Carapace x2 Inferno Sac x2 Monster Broth x2 | Base: +46 Fire: +2 Thunder: -2 Dragon: -3 1x Jewel Slot | Poison Resistance Health Boost | None |
| Rathian Greaves Beta | Rathian Carapace x6 Rathian Spike + x3 Rath Wingtalon x4 Rathian Ruby x1 | Base: +46 Fire: +2 Thunder: -2 Dragon: -3 1x Jewel Slot | Recovery Up | None |
| Barnos Jacket Beta | Barnos Hide + x4 Barnos Talon x2 Piercing Claw x3 Dragonvein Crystal x3 | Base: +48 Fire: +1 Water: +1 Ice: +1 Dragon: -2 1x Jewel Slot | Heat Guard | None |
| Bazel Helm Beta | Bazelgeuse Carapace x5 Bazelgeuse Talon x2 Bazelgeuse Wing x2 Bazelgeuse Gem x1 | Base: 58 Fire: +3 Water: +1 Thunder: -4 Ice: -2 Dragon: -2 1x Jewel Slot Lv3 1x Jewel Slot | Ear Plugs Lv2 | None |
| Bazel Mail Beta | Bazelgeuse Scale + x4 Bazelgeuse Carapace x4 Bazelgeuse Fuse x1 Uragaan Scute x2 | Base: 58 Fire: +3 Water: +1 Thunder: -4 Ice: -2 Dragon: -2 2x Jewel Slot | Guard x2 | None |
| Bazel Vambraces Beta | Bazelgeuse Carapace x4 Bazelgeuse Talon x2 Bazelgeuse Tail x2 Firecell Stone x1 | Base: 58 Fire: +3 Water: +1 Thunder: -4 Ice: -2 Dragon: -2 1x Jewel Slot Lv3 | Critical Draw Lv2 | None |
| Bazel Coil Beta | Bazelgeuse Carapace x4 Bazelgeuse Scale + x4 Bazelgeuse Fuse x2 Uragaan Marrow x1 | Base: 58 Fire: +3 Water: +1 Thunder: -4 Ice: -2 Dragon: -2 1x Jewel Slot Lv3 | Ear Plugs x2 | None |
| Bazel Greaves Beta | Bazelgeuse Scale + x4 Bazelgeuse Carapace x4 Bazelgeuse Talon x2 Dodogama Hide + x4 | Base: 58 Fire: +3 Water: +1 Thunder: -4 Ice: -2 Dragon: -2 1x Jewel Slot Lv3 | Bombardier Lv2 | None |
| Damascus Helm Beta | Elder Dragon Blood x2 Fucium Ore x3 Great Girros Hood + x3 Novacrystal x1 | Base: 60 Fire: +4 Water: -2 1x Jewel Slot Lv3 | Defense Boost Lv2 | None |
| Damascus Mail Beta | Elder Dragon Blood x2 Fucium Ore x3 Uragaan Scute x3 Firecell Stone x1 | Base: 60 Fire: +4 Water: -2 3x Jewel Slot | Focus Lv2 | None |
| Damascus Vambraces Beta | Elder Dragon Blood x2 Fucium Ore x3 Black Diablos Ridge + x5 Novacrystal x1 | Base: 60 Fire: +4 Water: -2 1x Jewel Slot | Handicraft | None |
| Damascus Coil Beta | Elder Dragon Blood x2 Fucium Ore x3 Dodogama Jaw x3 Firecell Stone x1 | Base: 60 Fire: +4 Water: -2 3x Jewel Slot | Focus | None |
| Damascus Greaves Beta | Elder Dragon Blood x2 Fucium Ore x3 Lavasioth Carapace x5 Novacrystal x1 | Base: 60 Fire: +4 Water: -2 1x Jewel Slot Lv3 | Defense Boost Lv2 | None |
| Death Stench Brain Beta | Sinister Cloth x2 Brutal Bone x1 Vaal Hazak Membrane x1 Piercing Claw x3 | Base: +62 Fire: +3 Water: +2 Thunder: -2 Ice: +3 Dragon: -4 1x Jewel Slot Lv3 | Resuscitate | None |
| Death Stench Muscle Beta | Sinister Cloth x2 Dragonbone Relic x1 Vaal Hazak Membrane x1 Monster Broth x2 | Base: +62 Fire: +3 Water: +2 Thunder: -2 Ice: +3 Dragon: -4 1x Jewel Slot Lv3 | Fortify | None |
| Death Stench Grip Beta | Sinister Cloth x2 Brutal Bone x2 Vaal Hazak Membrane x2 Novacrystal x1 | Base: +62 Fire: +3 Water: +2 Thunder: -2 Ice: +3 Dragon: -4 2x Jewel Slot | Focus Lv2 | None |
| Death Stench Bowels Beta | Sinister Cloth x2 Brutal Bone x1 Vaal Hazak Membrane x1 Monster Broth x2 | Base: +62 Fire: +3 Water: +2 Thunder: -2 Ice: +3 Dragon: -4 2x Jewel Slot | Dragon Attack Lv2 | None |
| Death Stench Heel Beta | Sinister Cloth x2 Dragonbone Relic x1 Vaal Hazak Membrane x2 Novacrystal x1 | Base: +62 Fire: +3 Water: +2 Thunder: -2 Ice: +3 Dragon: -4 2x Jewel Slot | Handicraft Lv2 | None |
| Diablos Helm Beta | Diablos Ridge + x4 Diablos Fang x4 Majestic Horn x2 Wyvern Gem x1 | Base: +54 Fire: +3 Water: -2 Ice: -3 Dragon: +2 1x Jewel Slot Lv2 | Critical Draw Lv2 | Diablos Mastery Bludgeoning (Requires 2 pieces worn) Non-elemental Boost (Requires 4 pieces worn) |
| Diablos Mail Beta | Diablos Carapace x4 Diablos Ridge + x3 Majestic Horn x2 Lightcrystal x2 | Base: +54 Fire: +3 Water: -2 Ice: -3 Dragon: +2 1x Jewel Slot Lv2 | Slugger Lv2 | Diablos Mastery Bludgeoning (Requires 2 pieces worn) Non-elemental Boost (Requires 4 pieces worn) |
| Diablos Vambraces Beta | Diablos Ridge + x4 Diablos Carapace x6 Diablos Tailcase x3 Kestodon Carapace x5 | Base: +54 Fire: +3 Water: -2 Ice: -3 Dragon: +2 1x Jewel Slot Lv2 | Heroics Lv2 | Diablos Mastery Bludgeoning (Requires 2 pieces worn) Non-elemental Boost (Requires 4 pieces worn) |
| Diablos Coil Beta | Diablos Carapace x4 Diablos Ridge + x3 Diablos Fang x2 Kestodon Scalp x3 | Base: +54 Fire: +3 Water: -2 Ice: -3 Dragon: +2 1x Jewel Slot Lv2 | Marathon Runner Lv2 | Diablos Mastery Bludgeoning (Requires 2 pieces worn) Non-elemental Boost (Requires 4 pieces worn) |
| Diablos Greaves Beta | Diablos Ridge + x4 Diablos Carapace x4 Majestic Horn x1 Blos Medulla x1 | Base: +54 Fire: +3 Water: -2 Ice: -3 Dragon: +2 2x Jewel Slot | Tremor Resistance Lv2 | Diablos Mastery Bludgeoning (Requires 2 pieces worn) Non-elemental Boost (Requires 4 pieces worn) |
| Diablos Nero Helm Beta | Black Diablos Ridge + x4 Black Spiral Horn x1 Majestic Horn x2 Novacrystal x1 | Base: 56 Fire: +2 Water: -3 Ice: -4 Dragon: +2 1x Jewel Slot Lv3 | Focus | Diablos Mastery Bludgeoning (Requires 2 pieces worn) Non-elemental Boost (Requires 4 pieces worn) |
| Diablos Nero Mail Beta | Black Diablos Carapace x4 Black Diablos Ridge + x3 Black Spiral Horn + x1 Blos Medulla x2 | Base: 56 Fire: +2 Water: -3 Ice: -4 Dragon: +2 1x Jewel Slot Lv2 1x Jewel Slot | Resentment | Diablos Mastery Bludgeoning (Requires 2 pieces worn) Non-elemental Boost (Requires 4 pieces worn) |
| Diablos Nero Vambraces Beta | Black Diablos Ridge + x4 Black Diablos Carapace x6 Carbalite Ore x5 Gastodon Carapace x5 | Base: 56 Fire: +2 Water: -3 Ice: -4 Dragon: +2 1x Jewel Slot Lv2 1x Jewel Slot | Focus | Diablos Mastery Bludgeoning (Requires 2 pieces worn) Non-elemental Boost (Requires 4 pieces worn) |
| Diablos Nero Coil Beta | Black Diablos Carapace x4 Black Diablos Ridge + x3 Diablos Tailcase x2 Gastodon Horn x3 | Base: 56 Fire: +2 Water: -3 Ice: -4 Dragon: +2 1x Jewel Slot Lv2 | Resentment | Diablos Mastery Bludgeoning (Requires 2 pieces worn) Non-elemental Boost (Requires 4 pieces worn) |
| Diablos Nero Greaves Beta | Black Diablos Ridge + x6 Black Diablos Carapace x4 Black Spiral Horn + x1 Wyvern Gem x1 | Base: 56 Fire: +2 Water: -3 Ice: -4 Dragon: +2 1x Jewel Slot Lv2 | Normal Shots | Diablos Mastery Bludgeoning (Requires 2 pieces worn) Non-elemental Boost (Requires 4 pieces worn) |
| Dodogama Helm Beta | Dodogama Scale + x4 Dodogama Hide + x2 Dodogama Jaw x1 Gastodon Horn x3 | Base: +48 Fire: +2 Thunder: -3 Dragon: -2 1x Jewel Slot | Blast Resistance | None |
| Dodogama Mail Beta | Dodogama Hide + x4 Dodogama Tail x1 Dodogama Jaw x3 Firecell Stone x1 | Base: +48 Fire: +2 Thunder: -3 Dragon: -2 1x Jewel Slot | Blast Attack | None |
| Dodogama Vambraces Beta | Dodogama Hide + x4 Dodogama Talon x4 Dodogama Scale + x4 Fucium Ore x6 | Base: +48 Fire: +2 Thunder: -3 Dragon: -2 1x Jewel Slot | Bombardier | None |
| Dodogama Coil Beta | Dodogama Scale + x4 Dodogama Hide + x2 Dodogama Jaw x1 Gastodon Carapace x5 | Base: +48 Fire: +2 Thunder: -3 Dragon: -2 1x Jewel Slot | Artillery Lv2 | None |
| Dodogama Greaves Beta | Dodogama Hide + x6 Dodogama Tail x2 Dodogama Talon x4 Wyvern Gem x1 | Base: +48 Fire: +2 Thunder: -3 Dragon: -2 1x Jewel Slot | Capacity Boost | None |
| Dober Helm Beta | Elder Dragon Bone x3 Quality Bone x3 Bazelgeuse Fuse x1 Dragonbone Relic x 1 | Base: +60 Fire: -2 Thunder: -1 Ice: -1 Dragon: +4 1x Jewel Slot | Free Elem Ammo Up | None |
| Dober Mail Beta | Elder Dragon Bone x3 Quality Bone x3 Blos Medulla x1 Dragonbone Relic x1 | Base: +60 Fire: -2 Thunder: -1 Ice: -1 Dragon: +4 1x Jewel Slot Lv3 | Attack Boost Lv2 | None |
| Dober Vambraces Beta | Elder Dragon Bone x3 Quality Bone x3 Uragaan Marrow x1 Brutal Bone x3 | Base: +60 Fire: -2 Thunder: -1 Ice: -1 Dragon: +4 2x Jewel Slot | Stamina Surge | None |
| Dober Coil Beta | Elder Dragon Bone x3 Quality Bone x3 Rathalos Medulla x1 Brutal Bone x3 | Base: +60 Fire: -2 Thunder: -1 Ice: -1 Dragon: +4 1x Jewel Slot Lv3 | Dragon Resistance Lv2 | None |
| Dober Greaves Beta | Elder Dragon Bone x3 Quality Bone x3 Radobaan Medulla x1 Dragonbone Relic x1 | Base: +60 Fire: -2 Thunder: -1 Ice: -1 Dragon: +4 1x Jewel Slot | Attack Boost Lv2 | None |
| Gastodon Horn Beta | Gastodon Horn x3 Gastodon Carapace x4 Kestodon Carapace x3 Dragonite Ore x5 | Base: +48 Fire: +3 1x Jewel Slot | Flinch Free | None |
| High Metal Helm Beta | Fucium Ore x3 Carbalite Ore x4 Dragonvein Crystal x2 Barnos Hide + x3 | Base: +50 Water: -1 Thunder: -2 Ice: +3 1x Jewel Slot Lv2 | Ice Resistance Lv2 | None |
| High Metal Mail Beta | Fucium Ore x4 Carbalite Ore x3 Dragonvein Crystal x4 Barnos Talon x3 | Base: +50 Water: -1 Thunder: -2 Ice: +3 1x Jewel Slot Lv2 | Earplugs | None |
| High Metal Braces Beta | Fucium Ore x4 Carbalite Ore x3 Dragonvein Crystal x4 Barnos Hide + x4 | Base: +50 Water: -1 Thunder: -2 Ice: +3 1x Jewel Slot | Defense Boost Lv2 | None |
| High Metal Coil Beta | Fucium Ore x3 Carbalite Ore x4 Dragonvein Crystal x2 Barnos Talon x2 | Base: +50 Water: -1 Thunder: -2 Ice: +3 1x Jewel Slot | Capacity Boost | None |
| High Metal Greaves Beta | Fucium Ore x3 Carbalite Ore x4 Dragonvein Crystal x2 Barnos Hide + x3 | Base: +50 Water: -1 Thunder: -2 Ice: +3 1x Jewel Slot | Heavy Artillery | None |
| Hornetaur Helm Beta | Hornetaur Carapace x3 Hornetaur Innerwing x2 Monster Broth x2 | Base: +38 Fire: -1 Water: -1 Dragon: +2 1x Jewel Slot | Dungmaster | None |
| Hornetaur Mail Beta | Hornetaur Carapace x4 Hornetaur Innerwing x2 Hornetaur Head x1 Lightcrystal x1 | Base: +38 Fire: -1 Water: -1 Dragon: +2 1x Jewel Slot | Effluvial Expert | None |
| Hornetaur Vambraces Beta | Hornetaur Carapace x3 Hornetaur Innerwing x2 Monster Broth x2 | Base: +38 Fire: -1 Water: -1 Dragon: +2 1x Jewel Slot | Free Meal | None |
| Hornetaur Coil Beta | Hornetaur Carapace x3 Hornetaur Innerwing x2 Monster Broth x2 | Base: +38 Fire: -1 Water: -1 Dragon: +2 1x Jewel Slot | Carving Pro | None |
| Hornetaur Greaves Beta | Hornetaur Carapace x4 Hornetaur Innerwing x2 Hornetaur Head x1 Novacrystal x1 | Base: +38 Fire: -1 Water: -1 Dragon: +2 1x Jewel Slot | Handicraft | None |
| Ingot Helm Beta | Fucium Ore x1 Monster Hardbone x2 Dragonite Ore x4 Gastodon Horn x2 | Base: +50 Fire: -2 Thunder: +3 Ice: -1 Dragon:-2 1x Jewel Slot | Thunder Attack | None |
| Ingot Mail Beta | Fucium Ore x1 Monster Hardbone x2 Dragonite Ore x4 Gastodon Carapace x2 | Base: +50 Fire: -2 Thunder: +3 Ice: -1 Dragon:-2 1x Jewel Slot | Thunder Resistance | None |
| Ingot Vambraces Beta | Fucium Ore x1 Monster Hardbone x3 Dragonite Ore x4 Gastodon Horn x2 | Base: +50 Fire: -2 Thunder: +3 Ice: -1 Dragon:-2 1x Jewel Slot | Health Boost Lv2 | None |
| Ingot Coil Beta | Fucium Ore x1 Monster Hardbone x3 Dragonite Ore x4 Gastodon Carapace x3 | Base: +50 Fire: -2 Thunder: +3 Ice: -1 Dragon:-2 1x Jewel Slot Lv3 | Windproof | None |
| Ingot Greaves Beta | Fucium Ore x1 Monster Hardbone x2 Dragonite Ore x4 Gastodon Carapace x2 | Base: +50 Fire: -2 Thunder: +3 Ice: -1 Dragon:-2 1x Jewel Slot Lv2 | Defense Boost Lv2 | None |
| Kirin Horn Beta | Kirin Hide + x3 Kirin Azure Horn x1 Shamos Scale + x2 Thunder Sac x4 | Base: +64 Fire: -3 Water: -2 Thunder: +4 Ice: -2 Dragon: +2 1x Jewel Slot | Marathon Runner Lv2 | Kirin Favor - Capture Master (Requires 3 pieces worn) |
| Kirin Jacket Beta | Kirin Hide + x3 Kirin Azure Horn x1 Kirin Thundertail x1 Fucium Ore x4 | Base: +64 Fire: -3 Water: -2 Thunder: +4 Ice: -2 Dragon: +2 1x Jewel Slot | Divine Blessing Lv2 | Kirin Favor - Capture Master (Requires 3 pieces worn) |
| Kirin Longarms Beta | Kirin Hide + x3 Kirin Mane x4 Paolumu Carapace + x3 Dragonvein Crystal x6 | Base: +64 Fire: -3 Water: -2 Thunder: +4 Ice: -2 Dragon: +2 2x Jewel Slot | Thunder Attack Lv2 | Kirin Favor - Capture Master (Requires 3 pieces worn) |
| Kirin Hoop Beta | Kirin Hide + x4 Kirin Mane x4 Kirin Azure Horn x3 Novacrystal x1 | Base: +64 Fire: -3 Water: -2 Thunder: +4 Ice: -2 Dragon: +2 3x Jewel Slot | Blight Resistance | Kirin Favor - Capture Master (Requires 3 pieces worn) |
| Kirin Leg Guards Beta | Kirin Hide + x3 Kirin Thundertail x3 Paolumu Carapace + x3 Dragonbone Relic x1 | Base: +64 Fire: -3 Water: -2 Thunder: +4 Ice: -2 Dragon: +2 2x Jewel Slot | Free Elem Ammo Up Lv2 | Kirin Favor - Capture Master (Requires 3 pieces worn) |
| Tzitzi Headgear Beta | Tzitzi-Ya-Ku Scale + x4 Tzitzi-Ya-Ku Hide + x2 Tzitzi-Ya-Ku Photophore + x2 Coral Crystal x5 | Base: +40 Thunder: -3 Ice: -2 1x Jewel Slot | Blindsider | None |
| Tzitzi Mail Beta | Tzitzi-Ya-Ku Hide + x4 Tzitzi-Ya-Ku Claw + x4 Tzitzi-Ya-Ku Photophore + x3 Bird Wyvern Gem x1 | Base: +40 Thunder: -3 Ice: -2 2x Jewel Slot | Constitution | None |
| Tzitzi Vambraces Beta | Tzitzi-Ya-Ku Hide + x4 Tzitzi-Ya-Ku Photophore + x2 Tzitzi-Ya-Ku Scale + x4 Dragonvein Crystal x2 | Base: +40 Thunder: -3 Ice: -2 1x Jewel Slot | Stun Resistance Lv2 | None |
| Tzitzi Coil Beta | Tzitzi-Ya-Ku Hide + x2 Tzitzi-Ya-Ku Claw + x4 Dragonvein Crystal x3 Lightcrystal x2 | Base: +40 Thunder: -3 Ice: -2 1x Jewel Slot Lv2 | Wide Range | None |
| Tzitzi Greaves Beta | Tzitzi-Ya-Ku Scale + x 4 Tzitzi-Ya-Ku Hide + x2 Tzitzi-Ya-Ku Claw + x2 Carbalite Ore x6 | Base: +40 Thunder: -3 Ice: -2 1x Jewel Slot | Sleep Resistance | None |
| Lumu Hat Beta | Paolumu Scale + x4 Paolumu Wing x2 Paolumu Pelt + x2 Lightcrystal x2 | Base: +44 Fire: -3 Water: +2 Ice: +1 1x Jewel Slot Lv2 | Stamina Surge | None |
| Lumu Mail Beta | Paolumu Scale + x2 Paolumu Carapace + x3 Paolumu Pelt + x2 Monster Keenbone x4 | Base: +44 Fire: -3 Water: +2 Ice: +1 1x Jewel Slot | Master Mounter | None |
| Lumu Vambraces Beta | Paolumu Pelt + x4 Paolumu Scale + x2 Paolumu Wing x2 Quality Bone x5 | Base: +44 Fire: -3 Water: +2 Ice: +1 1x Jewel Slot | Artillery | None |
| Lumu Coil Beta | Paolumu Pelt + x4 Paolumu Scale + x2 Paolumu Carapace + x3 Coral Bone x5 | Base: +44 Fire: -3 Water: +2 Ice: +1 1x Jewel Slot | Divine Blessing | None |
| Lumu Greaves Beta | Paolumu Scale + x4 Paolumu Pelt + x2 Paolumu Wing x4 Wyvern Gem x1 | Base: +44 Fire: -3 Water: +2 Ice: +1 2x Jewel Slot | Windproof | None |
| Legiana Helm Beta | Legiana Scale + x4 Legiana Hide + x2 Freezer Sac x2 Tzitzi-Ya-Ku Scale + x2 | Base: +54 Fire: -1 Water: -2 Thunder: -3 Ice: +3 1x Jewel Slot | Divine Blessing Lv2 | Legiana Favor Good Luck (Requires 2 pieces worn) Bow Charge Plus (Requires 4 pieces worn) |
| Legiana Mail Beta | Legiana Hide + x6 Legiana Claw + x3 Legiana Wing x3 Legiana Gem x1 | Base: +54 Fire: -1 Water: -2 Thunder: -3 Ice: +3 1x Jewel Slot | Evade Window Lv2 | Legiana Favor Good Luck (Requires 2 pieces worn) Bow Charge Plus (Requires 4 pieces worn) |
| Legiana Vambraces Beta | Legiana Hide + x4 Legiana Scale + x4 Legiana Tail Webbing x3 Novacrystal x1 | Base: +54 Fire: -1 Water: -2 Thunder: -3 Ice: +3 1x Jewel Slot Lv3 | Airborne | Legiana Favor Good Luck (Requires 2 pieces worn) Bow Charge Plus (Requires 4 pieces worn) |
| Legiana Coil Beta | Legiana Hide + x4 Legiana Scale + x4 Freezer Sac x2 Legiana Plate x1 | Base: +54 Fire: -1 Water: -2 Thunder: -3 Ice: +3 1x Jewel Slot Lv2 | Ice Attack Lv2 | Legiana Favor Good Luck (Requires 2 pieces worn) Bow Charge Plus (Requires 4 pieces worn) |
| Legiana Greaves Beta | Legiana Scale + x4 Legiana Hide + x2 Legiana Wing x2 Tzitzi-Ya-Ku Hide + x2 | Base: +54 Fire: -1 Water: -2 Thunder: -3 Ice: +3 1x Jewel Slot Lv3 | Ice Resistance Lv2 | Legiana Favor Good Luck (Requires 2 pieces worn) Bow Charge Plus (Requires 4 pieces worn) |
| Odogaron Helm Beta | Odogaron Scale + x4 Odogaron Sinew + x2 Odogaron Claw + x2 Warped Bone x3 | Base: +54 Fire: +2 Water: +2 Thunder: -2 Ice: -3 1x Jewel Slot Lv2 | Bleeding Resistance Lv2 | Odogaron Mastery Punishing Draw (Requires 2 pieces worn) Protective Polish (Requires 4 pieces worn) |
| Odogaron Mail Beta | Odogaron Sinew + x4 Odogaron Scale + x4 Odogaron Plate x1 Hornetaur Carapace x5 | Base: +54 Fire: +2 Water: +2 Thunder: -2 Ice: -3 1x Jewel Slot | Speed Sharpening Lv2 | Odogaron Mastery Punishing Draw (Requires 2 pieces worn) Protective Polish (Requires 4 pieces worn) |
| Odogaron Vambraces Beta | Odogaron Sinew + x4 Odogaron Scale + x4 Odogaron Tail x2 Hornetaur Innerwing x4 | Base: +54 Fire: +2 Water: +2 Thunder: -2 Ice: -3 1x Jewel Slot | Constitution | Odogaron Mastery Punishing Draw (Requires 2 pieces worn) Protective Polish (Requires 4 pieces worn) |
| Odogaron Coil Beta | Odogaron Sinew + x6 Odogaron Claw + x4 Odogaron Fang + x2 Odogaron Gem x1 | Base: +54 Fire: +2 Water: +2 Thunder: -2 Ice: -3 1x Jewel Slot Lv2 | Critical Eye Lv2 | Odogaron Mastery Punishing Draw (Requires 2 pieces worn) Protective Polish (Requires 4 pieces worn) |
| Odogaron Greaves Beta | Odogaron Scale + x4 Odogaron Sinew + x2 Odogaron Fang + x2 Monster Hardbone x6 | Base: +54 Fire: +2 Water: +2 Thunder: -2 Ice: -3 1x Jewel Slot | Quick Sheath | Odogaron Mastery Punishing Draw (Requires 2 pieces worn) Protective Polish (Requires 4 pieces worn) |
| Rathalos Helm Beta | Rathalos Scale + x4 Rathalos Carapace x4 Inferno Sac x2 Rathalos Medulla x1 | Base: +54 Fire: +3 Water: +1 Thunder: -2 Ice: +1 Dragon: -3 1x Jewel Slot | Attack Boost Lv2 | Rathalos Mastery Critical Element (Requires 2 pieces worn) Mind's Eye/Ballistics (Requires 4 pieces worn) |
| Rathalos Mail Beta | Rathalos Scale + x4 Rathalos Carapace x6 Rathalos Wing x3 Rathalos Ruby x1 | Base: +54 Fire: +3 Water: +1 Thunder: -2 Ice: +1 Dragon: -3 1x Jewel Slot | Weakness Exploit Lv2 | Rathalos Mastery Critical Element (Requires 2 pieces worn) Mind's Eye/Ballistics (Requires 4 pieces worn) |
| Rathalos Vambraces Beta | Rathalos Carapace x 6 Rathalos Wing x2 Inferno Sac x2 Rath Wingtalon x6 | Base: +54 Fire: +3 Water: +1 Thunder: -2 Ice: +1 Dragon: -3 1x Jewel Slot | Fire Resistance Lv2 | Rathalos Mastery Critical Element (Requires 2 pieces worn) Mind's Eye/Ballistics (Requires 4 pieces worn) |
| Rathalos Coil Beta | Rathalos Scale + x4 Rathalos Carapace x4 Rathalos Wing x2 Rathalos Tail x2 | Base: +54 Fire: +3 Water: +1 Thunder: -2 Ice: +1 Dragon: -3 1x Jewel Slot Lv2 | Fire Attack Lv2 | Rathalos Mastery Critical Element (Requires 2 pieces worn) Mind's Eye/Ballistics (Requires 4 pieces worn) |
| Rathalos Greaves Beta | Rathalos Carapace x6 Rathalos Scale + x4 Inferno Sac x2 Rathalos Plate x1 | Base: +54 Fire: +3 Water: +1 Thunder: -2 Ice: +1 Dragon: -3 1x Jewel Slot Lv3 | Jump Master | Rathalos Mastery Critical Element (Requires 2 pieces worn) Mind's Eye/Ballistics (Requires 4 pieces worn) |
| Brigade Lobos Beta | Hunter King Coin x 2 Tzitzi Coin x4 Gama Coin Monster Hardbone x2 | Base: +52 Fire: +1 Thunder +2 Dragon +2 1x Jewel Slot | Recovery Speed Lv2 | None |
| Brigade Suit Beta | Pinnacle Coin x 3 Pukei Coin x 2 Rathian Coin x 4 Lightcrystal x 1 | Base: +52 Fire: +1 Thunder +2 Dragon +2 2x Jewel Slot Lv2 | Divine Blessing | None |
| Brigade Vambraces Beta | Hunter King Coin x2 Barroth Coin x4 Rathalos Coin x3 Monster Hardbone x2 | Base: +52 Fire: +1 Thunder +2 Dragon +2 1x Jewel Slot | Heavy Artillery Lv2 | None |
| Brigade Coil Beta | Hunter King Coin x2 Barroth Coin x4 Rathalos Coin x3 Monster Hardbone x2 | Base: +52 Fire: +1 Thunder +2 Dragon +2 1x Jewel Slot | Geologist Lv2 | None |
| Brigade Boots Beta | Hunter King Coin x2 Gama Coin x4 Rathalos Coin x3 Monster Hardbone x2 | Base: +52 Fire: +1 Thunder +2 Dragon +2 1x Jewel Slot Lv3 | Scholar | None |
| Guild Cross Circlet Beta | Ace Hunter Coin x3 Flying Coin x2 Hunter King Coin x2 High Commendation x1 | Base: +68 3x Jewel Slot | Divine Blessing Lv2 | Guild Guidance Great Luck (Requires 4 pieces worn) |
| Guild Cross Suit Beta | Ace Hunter Coin x3 Brute Coin x2 Hunter King Coin x2 High Commendation x1 | Base: +68 1x Jewel Slot Lv3 | Resuscitate | Guild Guidance Great Luck (Requires 4 pieces worn) |
| Guild Cross Vambraces Beta | Ace Hunter Coin x3 Brute Coin x3 Hunter King Coin x2 High Commendation x1 | Base: +68 1x Jewel Slot Lv3 | Tool Specialist | Guild Guidance Great Luck (Requires 4 pieces worn) |
| Guild Cross Coil Beta | Ace Hunter Coin x2 Flying Coin x2 Pinnacle Coin x3 High Commendation x1 | Base: +68 3x Jewel Slot | Fortify | Guild Guidance Great Luck (Requires 4 pieces worn) |
| Guild Cross Boots Beta | Ace Hunter Coin x 2 Flying Coin x 2 Pinnacle Coin x3 High Commendation x1 | Base: +68 1x Jewel Slot Lv3 | Airborne | Guild Guidance Great Luck (Requires 4 pieces worn) |
| Kushala Glare Beta | Daora Dragon Scale + x4 Daora Carapace x4 Daora Webbing x2 Elder Dragon Bone x4 | Base: +64 Water: +2 Thunder: -3 Ice: +4 Dragon: -2 3x Jewel Slot | Ice Attack Lv2 | Kushala Daora Flight Nullify Wing Pressure (Requires 3 pieces worn) |
| Kushala Cista Beta | Daora Carapace x5 Daora Horn + x3 Daora Claw + x2 Daora Gem x1 | Base: +64 Water: +2 Thunder: -3 Ice: +4 Dragon: -2 1x Jewel Slot Lv2 | Handicraft Lv2 | Kushala Daora Flight Nullify Wing Pressure (Requires 3 pieces worn) |
| Kushala Grip Beta | Daora Carapace x5 Daora Horn + x2 Daora Tail x2 Legiana Plate x1 | Base: +64 Water: +2 Thunder: -3 Ice: +4 Dragon: -2 1x Jewel Slot Lv3 | Evade Window Lv2 | Kushala Daora Flight Nullify Wing Pressure (Requires 3 pieces worn) |
| Kushala Cocoon Beta | Daora Dragon Scale + x4 Daora Carapace x4 Daora Horn + x2 Carbalite Ore x5 | Base: +64 Water: +2 Thunder: -3 Ice: +4 Dragon: -2 2x Jewel Slot | Ice Attack Lv2 | Kushala Daora Flight Nullify Wing Pressure (Requires 3 pieces worn) |
| Kushala Crus Beta | Daora Carapace x5 Daora Dragon Scale + x4 Daora Webbing x3 Elder Dragon Blood x3 | Base: +64 Water: +2 Thunder: -3 Ice: +4 Dragon: -2 1x Jewel Slot Lv3 | Evade Extender Lv2 | Kushala Daora Flight Nullify Wing Pressure (Requires 3 pieces worn) |
| Lavasioth Helm Beta | Lavasioth Scale + x4 Lavasioth Carapace x2 Lavasioth Fin + x2 Monster Hardbone x6 | Base: +54 Fire: +3 Water: -3 Thunder: +1 Ice: -2 Dragon: +2 2x Jewel Slot | Fire Attack | None |
| Lavasioth Mail Beta | Lavasioth Carapace x4 Lavasioth Fin + x2 Lavasioth Scale + x6 Fucium Ore x5 | Base: +54 Fire: +3 Water: -3 Thunder: +1 Ice: -2 Dragon: +2 2x Jewel Slot | Fire Attack Lv2 | None |
| Lavasioth Vambraces Beta | Lavasioth Carapace x4 Lavasioth Fang + x4 Lavasioth Scale + x6 Gajau Scale x6 | Base: +54 Fire: +3 Water: -3 Thunder: +1 Ice: -2 Dragon: +2 1x Jewel Slot Lv3 | Affinity Sliding | None |
| Lavasioth Coil Beta | Lavasioth Scale + x4 Lavasioth Carapace x2 Lavasioth Fang + x2 Grand Gajau Whisker x4 | Base: +54 Fire: +3 Water: -3 Thunder: +1 Ice: -2 Dragon: +2 1x Jewel Slot | Quick Sheath Lv2 | None |
| Lavasioth Greaves Beta | Lavasioth Carapace x6 Lavasioth Fang + x2 Lavasioth Fin + x4 Firecell Stone x1 | Base: +54 Fire: +3 Water: -3 Thunder: +1 Ice: -2 Dragon: +2 1x Jewel Slot Lv2 | Spread Power Shots | None |
| Nergigante Helm Beta | Nergigante Horn + x 2 Immortal Dragonscale x 6 Nergigante Carapace x4 Nergigante Gem x1 | Base: +64 Fire: +1 Water: +1 Thunder -3 Ice: +1 Dragon: -3 2x Jewel Slot | Maximum Might Lv2 | Nergigante Hunger Hasten Recovery (Requires 3 pieces worn) |
| Nergigante Mail Beta | Nergigante Carapace x 4 Immortal Dragonscale x 4 Nergigante Talon x2 Elder Dragon Bone x3 | Base: +64 Fire: +1 Water: +1 Thunder -3 Ice: +1 Dragon: -3 1x Jewel Slot Lv2 1x Jewel Slot | Stamina Surge Lv2 | Nergigante Hunger Hasten Recovery (Requires 3 pieces worn) |
| Nergigante Vambraces Beta | Nergigante Carapace x 4 Nergigante Horn + x 1 Nergigante Tail x 2 Firecell Stone x 1 | Base: +64 Fire: +1 Water: +1 Thunder -3 Ice: +1 Dragon: -3 1x Jewel Slot | Agitator Lv2 | Nergigante Hunger Hasten Recovery (Requires 3 pieces worn) |
| Nergigante Coil Beta | Nergigante Carapace x 4 Immortal Dragonscale x 4 Nergigante Regrowth Plate x4 Novacrystal x1 | Base: +64 Fire: +1 Water: +1 Thunder -3 Ice: +1 Dragon: -3 1x Jewel Slot Lv2 | Attack Boost Lv2 | Nergigante Hunger Hasten Recovery (Requires 3 pieces worn) |
| Nergigante Greaves Beta | Nergigante Carapace x 4 Immortal Dragonscale x 4 Nergigante Regrowth Plate x2 Elder Dragon Blood x2 | Base: +64 Fire: +1 Water: +1 Thunder -3 Ice: +1 Dragon: -3 1x Jewel Slot Lv2 | Maximum Might | Nergigante Hunger Hasten Recovery (Requires 3 pieces worn) |
| Rath Heart Helm Beta | Pink Rathian Scale + x4 Pink Rathian Carapace x2 Monster Hardbone x3 Shamos Scale + x4 | Base: +52 Fire: +3 Thunder: -3 Dragon: -4 1x Jewel Slot Lv2 | Evade Extender | Pink Rathian Mastery Poison Duration up (Requires 3 pieces worn) |
| Rath Heart Mail Beta | Pink Rathian Carapace x4 Pink Rathian Scale + x3 Rathian Spike + x2 Novacrystal x1 | Base: +52 Fire: +3 Thunder: -3 Dragon: -4 2x Jewel Slot | Tool Specialist | Pink Rathian Mastery Poison Duration up (Requires 3 pieces worn) |
| Rath Heart Vambraces Beta | Pink Rathian Carapace x 6 Pink Rathian Scale + x2 Rathian Spike + x3 Rathian Ruby x1 | Base: +52 Fire: +3 Thunder: -3 Dragon: -4 1x Jewel Slot Lv2 | Windproof | Pink Rathian Mastery Poison Duration up (Requires 3 pieces worn) |
| Rath Heart Coil Beta | Pink Rathian Carapace x4 Pink Rathian Scale + x3 Monster Hardbone x4 Rathian Plate x1 | Base: +52 Fire: +3 Thunder: -3 Dragon: -4 1x Jewel Slot | Handicraft | Pink Rathian Mastery Poison Duration up (Requires 3 pieces worn) |
| Rath Heart Greaves Beta | Pink Rathian Scale + x4 Pink Rathian Carapace x2 Monster Hardbone x3 Shamos Hide + x3 | Base: +52 Fire: +3 Thunder: -3 Dragon: -4 1x Jewel Slot Lv2 | Tool Specialist | Pink Rathian Mastery Poison Duration up (Requires 3 pieces worn) |
| Rath Soul Helm Beta | Azure Rathalos Scale + x4 Azure Rathalos Carapace x4 Azure Rathalos Wing x3 Rathalos Ruby x1 | Base: +56 Fire: +3 Water: +2 Thunder: +2 Ice: -3 Dragon: -4 2x Jewel Slot | Critical Boost | Rathalos Mastery Critical Element (Requires 2 pieces worn) Mind's Eye/Ballistics (Requires 4 pieces worn) |
| Rath Soul Mail Beta | Azure Rathalos Scale + x4 Azure Rathalos Carapace x6 Azure Rathalos Wing x2 Barnos Hide + x6 | Base: +56 Fire: +3 Water: +2 Thunder: +2 Ice: -3 Dragon: -4 1x Jewel Slot Lv2 | Free Elem Ammo up | Rathalos Mastery Critical Element (Requires 2 pieces worn) Mind's Eye/Ballistics (Requires 4 pieces worn) |
| Rath Soul Braces Beta | Azure Rathalos Carapace x6 Azure Rathalos Wing x2 Azure Rathalos Tail x1 Barnos Talon x4 | Base: +56 Fire: +3 Water: +2 Thunder: +2 Ice: -3 Dragon: -4 1x Jewel Slot Lv2 | Focus | Rathalos Mastery Critical Element (Requires 2 pieces worn) Mind's Eye/Ballistics (Requires 4 pieces worn) |
| Rath Soul Coil Beta | Azure Rathalos Scale + x4 Azure Rathalos Carapace x4 Rathalos Medulla x1 Monster Hardbone x6 | Base: +56 Fire: +3 Water: +2 Thunder: +2 Ice: -3 Dragon: -4 1x Jewel Slot Lv3 | Windproof Lv2 | Rathalos Mastery Critical Element (Requires 2 pieces worn) Mind's Eye/Ballistics (Requires 4 pieces worn) |
| Rath Soul Greaves Beta | Azure Rathalos Carapace x6 Azure Rathalos Scale + x4 Azure Rathalos Tail x2 Rathalos Plate x1 | Base: +56 Fire: +3 Water: +2 Thunder: +2 Ice: -3 Dragon: -4 1x Jewel Slot | Focus | Rathalos Mastery Critical Element (Requires 2 pieces worn) Mind's Eye/Ballistics (Requires 4 pieces worn) |
| Kaiser Crown Beta | Teostra Carapace x 5 Teostra Horn + x2 Teostra Tail x2 Firecell Stone x1 | Base: +64 Fire: +3 Water: -3 Thunder: +1 Ice: -3 Dragon: +1 1x Jewel Slot Lv2 | Latent Power | Teostra Technique Master's Touch (Requires 3 pieces worn) |
| Kaiser Mail Beta | Teostra Carapace x5 Teostra Webbing x4 Teostra Powder x4 Rathalos Plate x1 | Base: +64 Fire: +3 Water: -3 Thunder: +1 Ice: -3 Dragon: +1 2x Jewel Slot | Special Ammo Boost Lv2 | Teostra Technique Master's Touch (Requires 3 pieces worn) |
| Kaiser Vambraces Beta | Fire Dragon Scale + x4 Teostra Carapace x4 Teostra Claw + x4 Elder Dragon Bone x4 | Base: +64 Fire: +3 Water: -3 Thunder: +1 Ice: -3 Dragon: +1 1x Jewel Slot Lv3 | Weakness Exploit | Teostra Technique Master's Touch (Requires 3 pieces worn) |
| Kaiser Coil Beta | Fire Dragon Scale + x4 Teostra Carapace x4 Teostra Mane x1 Elder Dragon Bone x3 | Base: +64 Fire: +3 Water: -3 Thunder: +1 Ice: -3 Dragon: +1 1x Jewel Slot Lv2 | Blast Attack Lv2 | Teostra Technique Master's Touch (Requires 3 pieces worn) |
| Kaiser Greaves Beta | Teostra Horn + x 3 Fire Dragon Scale + x 6 Teostra Mane x 2 Teostra Gem x 1 | Base: +64 Fire: +3 Water: -3 Thunder: +1 Ice: -3 Dragon: +1 1x Jewel Slot | Latent Power Lv2 | Teostra Technique Master's Touch (Requires 3 pieces worn) |
| Uragaan Helm Beta | Uragaan Scale + x 4 Uragaan Carapace x2 Lava Nugget x4 Firecell Stone x1 | Base: +60 Fire: +4 Water: -3 Thunder: +1 Ice: -2 Dragon: -2 1x Jewel Slot Lv3 1x Jewel Slot | Thunder Resistance | Uragaan Protection Guard up (Requires 3 pieces worn) |
| Uragaan Mail Beta | Uragaan Carapace x 6 Uragaan Scute x3 Uragaan Jaw x2 Uragaan Ruby x1 | Base: +60 Fire: +4 Water: -3 Thunder: +1 Ice: -2 Dragon: -2 1x Jewel Slot Lv3 | Partbreaker | Uragaan Protection Guard up (Requires 3 pieces worn) |
| Uragaan Vambraces Beta | Uragaan Carapace x4 Uragaan Scale + x4 Uragaan Marrow x1 Lava Nugget x4 | Base: +60 Fire: +4 Water: -3 Thunder: +1 Ice: -2 Dragon: -2 1x Jewel Slot Lv2 | Guard | Uragaan Protection Guard up (Requires 3 pieces worn) |
| Uragaan Coil Beta | Uragaan Scale + x4 Uragaan Carapace x2 Fucium Ore x5 Monster Hardbone x5 | Base: +60 Fire: +4 Water: -3 Thunder: +1 Ice: -2 Dragon: -2 1x Jewel Slot Lv2 1x Jewel Slot | Partbreaker | Uragaan Protection Guard up (Requires 3 pieces worn) |
| Uragaan Greaves Beta | Uragaan Carapace x 4 Uragaan Scale + x4 Uragaan Scute x2 Gastodon Carapace x5 | Base: +60 Fire: +4 Water: -3 Thunder: +1 Ice: -2 Dragon: -2 1x Jewel Slot Lv3 | Guard | Uragaan Protection Guard up (Requires 3 pieces worn) |
| Vaal Hazak Helm Beta | Deceased Scale x5 Vaal Hazak Carapace x4 Vaal Hazak Talon x4 Elder Dragon Bone x4 | Base: +64 Fire: -4 Water: +4 Thunder: +1 Ice: -1 Dragon: -3 1x Jewel Slot | Peak Performance | Vaal Hazak Vitality Super Recovery (Requires 3 pieces worn) |
| Vaal Hazak Mail Beta | Vaal Hazak Carapace x5 Vaal Hazak Fang + x3 Vaal Hazak Tail x2 Odogaron Plate x1 | Base: +64 Fire: -4 Water: +4 Thunder: +1 Ice: -1 Dragon: -3 2x Jewel Slot | Recovery Speed Lv2 | Vaal Hazak Vitality Super Recovery (Requires 3 pieces worn) |
| Vaal Hazak Braces Beta | Vaal Hazak Fang + x3 Deceased Scale x6 Vaal Hazak Membrane x2 Vaal Hazak Gem x1 | Base: +64 Fire: -4 Water: +4 Thunder: +1 Ice: -1 Dragon: -3 3x Jewel Slot | Peak Performance | Vaal Hazak Vitality Super Recovery (Requires 3 pieces worn) |
| Vaal Hazak Coil Beta | Vaal Hazak Carapace x5 Vaal Hazak Wing x4 Vaal Hazak Membrane x2 Elder Dragon Blood x3 | Base: +64 Fire: -4 Water: +4 Thunder: +1 Ice: -1 Dragon: -3 2x Jewel Slot | Peak Performance | Vaal Hazak Vitality Super Recovery (Requires 3 pieces worn) |
| Vaal Hazak Greaves Beta | Deceased Scale x5 Vaal Hazak Carapace x4 Vaal Hazak Membrane x2 Dragonvein Crystal x6 | Base: +64 Fire: -4 Water: +4 Thunder: +1 Ice: -1 Dragon: -3 2x Jewel Slot | Effluvia Resistance Lv2 | Vaal Hazak Vitality Super Recovery (Requires 3 pieces worn) |
| Xeno'jiiva Headgear Beta | Xeno'jiiva Soulscale x5 Xeno'jiiva Shell x4 Xeno'jiiva Horn x2 Rathalos Plate x1 | Base: +72 Fire: -3 Water: +2 Thunder: +2 Ice: +2 Dragon: -4 1x Jewel Slot Lv2 | Flinch Free | Xeno'jiiva Divinity Effect Razor Sharp/Spare Shot (requires 3 pieces worn) |
| Xeno'jiiva Hide Beta | Xeno'jiiva Horn x3 Xeno'jiiva Soulscale x6 Xeno'jiiva Wing x3 Xeno'jiiva Gem x1 | Base: +72 Fire: -3 Water: +2 Thunder: +2 Ice: +2 Dragon: -4 2x Jewel Slot | Power Prolonger x2 | Xeno'jiiva Divinity Effect Razor Sharp/Spare Shot (requires 3 pieces worn) |
| Xeno'jiiva Claws Beta | Xeno'jiiva Shell x4 Xeno'jiiva Claw x3 Xeno'jiiva Veil x2 Wyvern Gem x1 | Base: +72 Fire: -3 Water: +2 Thunder: +2 Ice: +2 Dragon: -4 1x Jewel Slot Lv3 | Flinch Free | Xeno'jiiva Divinity Effect Razor Sharp/Spare Shot (requires 3 pieces worn) |
| Xeno'jiiva Spine Beta | Xeno'jiiva Shell x4 Xeno'jiiva Wing x2 Xeno'jiiva Tail x2 Odogaron Plate x1 | Base: +72 Fire: -3 Water: +2 Thunder: +2 Ice: +2 Dragon: -4 1x Jewel Slot Lv2 1x Jewel Slot | Blight Resistance x2 | Xeno'jiiva Divinity Effect Razor Sharp/Spare Shot (requires 3 pieces worn) |
| Xeno'jiiva Spurs Beta | Xeno'jiiva Soulscale x4 Xeno'jiiva Shell x4 Xeno'jiiva Veil x2 Legiana Plate x1 | Base: +72 Fire: -3 Water: +2 Thunder: +2 Ice: +2 Dragon: -4 2x Jewel Slot | Flinch Free | Xeno'jiiva Divinity Effect Razor Sharp/Spare Shot (requires 3 pieces worn) |
| Zorah Headgear Beta | Zorah Magdaros Heat Scale x3 Zorah Magdaros Ridge x2 Zorah Magdaros Carapace x6 Dragonite Ore x8 | Base: +44 Fire: +4 Water: -3 Thunder: -1 Ice: -2 Dragon: -3 1x Jewel Slot | Handicraft | Zorah Magdaros Mastery Critical Status (requires 3 pieces worn) |
| Zorah Hide Beta | Zorah Magdaros Carapace x6 Zorah Magdaros Heat Scale x1 Zorah Magdaros Heat Scale x1 Zorah Magdaros Ridge x2 Zorah Magdaros Pleura x1 | Base: +44 Fire: +4 Water: -3 Thunder: -1 Ice: -2 Dragon: -3 1x Jewel Slot Lv2 | Blast Attack Lv2 | Zorah Magdaros Mastery Critical Status (requires 3 pieces worn) |
| Zorah Claws Beta | Zorah Magdaros Heat Scale x3 Zorah Magdaros Pleura x3 Zorah Magdaros Magma x2 Dragonite Ore x8 | Base: +44 Fire: +4 Water: -3 Thunder: -1 Ice: -2 Dragon: -3 1x Jewel Slot | Free Elem Ammo up | Zorah Magdaros Mastery Critical Status (requires 3 pieces worn) |
| Zorah Spine Beta | Zorah Magdaros Carapace x8 Zorah Magdaros Heat Scale x1 Zorah Magdaros Ridge x3 Zorah Magdaros Magma x2 | Base: +44 Fire: +4 Water: -3 Thunder: -1 Ice: -2 Dragon: -3 1x Jewel Slot Lv2 | Fortify | Zorah Magdaros Mastery Critical Status (requires 3 pieces worn) |
| Zorah Spurs Beta | Zorah Magdaros Ridge x3 Zorah Magdaros Carapace x3 Zorah Magdaros Magma x3 Zorah Magdaros Gem x1 | Base: +44 Fire: +4 Water: -3 Thunder: -1 Ice: -2 Dragon: -3 1x Jewel Slot Lv2 | Bombardier Lv2 | Zorah Magdaros Mastery Critical Status (requires 3 pieces worn) |
| Vangis Helm Beta | Deviljho Hide x5 Deviljho Scalp x2 Deviljho Talon x2 Deviljho Gem x1 | Base: +58 Fire: +1 Water: +1 Thunder: -3 Ice: +2 Dragon -3 1x Jewel Slot 1x Jewel Slot Lv3 | Partbreaker | None |
| Vangis Mail Beta | Deviljho Scale x3 Deviljho Hide x4 Deviljho Saliva x2 Monster Hardbone x4 | Base: +58 Fire: +1 Water: +1 Thunder: -3 Ice: +2 Dragon -3 1x Jewel Slot Lv3 | Speed Eating | None |
| Vangis Vambraces Beta | Deviljho Hide x4 Deviljho Tallfang x2 Deviljho Tail x2 Dragonbone Relic x1 | Base: +58 Fire: +1 Water: +1 Thunder: -3 Ice: +2 Dragon -3 1x Jewel Slot Lv2 | Latent Power Lv2 | None |
| Vangis Coil Beta | Deviljho Hide x4 Deviljho Scale x9 Deviljho Saliva x4 Girros Scale + x1 | Base: +58 Fire: +1 Water: +1 Thunder: -3 Ice: +2 Dragon -3 1x Jewel Slot 1x Jewel Slot Lv3 | Latent Power | None |
| Vangis Greaves Beta | Deviljho Scale x3 Deviljho Hide x4 Deviljho Talon x2 Girros Hide + x4 | Base: +58 Fire: +1 Water: +1 Thunder: -3 Ice: +2 Dragon -3 2x Jewel Slot | Speed Eating Lv2 | None |
| Kulve Taroth's Fury Beta | Kulve Taroth Golden Scale x12 Kulve Taroth Golden Shell x7 Kulve Taroth Golden Spiralhorn x6 Nergigante Gem x1 | Base: +72 Fire: +4 Water: -2 Thunder: +3 Ice: -4 Dragon: -2 1x Jewel Slot Lv2 1x Jewel Slot | Free Elem/Ammo Up Agitator | None |
| Kulve Taroth's Ire Beta | Kulve Taroth Golden Scale x12 Kulve Taroth Golden Nugget x18 Kulve Taroth Golden Tailshell x6 Xeno'jiiva Gem x1 | Base: +72 Fire: +4 Water: -2 Thunder: +3 Ice: -4 Dragon: -2 1x Jewel Slot Lv3 1x Jewel Slot | Stun Resistance Lv2 Critical Boost Lv1 | None |
| Kulve Taroth's Rage Beta | Kulve Taroth Golden Scale x12 Kulve Taroth Golden Nugget x18 Kulve Taroth Golden Spiralhorn x6 Kulve Taroth Golden Glimstone x1 | Base: +72 Fire: +4 Water: -2 Thunder: +3 Ice: -4 Dragon: -2 1x Jewel Slot Lv3 1x Jewel Slot | Free Elem/Ammo Up Power Prolonger | None |
| Kulve Taroth's Malice Beta | Kulve Taroth Golden Scale x12 Kulve Taroth Golden Shell x7 Kulve Taroth Golden Tailshell x4 Kulve Taroth Golden Glimstone x1 | Base: +72 Fire: +4 Water: -2 Thunder: +3 Ice: -4 Dragon: -2 1x Jewel Slot Lv3 1x Jewel Slot | Free Elem/Ammo Up Handicraft | None |
| Kulve Taroth's Wrath Beta | Kulve Taroth Golden Scale x12 Kulve Taroth Golden Shell x7 Kulve Taroth Golden Tailshell x4 Vaal Hazak Gem x1 | Base: +72 Fire: +4 Water: -2 Thunder: +3 Ice: -4 Dragon: -2 1x Jewel Slot Lv2 1x Jewel Slot | Wide-Range Lv2 Peak Performance | None |
| Empress Crown Beta | Lunastra Scale+ x4 Lunastra Carapace x4 Lunastra Wing x2 Elder Dragon Bone x4 | Base: +70 Fire: +3 Water: +1 Thunder: +1 Ice: -3 Dragon: -2 1x Jewel Slot Lv3 1x Jewel Slot Lv2 | Evade Extender Lv2 | Lunastra's Favour Effect Stamina Cap up (requires 2 pieces worn) Adds Mind's Eye/Ballistics (requires 4 pieces worn) |
| Empress Mail Beta | Lunastra Horn x2 Lunastra Scale+ x4 Lunastra Mane x2 Lunastra Gem x1 | Base: +70 Fire: +3 Water: +1 Thunder: +1 Ice: -3 Dragon: -2 3x Jewel Slots | Peak Performance Lv2 | Lunastra's Favour Effect Stamina Cap up (requires 2 pieces worn) Adds Mind's Eye/Ballistics (requires 4 pieces worn) |
| Empress Vambraces Beta | Lunastra Carapace x4 Lunastra Horn x1 Lunastra Tail x2 Firecell Stone x1 | Base: +70 Fire: +3 Water: +1 Thunder: +1 Ice: -3 Dragon: -2 1x Jewel Slot Lv2 1x Jewel Slot Lv3 | Wide-Range Lv2 | Lunastra's Favour Effect Stamina Cap up (requires 2 pieces worn) Adds Mind's Eye/Ballistics (requires 4 pieces worn) |
| Empress Coil Beta | Lunastra Scale+ x4 Lunastra Carapace x4 Lunastra Mane x2 Novacrystal x1 | Base: +70 Fire: +3 Water: +1 Thunder: +1 Ice: -3 Dragon: -2 2x Jewel Slot Lv2 | Tool Specialist Lv2 | Lunastra's Favour Effect Stamina Cap up (requires 2 pieces worn) Adds Mind's Eye/Ballistics (requires 4 pieces worn) |
| Empress Greaves Beta | Teostra Carapace x4 Lunastra Wing x3 Lunastra Tail x1 Elder Dragon Blood x3 | Base: +70 Fire: +3 Water: +1 Thunder: +1 Ice: -3 Dragon: -2 2x Jewel Slot Lv2 | Health Boost Lv2 | Lunastra's Favour Effect Stamina Cap up (requires 2 pieces worn) Adds Mind's Eye/Ballistics (requires 4 pieces worn) |
Monster Hunter World guide links
PC specific guides
Individual monster guides
Free update monster guides