Moonlighter's 'More Stock' update adds extra loot and angry floors
Taking stock of the situation.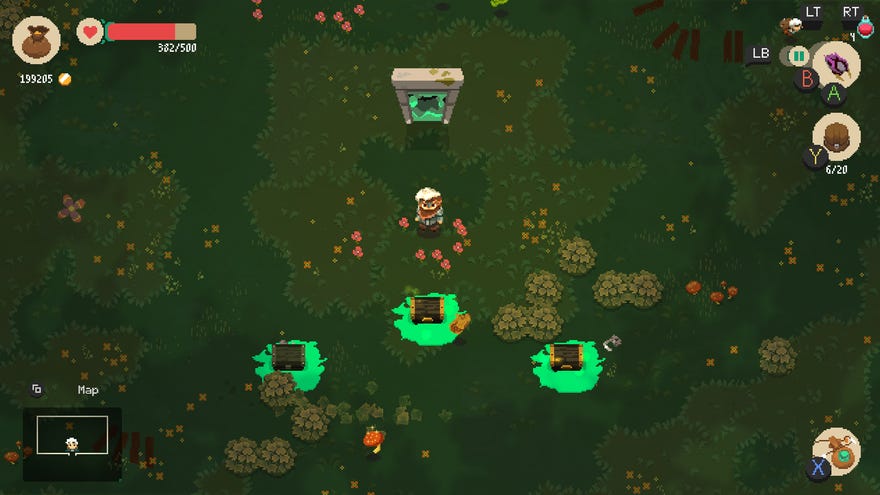 Fantasy shopkeeping adventure Moonlighter has had a busy couple months since its launch in May. Not content to just let stock sit on the shelves, developers Digital Sun have been quick to bring in new goods and renovate its dungeons, and today's update has been its largest yet. Among other things, the 'More Stock' update bulks up environment variety and offers additional rewards for those returning to already-cleared dungeons, expanding further on a formula which John greatly enjoyed.
You can read the full patch notes for the More Stock update here, but the biggest thing is 100 new room templates added to the random dungeon generator, featuring a new hazard type: puddles. Poison in the forest maps, lava in the desert (it's VERY hot) and electric in tech-themed dungeons. If it's bubbling, crackling or otherwise looking less than inviting, just don't go standing in it.
The other big feature is a special new challenge room. If you re-enter a boss's chamber after clearing a dungeon, you'll get to fight a big swarm of monsters. Depending on how fast you clear them out, you'll be rewarded with up to three large treasure chests of increasing rarity. There's some nice graphical improvements this update too, like visible armour upgrades and particle effects for enchanted weapons. Lastly, the update adds some in-game tutorials on the finer points of shop management, and for early Kickstarter backers, a bow that levels up with you.
There's plenty more yet to come, according to the developer's roadmap. Coming next is the Adventure Update, adding a New Game+ mode, a new "Dimensional" weapon-set, plus an entirely new item type: amulets. The Companion update will be adding familiars to make dungeons a bit less lonely, plus the option to create your own custom game-modes. Lastly, the Trouble update will be adding mini-bosses, more item effects and a set of Halloween decorations, which makes it a very likely candidate for a late October release.
Moonlighter is out now on Windows and Mac, for £15.50/$20/20€, via Steam, GOG and Humble.