Morning Has Broken: Legends Of Dawn Out Now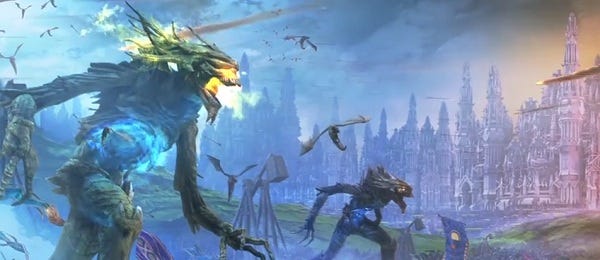 A few years ago, I realised I'd reached the point at which I found it easier to identify a specific foot-to-ball game in a crowd of its peers than a fantasy RPG surrounded by its own kind. Sparkling spell effects, armour-clad warriors and giant spiders are bound to make an appearance in the majority of RPGs and there's very little difference between one frost bolt and the next. They're blue and tend toward a shard-like after-effect. Legends of Dawn, which is out now, looks a lot like Tales of the Deeprealm or Myths of Arcaneface, but it does have a trailer that seems to have been assembled using a Burroughsian cut-up technique rather than conventional editing, and which ends with a lady suddenly shout-singing "THE DAWN HAS COME THE DAWN HAS COME".
Apart from the Commendably Practical Armour at the end of the video and an excellent spider, there's not a lot in there to make these legends stand out from the many others that involve hitting things repeatedly with a stick or a fire. The reception hasn't been great but I haven't played even for a minute and nor has anyone I know, so I can only point to ongoing discussions.