Mount & Skaven: Warband Warhammer Mod Rides Out
Warhammer Fantasy make-over for Warband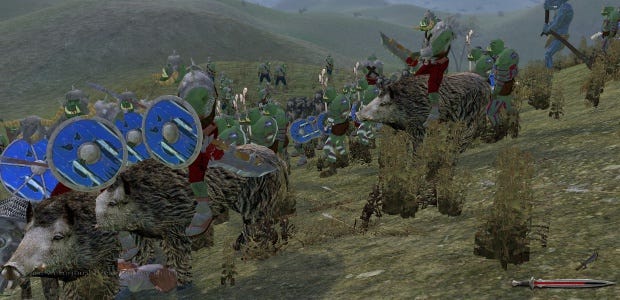 If I were riding into battle, I'd rather be atop something fearsome like a wolf or a lion than a pony. And I'd ideally be an eight-foot orc or undead skeleton too. It just seems like common sense. If you're also a sensible person, say, perhaps you'd fancy the newly-released Warsword Conquest mod, which fills Mount & Blade: Warband with races, places, and units from Games Workshop's Warhammer Fantasy setting. I understand the RPS Constitution means I'm obliged to say something excited about the Skaven* now but it's Friday and I know for a fact that the RPS Guard will have been in the pub for at least three hours now, so blow that.
Warsword Conquest boasts 13 playable Warhammer Fantasy factions, from hoighty-toighty Empire and High Elves to grubby Badlands Goblins and, yes, Skaven. A handful of other races fill out the mercenary lineup. It all goes down on a new Warhammer-y world map, which is swarming with more bandits than usual because I understand the past is a pretty grim and dark too.
If you fancy a go, grab it from Nexus Mods. Be sure to grab the bug fix too. Alas, it's single-player only, so you can't pit your trolls against a pal's Witch Elves.
If this all looks a bit familiar, that may be because it's based on the Warsword mod for the original Mount & Blade. Warsword Conquest has been in beta for a while but this release at the end of April was the first "full version."
* OMG SKAVEN!!!!!!11111oneone - Alec