Mouse Souls: Ghost Of A Tale
"Adorability" is the one stat missing from so many RPGs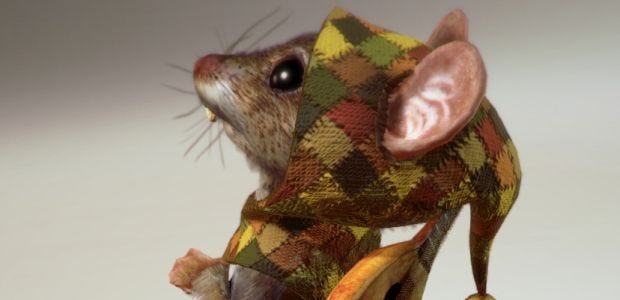 Ghost of a Tale is about an adorable mouse with a lute fighting giant crabs. Really I'd hope that was enough for you, but I'll throw in some more info as a bonus. It's set in a medieval fantasy entirely inhabited by animals, explored in third person with inspiration from the likes of Zelda and Ico. There's a balance struck between the cute central character and a very dark, ruined world with sometimes terrifying enemies. Along with the aforementioned crabs, hero Tilo will find skeletal rats three times his height, hawks, badgers and spear-wielding frogs to contend with.
It was once the one-man project of Lionel Gallat, an ex-Dreamworks animator who brought in help for the coding, story, and music after a successful crowdfunding campaign last year. On the devblog he's detailed part of the history of the world, which was invaded by a mysterious force that was almost unstoppable until the rats used their sheer numbers to bring it down. The most recent post on the game's mechanics is from March, talking about making enemies' stealth-detecting ways more nuanced.
The latest trailer showed up at Microsoft's Gamescom presser yesterday:
Want more? Jim had a chat with Lionel last year just before the campaign wrapped up, speaking both about the game and how he transitioned from animation to games development.