Crafty farming life sim RPG My Time At Portia enters early access
Stardew Valley-ish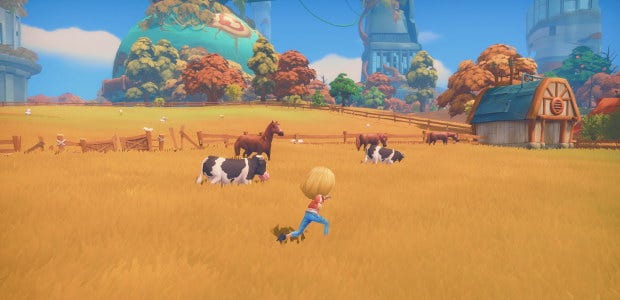 Post-apocalyptic life usually seems stressful but it actually looks quite cheery in My Time At Portia, a new Stardew Valley-ish craft-o-explore-a-life sim RPG which hit early access today. Sure, the skyline is dotted with overgrown skyscrapers and the dungeons beneath the town house biomechanical monsters, but aside from that it looks pleasant enough as we farm, craft, make friends, and all that. The full version is due later this year--and I'd rather wait for that myself, as I tend to with singleplayer games--but if you want to visit Portia now you can. It does also have an old-ish demo to try first.
The end of the world as we know it came and went, and everyone feels fine. My Time At Portia has us visiting our father's old workshop to take over and build it back up, like some other farming game you might now. We'll craft, farm, mine, fish, befriend, fall in love, fight, attend festivals, and engage in other Stardew/Harvest Moon-y activities.
According to developers Pathea Games, My Time At Portia is expected to launch properly in about nine months. They estimate it present has "up to 25 hours of content, with lots to craft, a huge amount of story, commissions to fulfil, and areas to explore." Over the course of early access, they plan to add new areas, commissions, side-quests, storybits, and minigames, as well as the ability to raise and ride animals. Frankly, I'm not interested until I can ride a cow.
If you want in now, My Time At Portia is £16/€20/$20 on Steam Early Access. It's published by Team17, the Worms folks. An old alpha version is still available to try on Steam and Itch.