Nail In The Coffin: Warhammer Online Going Offline
Orcward goodbye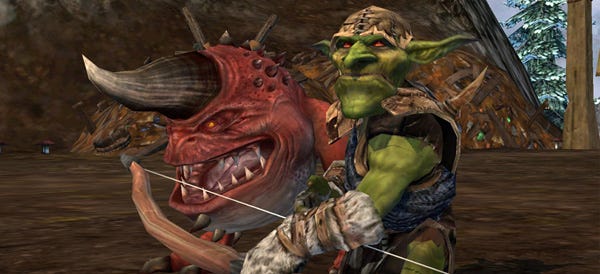 Warhammer Online, we hardly knew ye. OK actually that's not true at all. But still, it is a bit weird when you realize that Mythic's fantastical dig through Games Workshop's toy meticulously crafted figure chest launched in 2008. Five years is hardly a mail-clad, blood-drenched spring chicken, but it is rather young by MMO standards. And yet, here we are. Mythic's deal with Games Workshop has run its course, and the once tighter-than-a-too-small-sweater war buddies have decided to part ways.
Mythic made the announcement in a post on Warhammer Online's website:
"We here at Mythic have built an amazing relationship working with Games Workshop creating and running Warhammer Online: Age of Reckoning over the last 8 years. Unfortunately, as with all licensing deals they do eventually come to end and on December 18th, 2013 we will no longer be operating Warhammer Online. As such we will no longer be selling 3 month game time codes or have the ability to auto renew your accounts for 3 months as of September 18th, 2013."

"From all of us here at Mythic we thank you again for your dedication and support over the last five years."
Meanwhile, if you want to toss back a tankard of the ol' warm-and-fuzzies, this farewell post by producer Carrie Gouskos ought to do the trick.
So that's basically that. On the upside, Warhammer Online's DNA (well, hopefully the good parts) will live on in Mark Jacobs' next MMO, Camelot Unchained, so you'll be able to get your RvR fix elsewhere in, er, probably a lot of years. For now, though, do any of you still play Warhammer Online? If not, did you? Are you going to miss it? Share stories. Bravado, blood, ages, reckonings, wars, hammers. Reminisce!