A Spike Lee Joint: NBA 2K16 Dunked Onto Steam
But a bit of a mess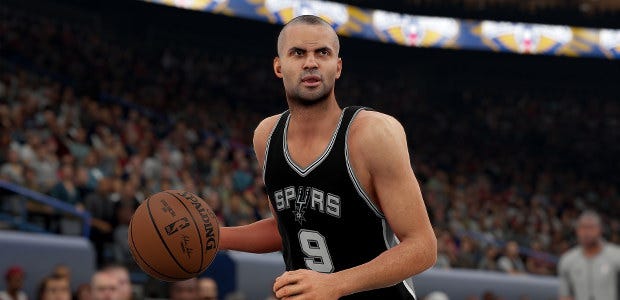 "Boom shakalaka!" begins this post, indicating how out of touch I am with basketball. My American sport of choice was baseball, really. But I know enough about slamming a fierce jam and high dunking a score off the top turnbuckle to tell you that NBA 2K16 [official site] has arrived. What's new about this year's release? Oh, you know, the usual - it's a Spike Lee Joint.
Yes, the filmmaker behind films including Malcolm X and Do the Right Thing has written and directed NBA 2K16's singleplayer campaign. Livin' Da Dream will see you guide a player from high school to picking a college team and on to glory, split between games and life. How curious! Have a peek at it in this trailer:
What's new with the ball-bouncing and man-running? 2K say, "A new motion engine generates smarter, hyper-realistic movement plus new ball & rim physics and player collisions, leading to a more intense and authentic on-court experience." Then it expands custom leagues and online a new mode and new parks and... it's the latest annualised sequel in a long-running series, you know what to expect.
One unpleasant turn-up is that I've seen lots of folks grumbling about poor performance, crashes, a lack of keyboard support (oh my gosh, please get a controller if you can afford one), and undelivered pre-order bonuses. Boo! Maybe hold off on this one to see if patches help much - especially as Steam is selling it for £40.