NEO Scavenger Dev Is Making A Spaceship Crew Management Game
Inspired by Firefly...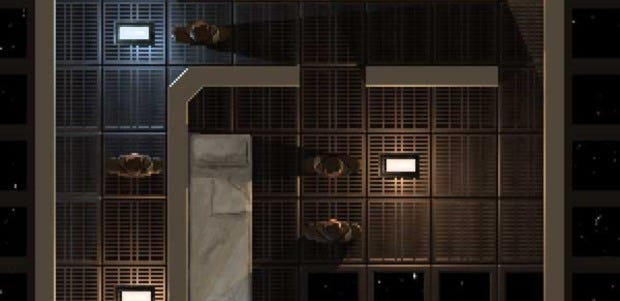 NEO Scavenger was one of our favourite games of 2014. Now its creator, Daniel Fedor, is working on his next game, and he says it's a "mashup of Starflight, Prison Architect, and some Firefly." That is, it's about top-down ship and crew management in a hard sci-fi universe.
Fedor has been blogging about the project at his site. For example, in this post he writes about how he's thinking of representing equipment in the game, using a nuclear reactor as an example.
First, it gives players a chance to tinker with ship designs in a more meaningful way. Instead of swapping "fusion reactor mk1" out and replacing it with "fusion reactor mk2," they can fine-tune the performance of their ship to their own tastes. Games like EVE Online allow ship mods, but they're limited to a few hardpoints and off-the-shelf systems. Gearheads like to get in there and mess with the guts.

Second, this makes failure more interesting. "How did your last character die?" "Well, the Lithium tank blew when we were en route to Jupiter, unloading gas all over the engine room. We were able to contain it by locking the room down, but the pressure drop caused radiation to start escaping the reactor. We either had to shut down the reactor and hope for a rescue, or limp with an unshielded reactor and hope we survived the rads..."

"We didn't."
Aside from your ship, the plan is also to simulate your crew, their needs and fears, and how they react in different situations in space. So far, Fedor has settled on a list of needs that includes security, friendship, sex, family, intimacy, privacy, achievement, and half a dozen others that might prompt your crew to behave in undesirable ways while on long voyages. "I'd like for each NPC to have different needs and preferences, so that managing a crew is also about finding the right mix of people and making sure they don't kill each other," Fedor writes in the comments.
It sounds as if every part of the game will be presented with a similar level of fidelity. In another post, Fedor outlines his thoughts on crew sleep patterns, and how he's created a system to roughly mimic what melatonin does so he have crew dynamically sleep and produce effects like jet lag. In his words, "Neat!".
There's no release date for the game yet - there's no name yet - but it sounds like a game I want to play. To close, here's a GIF of its lighting model in action: