10,000 Free Neverwinter Booster Packs, Why Not
Free stuff, that's why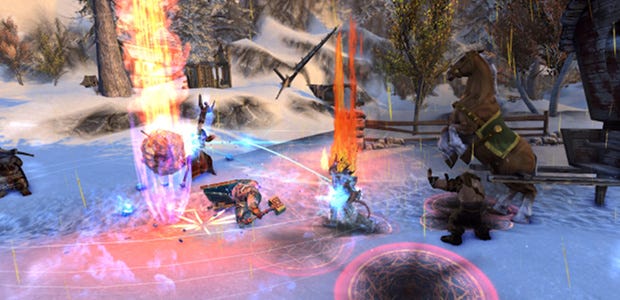 We're not the world's biggest fans of these traditionally sturctured fantasy MMOs, but Neverwinter is a rare exception. The game lured John into its embrace and cradled him there in a pleasing rhythm of free-to-play questing, levelling and monster-bashing for the length of a three-part diary series. That's old age, in RPS-diary years.
So maybe you're already playing it on John's recommendation, or maybe you saw yesterday's news about the Icewind Dale expansion and decided it was finally time to give it a try. In any case, we've got 10,000 free keys for an in-game booster pack, in case you needed an extra excuse to finally hit download, install and play.
To match the new expansion, it's called the "Icewind Dale Dweller Pack". It'll mark you out as a dweller of the new region, and it'll also net you the "Caer-Konig Supply Pack". That includes:
Wayfarer's XP Booster
5x Rank 4 Enchantments
3x Refining Stones
5x Injury Kit (based on your level)
5x Healing Potion (based on your level)
Refining stones? Great on ice cream. Wayfarer is the best brand of XP boost! Rank 4 enchantments? That's... OK, so I haven't played the game. I have no idea. It's possible you just remember Black Isle's beloved Icewind Dale and want to wander around familiar turf again. In that case, pop your email in the usual godankey.com widget below. It's first come, first served, and your email address won't be used for anything other than emailing you the goods.
Once you've received your key, you can redeem it over here. It requires that you have a (free) account for Neverwinter/Perfect Worlds/their Arc platform. You'll also need that account to play the game, of course.
Here's a trailer, so you can see what you're getting yourself into:
Hey, so, we've been doing these key giveaways a little more of late. We're picking games that we have a personal affection for, but what would you like to see more or less of? Let us know in the comments.